Prime Minister Ralph Gonsalves has welcomed the High Court ruling on Monday denying opposition politician Ben Exeter access to electoral documents.
"Oh, I read the judgement, and, as an experienced lawyer, it's a magnificent judgment; well-written, well-argued," Gonsalves told reporters outside Parliament on Tuesday.
Related:
Exeter, a first-time candidate, represented the main opposition New Democratic Party (NDP) in Central Leeward in the Dec. 9 general elections.
Electoral officials say he lost by 313 votes to the Unity Labour Party's (ULP) Sir Louis Straker, a former Central Leeward MP who came out of political retirement to run again.
Among other things, Exeter had asked the court to order that Supervisor of Election Sylvia Findlay "produce forthwith all ballot boxes in her custody in the consistency of Central Leeward", handing them over to the Registrar of the High Court.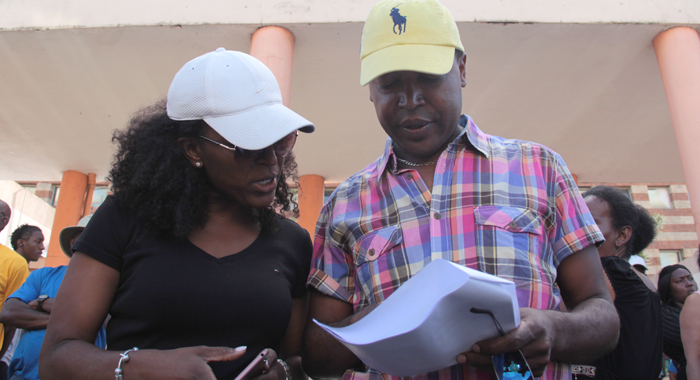 Commenting on the judgement, Gonsalves told reporters outside Parliament on Tuesday:
"The judgement said they applicant, Mr. Ben Exeter, had neither the law nor the facts on his side and that it was in the nature of a fishing expedition. And the court is not the place to go fishing. That is well-established."
The judge, Justice Brian Cottle, also concluded that the "application on the ground presented and on the evidence adduced epitomizes a fishing expedition".
He also said that the court is also concerned about the application to inspect the counterfoils as well as the ballots.
"If this is allowed, it will be possible for the applicant to identify individual voters and see how they voted".
Some members of the public have expressed concerns about this, since the government, after other elections, has maintained that counterfoils cannot be used to determine how someone voted.
One legal expert has told I-Witness News that even if the judge erred on a point of fact, this might not necessary have implications for any appeal that the opposition might file.
Asked about the judge's comments on the counterfoils, Gonsalves, who is also Minister of Legal Affairs, told I-Witness News:
"I am not discussing any particular aspect of the judgement except to say that the judge said that you must have strong grounds for such an application and that there were no grounds. He quoted the law and he quoted the facts."