At the 12th Caribbean Karate College Caribbean Karate Championships held in Jamaica July 19– 23, St. Vincent and the Grenadines dominated the first round of competitions, winning gold medals in the Men's team Enbu and the men's team Bunkai events convincingly beating Guyana, Trinidad, Grenada, Barbados and Jamaica.
The team further competed in team kata, placing fourth overall.
In the team Kumite, SVG pressed through two rounds against team Jamaica and team Guyana to face off against Trinidad for the title.
Though the Vincentian men put up a spirited challenge, they had to settle for second spot due to injuries sustained from the previous two matches. Team SVG though small, left its mark on the region as a formidable karate force, with their surgical and spirited performances.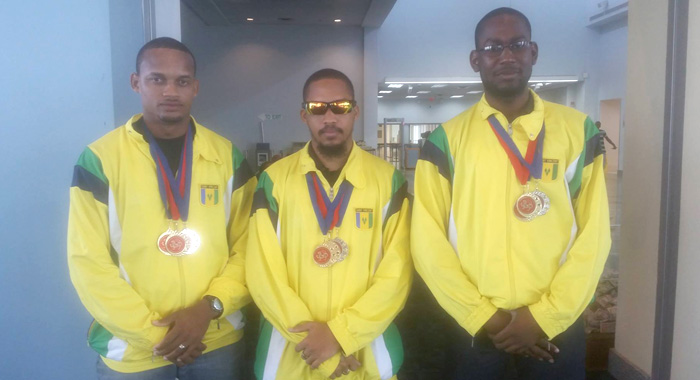 The team returned home with nine championship medals: 6 gold and 3 silver medals.
The members of the team were Claude Bascombe Jr, Jerome Burke III and Zak Burke.
The team members say they are honoured to have represented the nation with distinction and thanks the individual sponsors who supported their effort and dream to get to Jamaica, including the National Insurance Services, GECCU and Narea Brown a Vincentian medical student at UWI Mona Campus.
The countries that participated in the championships were Barbados, Grenada, Guyana, St. Lucia, SVG and Trinidad and Tobago.
The next scheduled event will be the Third IKD World Cup, which will be held in Barbados in 2018. Over 25 countries are expected to participate.