Leader of the Opposition Arnhim Eustace on Thursday responded to the Cybercrime Bill being debated in Parliament, suggesting that it is a continuation of an attempt by the Unity Labour Party (ULP) administration to get at its political opponents.
Eustace further told lawmakers and media audiences that there are other priorities in the country, such as improving the economy.
The East Kingstown MP began his presentation by telling lawmakers that during the lunch break he had learnt that 10 more charges have been brought against manager of NICE Radio and pro-opposition activist, Douglas DeFreitas, in connection with comments he allegedly made after the December 2015 general election.
He said that the opposition — which did not attend any of the select committee meetings that reviewed the bill — thinks that some of the clauses are reasonable, but others induce fear.
Eustace's presentation suggested that opposition lawmakers would turn the debate on the Bill into a conversation on the performance of the ULP administration.
Opposition lawmakers, who have been boycotting Parliament in protest of the results of the December 2015 general elections, are today attending their third meeting of the House of Assembly since the new Parliament was sworn in Dec. 29.
Eustace said the emphasis should not be on cybercrime but improving the country's fiscal situation and each citizen's economic situation.
"Get our people back to work; Reduce our rate of unemployment; reduce as much as we can the level of our debt; try as best as you can to improve our level of education… That is what we need to deal with in the circumstance. When we can do that, I'll talk about cybercrime," Eustace said.
"This, to me, is not a priority. Important, but not a priority; there are many more things that need to be addressed. Our health services, for instance," he said.
"Indeed when you look at our growth rate in this long period of 15 years, it is nothing to shout about. Education revolution or no education revolution, it is nothing to shout about," Eustace said.
Eustace noted that he has been a Parliamentarian for more than 18 years, adding that throughout that period the opposition has always had their difficulties with matters of discrimination, victimisation and so forth.
The Opposition Leader said that as a result of the situation he described, a certain attitude has developed in the country, with many people just wanting to keep their mouths shut and not get involved in many of the activities in the country.
He said that in the first few months of the ULP administration (which came to office in March 2001), he and then senator St. Clair Leacock (now MP for Central Kingstown) presented to the Christian Council a list of 541 persons who he said the government had victimised. Eustace said these were low-level employees in the public service such as watchmen and road workers.
He said the Christian Council promised to discuss the matter with the Prime Minister and he believes this was done, but the government did not reverse its actions.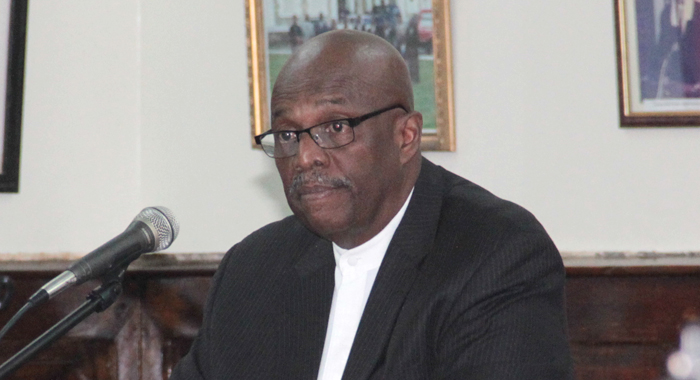 Eustace said his New Democratic Party (NDP) could not get the matter highlighted in the local media and decided to have a press conference in Barbados.
He told Parliament that the day after the press conference in Barbados, a member of the Vincentian media asked why the NDP had to have a press briefing in Barbados.
Eustace, however, said that that same media practitioner had refused to meet with the opposition.
"So that is the start and the development of an environment that has continued today. If anything, it has worsened and there is fear in this land, whether we want to admit it or not," Eustace said, adding that he has learnt some significant lessons from that.
Eustace said this is one of the matters that have caused him to pay less attention to the Christian Council, given the role they were supposed to play under the Grand Beach Accord, which brought an end to political unrest in 2000 that triggered early elections held in March 2001.
He told lawmakers that there are several instances of inaction by the Christian Council over the years, adding that he does not feel like contributing to the debate on the bill, but has a duty to do so.
"Now, I have sat here and listened and observed in our society on many occasions people who I believe heard about their concerns and felt that they were victimised for political reasons," he said.
He mentioned that 13 years ago, his wife was among the senior members of staff of the state-owned electricity company, VINLEC, who were fired without explanation.
"I have not forgotten it… and I will say up to now I don't understand why the management of VINLEC was dismissed," Eustace said, adding that these were not people who could not do their jobs.
"Those kinds of actions impact not only on people's lives but also on their minds. They react in certain ways," he said. "That is the reality of St. Vincent and the Grenadines. We hear all the time… about Imadd. We heard what happened to him over the last few weeks and what are the implications for him and his family because he, too, has some charges to face."
He was referring to New York-based Vincentian calypsonian, Paul "IMadd" Scrubb, who was recently arrested at the E.T. Joshua Airport and charged in connection with posts he allegedly made on Facebook last year.
Scrubb has to remain in St. Vincent and the Grenadines for three months while awaiting a preliminary inquiry, a situation that his lawyer said puts his job in jeopardy.
Eustace said no consideration was given to allowing him to go back to the United States and then return to St. Vincent for trial.
"But, the man at Buccama who owes the government seven million was able to leave here," Eustace said in reference to Britain-born businessman, Dave Ames who fled the country before appearing in court when summoned to answer tax evasion and theft charges.
Eustace said he then heard that Ames' "hasty departure" was legitimate, a reference to the Prime Minister's comments on the development.
The Opposition Leader asked what kinds of standards are being set and the messages that are being sent to the general population
"And we wonder why when we bring a bill like this some people are fearful? They have to be fearful!" Eustace said.
He also mentioned businessman Leon "Bigger Bigs" Samuel who has said that government action against him resulted in the closure of his mining and block-making business, putting 62 persons on the breadline.
"You hear about these things all the time," Eustace said. "These personal impact and what it says to people is very debilitating."
He said people are fearful of expressing their views, even as said that in some cases people overdo it.
"But we have an environment here that we are creating fear. We are supposed to be a democratic society, we have a constitution, we say we are a country of laws and people watch what we do. They don't necessarily listen. They watch what we do in these areas."
He accused the Government of getting involved in petty matters to victimise people.
"For what? For politics sake? And we wonder why our youth are not doing more. We don't get any example. We don't set any meaningful example for them to follow.
"Mr. Speaker, I have looked at the situation here and there are aspects of the bill that I don't have any difficulties with," Eustace said , adding that the bill is very interesting in light of the amount of domestic and international attention it has attracted.
He said there are not many bills where international institutions write to the government, noting that all these communications expressed concerns about infringements on freedom of expression.
"And, therefore, something has triggered in these institutions' mind the need to write about these concerns," Eustace said.
Eustace was also concerned about the size of the fines under the bill and told lawmakers that they are so heavy that prison is certain for anyone convicted if the legislation becomes law.
"Mr. Speaker, I say no more, and I do not support this piece of legislation," Eustace said.