By E. Glenford Prescott
Seen by many as someone morbidly uncomfortable with honour and public recognition, Woodrow "Keylee" Williams was on Aug. 14 honoured for his contribution to sports and sports development, by the Breakaway Masters Club — exactly four months after he was recognised by another local organisation.
Williams, who dismisses compliments and praise with a shy smile and his customary "I am a patriot", was given the honour for what organisers say is his selfless and committed approach to life, sports and culture.
Officials of the Breakaway Masters Club said that "Keylee" had done too much and received too little and the time had come to address this. To this end, they honoured him during the half-time interval in the match between the Ministry of Education and Tony's Combined Stores on Sunday.
"I really don't like these things. There are other people who are doing things and not being recognised. I am good. I am a nation builder," Williams said in an interview after the ceremony.
The citation read by long-time friend and villager, Aubrey "Ras Bu" Burgin, said that Woodrow obtained the nickname "Keylee" as a result of a fight and most persons only know him by that name. According to the citation, like most youngsters growing up in New Montrose, "Keylee" participated in numerous activities within the community but he developed an extraordinary love for sports and its development — something copied from older members of his family, many of whom played sports. His late father, Moulton, was a national wicketkeeper, among other things.
During his school life, he participated in cricket, football, table tennis and his major love: athletics. As an athlete in track and field, his favourite activities were the long, triple and high jump. He was one of the few athletes in the 1970s to 1980s who mastered the triple jump, also known as the hop, skip and jump.
He also represented SVG in the post-Independence period.
Williams was SVG's Chef de Mission at the 1988 Seoul Olympics — the country's first attendance, and is the only international technical official for St. Vincent and the Grenadines, and has officiated at several track and field events overseas.
Williams is an IAAF qualified athletic coach, IAAF certified technical coach, and Special Olympics certified coach, cricket scorer, starter and timekeeper of great distinction, officiating at games across the region.
Looking at track and field in SVG, Williams is not too optimistic about the future based on what he sees taking place currently. He said that we do not have the right approach because for one we make superstars out of mediocre athletes.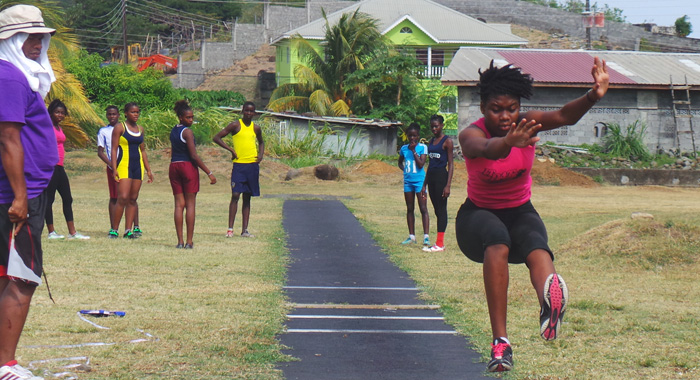 "Look, for instance, a guy goes to Interschool [Sports] and wins a few races and he is rated highly. But winning races in St. Vincent is not like winning races internationally, so our athletes must strive to be the best not only at home but [also] regionally and internationally as well and that, to me, is our biggest problem," Williams said.
He said that the problem is compounded by people not willing to accept criticism, "choosing instead to fight down because you are a Vincentian".
SVG once again had a dismal showing at the 2016 Olympic Games in Brazil, when neither quarter-milers, Brandon Parris nor Kineke Alexander advanced to the second round — both athletes finishing last in their respective heat.
Williams dismissed suggestions that a track and stadium will improve the standard of Vincentian athletes, bringing them in line with others around the region.
"We had athletes here who were running on grass and going to Carifta and competing with the best and bringing back medals. Kirani James (2012 Olympic 400m champions and 2016 silver medallist) did not start with a track in Grenada but he put in the hard work and it paid off. As I said, we have the talent we just have to develop it.
"The head Grenadian throws coach, Paul Phillips said to me at Carifta that he came to St. Vincent and he saw some people at Owia, Fancy and Union Island who are naturally strong and they are given the opportunity and the correct guidance they could medal at Carifta,"
Williams believes that the country's not doing well in field event is also part of what he reiterates as the "fight down mentality" and as he said, "they are not the glamour events".
"We have very good natural talent. Our first medal at Carifta was won by John Cato in the Javelin in 1972 and we have had other athletes excelling at shot put, discus, and all the jumps — long, high and triple over the years at the same Carifta Games but because of what I term as 'small-mindedness', blocks are put in place by selfish individuals to stifle the talents".
He said that the javelin is no longer thrown here owing to a tragic accident, which took place in the 1960s at a sports event at the Grammar School Playing Field.
Williams who said that one instance of the fight down mentality is the current situation with coach Michael "Mercy" Ollivierre whom he says is the best field coach here.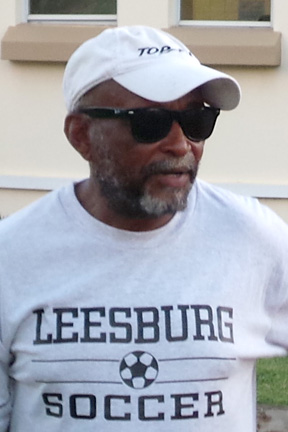 "He is the leading coach when it comes to hurdles and yet he was being denied the use of the hurdles by officials of Team Athletics (TASVG) and when he eventually got the use of the equipment only six pieces were made available to him," explained Williams, who is also a trained field events coach but had to shelf that to take up duties as a technical official. He said that decision might have impacted negatively on the situation with field events here.
He urged officials and coaches to cut out what he labelled as fights over petty issues and focus on the welfare of the athletes.
President of TASVG, Keith Joseph, also made a similar call to Williams at the organisation's awards ceremony a few months ago, saying then that he was "somewhat concerned with the attitude of some coaches". He also spoke about the role of coaches and TASVG in the development of athletes.
Williams became involved with the School for Children with Special Needs and within a short space of time, became the coach of the Special Olympics Team for several years, and along with the late Tyrone "Tweety" Spence as a coach, attended many international meets where they performed with great distinction and brought back many trophies to St. Vincent and the Grenadines.
He rates his association with the Special Olympics organisation as one of the best decisions he has ever made where sports is concerned.
On April 14, Williams was given an award at this year's Special Olympics, which opened at Victoria Park on that day. Speaking at the time, Williams who was overcome with emotions, said that his involvement in Special Olympics was accidental. He recalled that 36 years ago, he went to view the national games "to get a laugh".
That experience changed his attitude, and today, "I am sold out to these people. They are my life," he said.
Williams said he gets joy from seeing the Special athletes achieve, even more so than when persons of able body and mind do likewise.
An employee of the Sports Department for the last 29 years, Williams can be seen officiating at local track meets, lining out football fields and marking hard courts way after working hours and on weekends.
When asked about the long hours, he said with his customary half-smile, half-grin, "I want no payment this is my contribution."
In culture, Keylee has been involved in cultural activities for over 40 years and was a member of Skully Hunte's mas band, and later, one of the key figures in the late Edson Sheggy John's Bad Lads and Lasses. He is also a lifelong supporter of the Starlift Steel Orchestra–the oldest and one of the most successful steel bands in St. Vincent and the Grenadines.