By E. Glenford Prescott
Trinidad and Tobago are "jamming still" with their champion dance after retained the West Indies Women's Super50 title at the Arnos Vale Sports Complex on Sunday after defeating Barbados.
"When I saw the total we got (164) I sat down and I smiled because the calibre of players I have and the confidence I have in those players. I knew we had this game. I really knew it," Trinidad captain Merissa Aguilleria told iWitness News after the victory.
In the final, Trinidad and Tobago defeated Barbados by 21 runs — dismissing them for 143 in 45.5 overs in reply to their 164 made in 46 overs.
The victory came thanks to a sterling player of the match performance from opener Felicia Walters, who scored a stubborn half-century then returned to flummox the Barbadians and grab 3 wickets with her offspin.
The Trinidad captain said that despite losing their opening match to the Barbadians, they never doubted their ability to bounce back and were confident of overturning the results in the final.
"When we lost that match, I came down hard on my team. It is not something I like doing, but felt that we had allowed our focus to slip and the passion and commitment we left home with were missing. And I asked them to refocus and theydid just that," she said.
She also said that in every tournament, a good team is expected to have at least one bad match and their bad match was their opening encounter, while Barbados, in the lead up to the final, had not experienced "that bad match".
Barbados were asked to get 165 at over 3 runs an over to get their first lien on the regional silverware and looked on course to achieve that, when they were placed at 70/2 thanks to a 61-run third-wicket partnership between Kyshona Knight and Deandra Dottin.
The pair had joined forces when Kycia Knight (0), twin sister of Kyshona, had lofted a catch to cover to make the total 9/2 in the third over. Trinidad had landed a telling psychological blow an over earlier when the prolific Hayley Mathews (9) was bowled by experienced offspinner Anisa Mohammed after badly misjudging the length of a faster delivery.
Kyshona and Dottin batted with confidence without ever appearing to take the initiative from the bowlers despite picking up a few boundaries that appeared to raise some anxiety among the Trinidadians.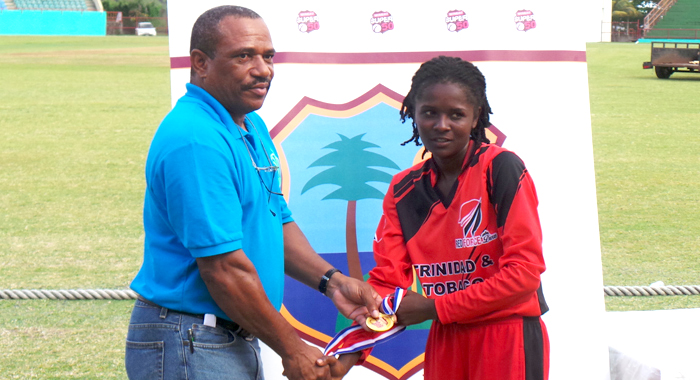 But inasmuch that they kept their wickets intact, there was always the feeling that TnT were just baying at the gate waiting for the first opportunity to pounce. This opportunity came in the 19th over when Dottin (32) — who had begun to look ominous — in being too careful to a delivery from Karishma Ramharack — who had proved hard to get away — only succeeded in playing the ball onto her stumps.
Dottin struck 3 fours and faced 59 balls and the loss of her wicket while slowing the Barbadians, did not derail their victory push as Knight (32) and Charlene Taitt added a further 24 before the former was well stumped by Aguilleria off the bowling of Shenelle Lord at 94/4 in the 31st over. The lefthander faced 72 balls and struck 2 fours.
This saw the innings slipping into an unbelievable decline as 4 wickets fell in the space of 3 overs for the addition of 3 runs going from 94/3 to 97/7.
The damage was done by the Trinidad spinners, led by Walter (3/25), who dismissed all of her victims for nought — two of them comprehensively bowled pushing forward.
Taitt (24) attempted to maintain the momentum in partnership with Shamilia Connell (20) but that stand which raised 32 could not deny Trinidad and Tobago who were now bearing down on victory with predatory efficiency.
It came off the fifth ball of the 46th over, when Taitt, who had been badly missed by Staby-Ann King earlier, was bowled by Ramharack to send the Trinidadians into the "champions dance" while "Jamming still". Ramharack ended with the impressive figures on 2/10 from 8.5 overs, Mohammed 2/36 and Shenelle Lord 2/27.
Earlier, Trinidad and Tobago, who were sent in to bat after losing the toss, were subjected to another barrage of short-pitched bowling as in their first encounter at the Sion ill Playing Field. But this time, they were ready and opener Reniece Boyce showed just how prepared they were with some powerful pulls and cuts. Boyce lashed 29 off 30 balls with seven fours.
She featured in a 44-run opening partnership with Walters before being caught off Dottin. Walters and Shenelle Lord (13) added 49 for the second wicket before the latter was LBW to legspinner Kelia Elliot — a questionable decision — to make the score 93/2 in the 21st over. That wicket appeared to knock the impetus out of the Trinidad innings and wickets began to tumble at a pace which saw them losing 4/18 in 33 balls. In that passage of play, Barbados had moved from pretenders to the throne to genuine contenders for the title.
However, Walters found an ally in Rachael Vincent (20) and the pair added 31 for the sixth wicket in taking the lady from the land of the Humming Bird towards a workable total. The stand came to an end when Vincent was bowled and caught by Mathews who was extracting plenty and bounce and turn from the Arnos Vale square.
Mathews, who had earlier accounted for Aguilleria for a single, ended with figures of 10-5-17-2 and 15 wickets overall to be joint top wicket-taker in the tournament.
Walters, who had stood strong and imposing as the Cedars of Lebanon, was eventually fell when the persistent Dottin struck her lumber with a magnificent Yorker that defeated the essayed on drive. Walters, who made 53, batted all of 140 balls and struck 7 fours and was 9th out at 161/9. The innings ended 3 runs later. There were 29 Extras.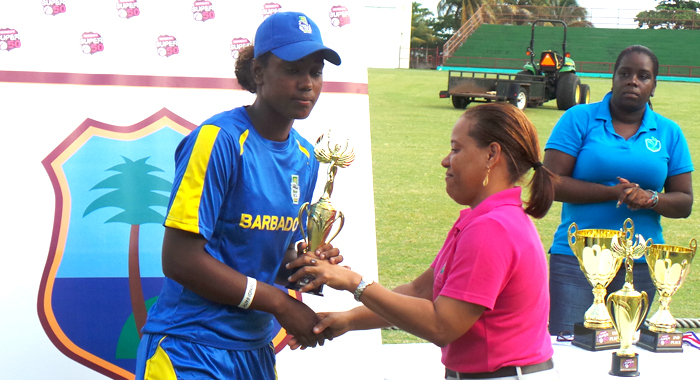 It was then the turn of Walters and company to take their team to the title with the ball.
"My job was to stay at the wicket and bat as much overs as possible to take my team to a good total," Walters said.
Asked if she thought the total was enough to retain the title, Walters replied: "Yes because of the pitch and the bowlers we have I knew we could defend that."
Barbados captain Shakera Selman felt that her team did not play at the same level as in the previous matches. The captain, while admitting that the early loss of Mathews was an important blow, still believed that the team possess enough experience players to have got the job done.
"Hayley (Mathews) is just one player and in this team there are many players who play for the West Indies. So while, yes, that is an important wicket, we should have still been able to win this match," Selman said.
Barbados coach Henderson Springer felt that his team conceded too many Extras and had too many fielding lapses against a team as good as Trinidad and Tobago and they paid the ultimate price.
"We gave away 29 Extras, 25 of those were wides, which we had to go and bat to make back and that was always going to be tough against this Trinidad team," Springer said.
Hayley Matthews of Barbados was named player of the tournament. Matthews scored the most runs, 158, and was joint top wicket-taker with Afy Fletcher of the Windward Islands, with 15 wickets each.
Mathews 158 runs were scored at an average of 31.60, while Walters had the second highest aggregate with 149 runs at an average if 49.67.
Barbados Kycia Knight was the top wicketkeeper, with 10 dismissals.