The ban on the importation and use of the Styrofoam containers in the food industry in St. Vincent and the Grenadines is expected to drive up the price of food, but not immediately.
The government, on Monday, imposed the first phase of the ban, which would prohibit the importation of all Styrofoam containers for food ordered after May 1.
Come Feb. 1, 2018, the serving of food in Styrofoam containers would become totally illegal in St. Vincent and the Grenadines (SVG).
Martin Bollers, manager of Premium Distributor, previously one of the largest distributors of Styrofoam products in SVG, said Styrofoam accounted for 20 per cent of the company's monthly sales.
However, his company started to move to biodegradable alternatives last year, even before the ban on Styrofoam was announced in January.
"So we have actually stocked biodegradable containers for over a year now, but they weren't being picked up by the retailers because there were huge disparities in price of about, minimum four times the price."
Bollers told iWitness News that a Styrofoam burger box container costs a retailer about 22 cents, while a biodegradable replacement will cost 60 cents.
The three-compartment and "curry goat boxes", which he said are the most popular among most retailers, will cost EC$1.10 each, up from 15 cents for the two sizes.
The government has promised to exempt biodegradable food containers from value added tax.
Bollers said that if the government keeps this promise, it is possible for the prices of biodegradable food containers to go down.
"… but the replacement for Styrofoam, in no way, will ever be close to the Styrofoam price," he said, however.
He said the price may go down to three times that of Styrofoam container, adding that with increased demand, the price of biodegradable food containers may fall to twice that of Styrofoam.
"But I can't see it going down to 15 cents. It will be a thing of the past," Bollers told iWitness News.
With the introduction of the ban on Styrofoam food containers, Anil Jiandani is returning to the food container business, which he left about 18 months ago, because of what he described as greed on the part of Styrofoam manufacturers.
He told iWitness News that his new business, Trinity Agencies, can come "very close to Styrofoam [prices], providing that the government sticks up to their [promise] that the VAT would be exempt".
He estimates that without VAT, the biodegradable products that he supplies would be between 20 and 25 per cent higher than the cost of Styrofoam products.
He told iWitness News that his suppliers used virgin paper that is coated with an edible film.
He said that the product will decompose within four months, after coming into contact with water and dirt at a landfill, depending on the type of dirt that is used to cover it.
On the other hand, Bollers told iWitness News that the biodegradable containers that his company supplies will decompose within two months.
Further, his company's products are microwavable.
Both Bollers and Jiandani welcomed the ban.
"I think it makes a lot of sense. I knew about the implication before," Jiandani told Witness News.
"It (Styrofoam) is good for certain types of food. Some people even microwave food in them and that's not good. You know it's petroleum[-based] and it's toxic if you don't use it right."
Bollers also welcomed the ban on environmental grounds.
"I have seen the indiscriminate disposal of Styrofoam by the end-users, littering our country and our rivers and valleys and beaches and so on and it is distressing to me as a citizen as well," he told iWitness News.
He, however, said his research has not shown any concrete evidence linking the use of Styrofoam to health issues, say, cancer, as some persons have argued.
Notwithstanding the importation ban, Vincentians can expect Styrofoam to be widely available on the market and used in the food service sector until the full ban comes into effect on Feb. 1 next year.
Bollers told iWitness News that his firm did not stock up on Styrofoam containers after the ban was announced.
"So I have foregone all the money that we can make by bringing in containers. My competitors have done that. In fact, some retailers have brought in container loads of Styrofoam."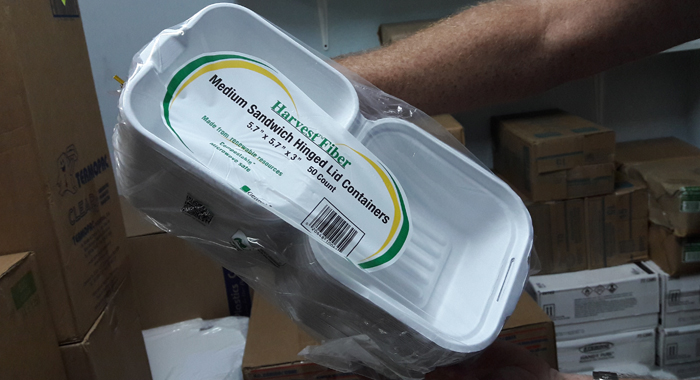 Among the retailers who have done so, is Leon "Bigger Bigs" Samuel of Phoenix Kitchen, a local-food outlet in Kingstown, which opens every day, expect Christmas.
Samuel told iWitness News that his supplier has already indicated that biodegradable containers will be more expensive than Styrofoam.
Retailers would have no choice but to pass on that cost to consumers, the businessman said.
He, however, said that he has not yet addressed his mind to that additional cost because he had got his suppliers to import two containers of Styrofoam containers for Phoenix Kitchen.
"I have some, but no matter how much you have, it is going to deplete," said Samuel, who says his business goes through 4,000 to 5,000 Styrofoam containers every week.
He told iWitness News that, all things remaining equal, he would be able to maintain the prices of his meals until the cost of biodegradable containers kick in.
Samuel said he is yet to see the scientific evidence to prove that Styrofoam is harmful to humans.
"Yes, for the environment, maybe," he said, and suggested that Styrofoam can be recycled into contact cement.
Samuel, however, agreed that Styrofoam containers are indiscriminately disposed of across the country.
"Yes, but even if we bring in the biodegradable containers and we don't train or educate our people to use the necessary bins which are provided to dispose of garbage properly, … it is going to have the same effect. People need to start to take pride in our country and keep our country clean," Samuel said.
Meanwhile, Bollers told iWitness News that he is an avid supporter of regulations in any industry.
He, however, said he thought a lot more of discussion with the retailers of food and the importers of products to put food in ought to have taken place.
"And we could have slowed down the direct ban — maybe, first impose an additional duty on people who sell food in the product and their customers don't dispose of the product properly."
He said the nation could have then moved to biodegradable foam — a product that his company can source, and which decomposes over two years.
'So you step it up. The ban is onerous, but we will work with the ban," said Bollers, who also told iWitness News that in this regard, SVG is an earlier adapter.
Bollers, however, told iWitness News that Styrofoam is losing its appeal and the business community doesn't have the support of the Chamber of Industry and Commerce, which, he said, is unofficially agreeing with the ban.
"If it doesn't happen now, it will happen in the future," Bollers said, adding that he thinks his company should position itself at the forefront of sourcing alternatives.
"But it will have a financial impact on us and it's going to have, I assume, an impact on the final price of retail food, take-out food."