The two brothers found murdered at Sion Hill Bay on May 4 were buried in Kingstown on Sunday after a joint funeral at Victoria Park in which it was noted that an ailing man had lost his only children.
In a tribute read on his behalf, Minister of Health, Sen. Luke Browne — who is overseas on official duties — said he was thinking about Clement "Max" Cozier who lost both of his sons — his only children — "in one nightmare of an episode while he is dealing with health challenges of his own".
Danroy Cozier, 26, a police constable, and his 19-year-old brother, Nicolas Cozier, were shot and killed some time before noon on May 4.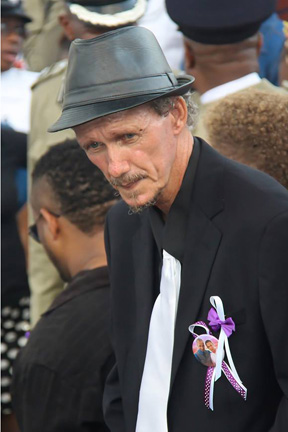 Their bodies were dumped under some trees in a green area near Sion Hill Bay.
Van driver Richard "Karib" Francis, a former cop of Layou, along with Rillan Hill residents, Schemel "Jacket" Dunbar –- who has already been freed of two murder charges — and Kendine "Hoodie"/"Ants" Douglas, the son of an ex-cop, have been charged with the murders.
They have been remanded into custody until Nov. 27, 2017 for the commencement of a preliminary inquiry.
In his tribute, Browne commended the Royal St. Vincent and the Grenadines Police Force "for the quick work they did in apprehending suspects.
"We must not tolerate this kind of thing in Hairouna," said Browne, referring to St. Vincent by one of its indigenous names.
Browne — who is a close friend of the Cozier clan, sympathised with the older brother's widow, saying, "I could only imagine the hurt and heartache of a wife who has lost her husband. I feel intensely for the child who would have to grow up in this dangerous and unpredictable world without the love, protection, guidance and care of a father."
He said he could see the anguish and outrage on everyone's face when he visited the Cozier home recently.
"I understand their feelings. In fact, I share their sentiments. This is not something they can forget or easily get over. It is a painful thought that would haunt their memories for the rest of their lives.
"It will keep popping up at random moments no matter how hard they try to press it from their minds. They would have to find ways and means of coping with it. A senseless act of crime and violence has left so many people hurting and plunged a large family, the police fraternity, and the entire nation into a prolonged state of mourning," Browne said.
Sunday's funeral also heard a tribute from Kevron Cozier, one of the men's cousins who is a member of the British Army.
Browne said that Nicholas had hopes of a career in the Armed Forces.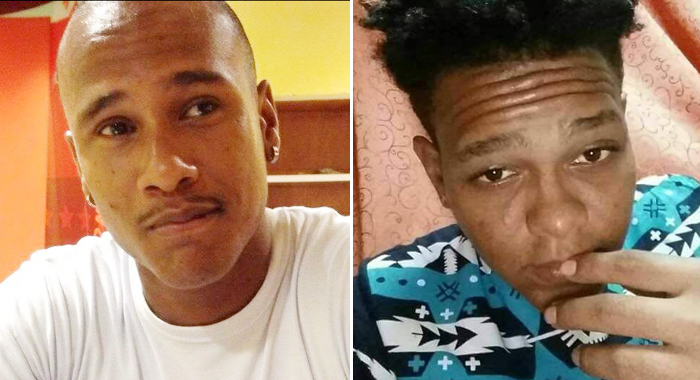 "He wanted to follow in the footsteps of his first cousin, Kevron, who was recently recruited to the British Army. He was denied that chance by the bullet of the assassin," Browne said.
At the funeral, Kevron, dressed in his uniform, stood between the caskets, saluted them in turn, and performed other military drills as his tribute was read on his behalf.
In the tribute, he reminisced about his life growing up with the older of the brothers, who had moved to Richmond Hill — from Spring Village — when he began attending the St. Vincent Grammar School.
"We were cousins, but from that year, we became brothers."
He said that Danroy was a cousin who became like a brother.
"The most cherished moment would be the day he made me his best man at his wedding. That was the most cherished memory I have of him, because we always joked during our teenage years. I am so happy that he got to live to see being a father of a beautiful baby girl."
Kevron said the hardest thing would be knowing that Danroy will never be his best man, but promised that his cousin's memory will always live on.
In his tribute to Nicholas, Kevron reminisced about how his young cousin wanted to emulate him.
He recounted the good times they had together when he last saw the brother seven weeks ago when he returned from England, after several months abroad.
"I promised you that I would have made a way for you to walk in my footsteps and it really hurts not being able to live up to those promises."
https://www.youtube.com/watch?v=zwVYPzubMGA
Among those paying their respects to the fallen men were Prime Minister and Minister of National Security, Ralph Gonsalves, who delivered a tribute.
A tribute also came from acting Commissioner of Police Renald Hadaway.
Browne ended his tribute by noting that both brothers had an interest in law enforcement and protecting national security.
"The best tribute we could pay to them is to ensure that St. Vincent and the Grenadines remains a safe place to live, and a place where no one is fearful or intimidated about pursuing their own rights.
"If we rededicate ourselves to this task, and are spurred to action to curb and curtail all acts of criminality, then the Cozier brothers would not have died in vain," he said.
Members of the top brass as well as the rank and file of the Royal St. Vincent and the Grenadines Police Force attended the funeral, the second in as many years for one of their members who had been murdered.
On May 2, 2016, Police Constable 602 Giovanni Charles, 25, was stabbed and killed while working at a primary school fair.
In January, 18-year-old Maverick Joseph was committed to stand trial for Charles' murder.