By E. Glenford Prescott
The state of local cricket and in particular the attitude of players toward the game was for the second week in succession brought into question by a past club player.
The latest concerns have come from lawyer and Speaker of the House of Assembly, Jomo Sanga Thomas, an ardent cricket fan, as he repeated his experience upon his arrival at a National Lotteries Authority (NLA) Premier Division match at the Sion Hill Playing Field on last Sunday, May 28.
"I had the worst experience at a cricket game on Sunday," Thomas said in a voice note sent to a friend on Wednesday.
Thomas recounted how he went to the Sion Hill Playing Field "to take in some cricket", as he does from time to time.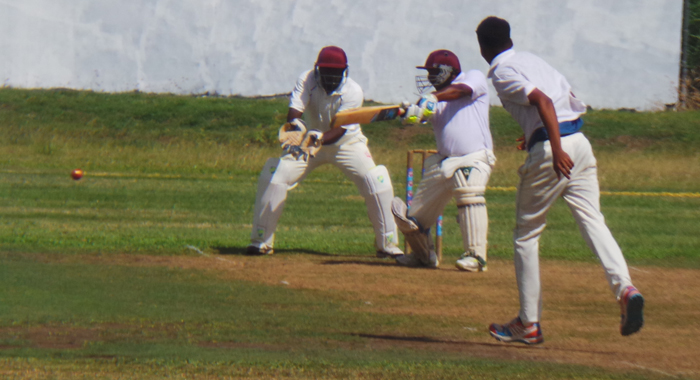 "[Team] Rivals were playing Police [2] and as I was walking to the field, I noticed that I [was] hardly seeing any players. The full complement of Police players were on the field and the two batsmen were at the wicket and when I got around to the pavilion, there was one person in white — only for me to find out that as the players batted and out they left," Thomas explained with amazement in his voice.
Thomas added with some disbelief: "I didn't realise that is where cricket reach to now that you can't get your team to stay and give support and solidarity to the other batsmen who're coming after."
Thomas said that upon the completion of the innings, Team Rivals could not muster enough players to take the field a second time.
The match ended in forfeiture by Team Rivals, who only had four players to take the field after giving their opponents 5 runs to win.
Police 2, being asked to bat by seven-man Team Rivals on Saturday's opening day, took full advantage of good conditions to bat themselves into a powerful position to declare on 284/3.
They owed their position of strength to their batsmen, led by opener Desron Maloney who posted his first century as he made full use of his time off from his sentry post.
Maloney, who missed out on a century a few weeks ago when he was dismissed for 91, batted with confidence and with a level of responsibility that highlighted his maturity that would have worked in his recruitment to the constabulary.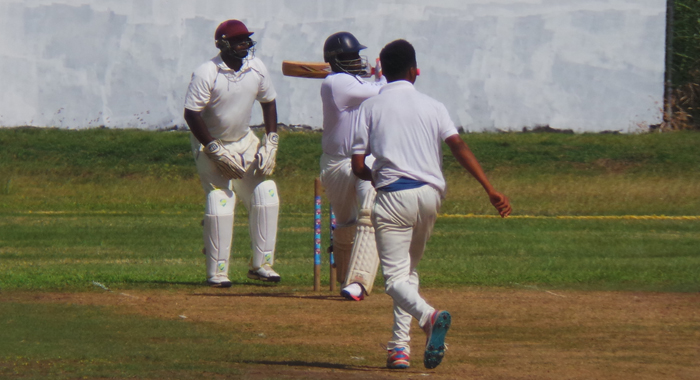 He featured in an opening partnership of 126 with the beefy Marcus John (62) as they took advantage of the below par bowling attack. John faced 58 balls and struck 9 fours and 1 six before he was overcome by fatigued and hit a catch to mid- off.
Maloney and Andre Thomas (50) then added 102 for the third wicket as the former set about the bowling. Thomas, a brutish left-hander who began his innings slowly, attacked with gusto as the lawmen added urgency to their innings. He struck 5 fours and 3 sixes off the 39 balls he received before going at 228/2. Salvan Browne (13) went at 248/3 and it was left to Maloney (120*) and Kevin Abraham (10*) to close the innings. Maloney batted 186 minutes and struck 9 fours and 5 sixes.
Dillon Douglas, in his new role as bowler, took 2/97 from 12.1 overs.
Team Rivals, already missing their premier players, were dismissed for 160 with Randel Williams (48) and the sabbatical-ending Harley Skerritt (23) being the only ones to show any resistance. Captain Asif Hooper, who returned Saturday night with the SVG team from Dominica and turned up on Sunday, made 19.
Maloney 2/35 and Sylvan Spencer 2/34 took 4 of the 7 wickets that were on offer. Team Rivals, suffering the ignominy of having to follow on 164 in deficit, were dismissed for 128 with Douglas 70 getting among the runs. He batted 146 minutes faced 98 balls and struck 7 fours and 2 sixes.
Andrew Thomas 3/17, Kevin Abraham 2/21 and Spencer 2/30 shared the wickets.
Police 2, set 5 runs to win, were awarded the match by umpires Dillon Child and Goalan Greaves when Team Rivals did not have the minimum stipulated seven players to take the field.