The annual Fisherman's Day activities at the Calliaqua Playing Field on Monday afternoon were "scaled down" in consideration of the six persons missing at sea since Sunday evening and their families.
Coast Guard and other officials are yet to release the name of the missing persons — two males and four females, who sent out a distress call after the speedboat in which they were travelling from Canouan to Mustique began sinking around 4:55 p.m. Sunday.
Lieutenant Ragguette, who is acting as Coast Guard Commandant, told iWitness News at 7 p.m. Monday that he was still not in a position to release the names of the occupants of the vessel.
The Police Public Relations Department would normally release such information, but they were closed on Monday, a public holiday.
Raguette, however, told iWitness News that after 16 hours of searching, search and rescue personnel had not recovered the missing speedboat nor its occupants.
He further told iWitness News that the search teams had not found anything to indicate that there was a distress vessel.
He said that the search was still in progress but would most likely be suspended overnight.
A source close to the Mustique Company with which the occupants of the boat worked on Mustique Island, told iWitness News on Monday that the vessel is believed to have had eight life vest on board at the time of the incident.
A fisherman, familiar with the captain of the boat, told iWitness News separately on Monday that the captain of the speedboat is know to always have live vests on board.
The search is taking place at a time when fisher folk who participated in Monday's competitions reported very rough seas.
At the ceremony in Calliaqua, master of ceremonies, Jonathan Nicholls announced at the beginning of the event that Prime Minister Ralph Gonsalves had decided that a scaled down ceremony would take place.
The government had considered cancelling the celebrations altogether, but decided to go ahead with some activities in consideration of food and other vendors who may have already prepared for the activities, Nicholls said.
Nicholls, a retired police spokesman, said that Gonsalves — who is also Minister of National Security — was not at the event as he was involved in coordinating the search and rescue efforts.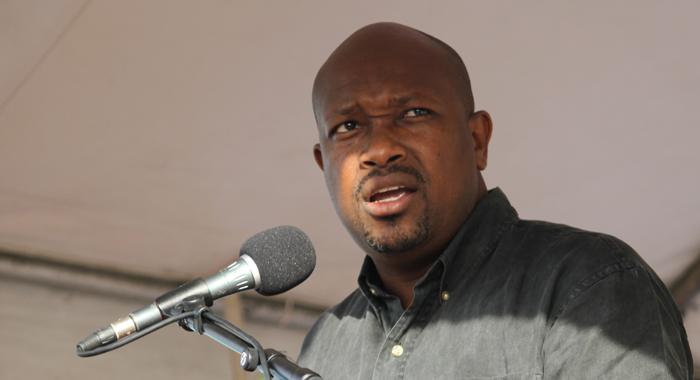 Monday's events heard brief addresses from Minister of Fisheries, Saboto Caesar, and Minister of Economic Planning and Sustainable Development, Camillo Gonsalves, who is also Member of Parliament for East St. George, where Calliaqua is located.
Caesar said the event was "definitely a very reflective moment for us, as citizens", adding that the "celebratory nature" that takes place at the Fisherman's Day event will take place next Monday, in which he will deliver an address and the department will hand over the prizes.
"Because we are one people and we are loving people and we will not be here celebrating, knowing that there are six persons whoa re still missing at sea."
Caesar said that in light of this, he is asking people to be prayerful, and give support to authorities and the families of the missing persons.
"This morning, when I got the report, from the Chief Fisheries Officer about the rough seas, it reminded me of the manner in which our fisher folk would earn their daily bread. And fishing is not an easy exercise."
Meanwhile, Gonsalves, a former senator who was elected to Parliament in December 2015, told the rally that he had planned to deliver a political speech, chronicling development in the district since his elections.
He said he had also planned to talk about fisheries in the constituency, including in Calliaqua, an east coast town.
"But I feel in light of recent event and on-going events that now is not the time or place for that sort of a speech," Gonsalves said.
He, however, noted that Thursday will be World Oceans Day, adding that oceans are very important to the people of St. Vincent and the Grenadines.
He noted that while SVG is a small island developing state, it has large ocean space.
"And our life and our livelihood is inextricably linked to the sea. And that's what we are celebrating generally here today," Gonsalves said.
"The way in which the sea gives life and livelihoods to Vincentians, to the fisher folk who ply their trade on the waters, who bring fish home, they owe their life and their livelihood to the sea."
He said that the people who eat the healthy, fresh fish also owe a debt to the sea.
"To the people involved in the tourist trade; in multiple ways, the sea is a life-giving force and entity to the people of St. Vincentian and the Grenadines," Gonsalves further said.
He added:
"But every once in a while, we are reminded that in as much as the sea gives life, it has the potential to take it away, and today, all of our thoughts and prayers must be with the six individuals who are still lost at sea, who have been lost at sea since yesterday and who our brave Coast Guard and the regional security services and various aircraft are currently searching the Grenadines for."
Gonsalves said he continued to pray to God for their safe return.
"But even as we celebrate fisher folk and the life-giving ocean today, we must remember and keep in our prayers the people who are currently missing on that same ocean," Gonsalves said, adding that he thinks there would be another day for him to chronicle political achievements.
"And there would be another day, as we have indicated, to have a raucous celebration of fishermen and fisherwomen and fisheries in general. But, today, I just want to say that we should all say a quiet prayer for those that are missing and continue to pray for their safe return."
Vanrick Allick of Clare Valley won the Fisherman of the Year after the boat he captained landed 462 pound of fish.
He will receive his prize, a 48 horsepower engine at next Monday's event.