The government of Taiwan on Monday donated eight school buses and 24 pieces of equipment to the government of St. Vincent and the Grenadines (SVG).
The Toyota Coaster buses, each designed to carry 29 passengers, will be leased to private citizens who will operate them primarily to transport students, especially during school hours.
The buses were purchased primarily with a US$300,000 donation from Taiwan.
In all, 10 second-hand buses were purchased, with the government of SVG paying for the other two.
However, Prime Minister Ralph Gonsalves told the handing over ceremony at Arnos Vale that they will all be branded as donated by Taiwan.
He said his government does not want to distinguish between the two buses it purchased and those bought by the longstanding ally.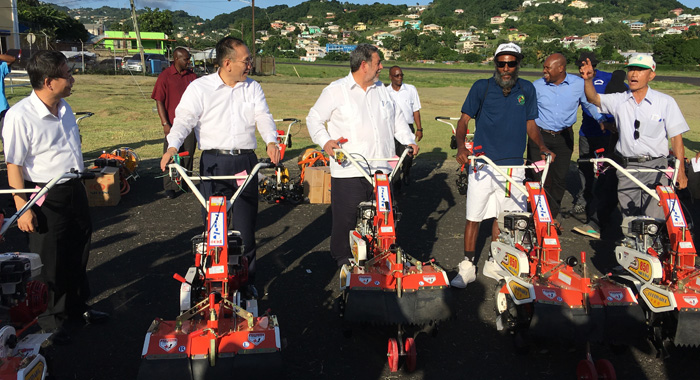 Also at the ceremony which was attended by Taiwan's Vice-Minister of Foreign Affairs, Ambassador Der-li Liu, eight light cultivators, eight cultivators with iron wheels and eight power sprayers, costing EC$65,000 were donated.
Minister of Agriculture Saboto Caesar told the ceremony that a few months ago, he and Minister of Economic Development, Camillo Gonsalves, visited Taiwan.
During that trip, they visited a manufacturer of agricultural machinery.
Caesar said he asked the manufacturer how can he get some of the agricultural equipment to take home to SVG.
"Then the manufacturer told us that a shipment has left Taiwan already and would arrive in St. Vincent and the Grenadines very soon. I want to thank you for the delivery," he said.
Caesar told the ceremony that agricultural cooperatives in St. Vincent will benefit from the machinery.
They are the pineapple growers cooperative from North Leeward, the Rabacca Farms Cooperative, South Rivers High Quality Farmers Co-op, Greiggs Multi-Farming Co-operative, RASFARCO, also from Greiggs, Mt Pleasant Farmers Co-op, New Prospect Marketing Co-operative, and South Windward Farmers in Action producers.
He urged the cooperatives to put the equipment to the best use, telling them to work very closely with the Ministry of Agriculture to ensure that they are properly serviced.
"And I am certain that when they hit the soil that we are going to see a further increase in production and productivity here in St. Vincent and the Grenadines."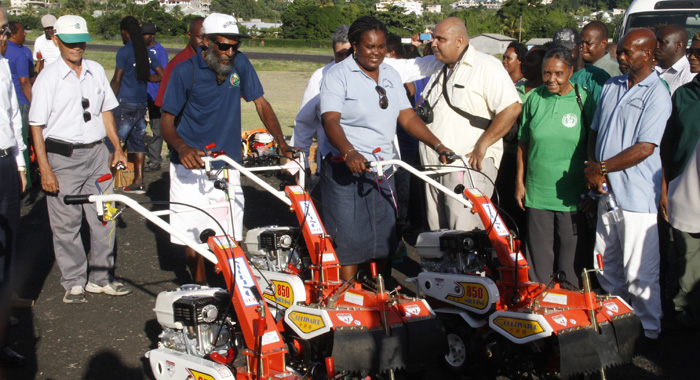 Meanwhile, Ambassador Liu told the ceremony, that the school buses are one of the results of the visit of Prime Minister Ralph Gonsalves to Taiwan last October last year.
He said that when Gonsalves met with Taiwan president, Tsai Ing-Wen during his visit, he mentioned the need for safe and secure means of transportation for school children.
"Taiwan, same as St. Vincent and Grenadines, places importance of quality education [as] a top priority.  Therefore, President Tsai immediately committed herself to contribute for the procurement of the buses for the children.  On behalf of President Tsai, I am very honoured to hand over the school buses to Prime Minister Gonsalves today," Liu said.
The vice-minister said that the agricultural machinery is all made in Taiwan.
"You can see over there that they are very agile and easy to be handled, especially suitable to manoeuvre on the hilly terrain in St. Vincent and the Grenadines…  They are aimed to assist and improve the quality and quantity of agricultural production," he said.
And, Prime Minister Ralph Gonsalves expressed appreciation for the donation,
The prime minister said that each bus is insured for EC220,000, making the value of the fleet EC$2.2 million, inclusive of cost, freight, duty and preparation.
"So that any of these buses which crashes, and God forbid, it's EC$220,000," Gonsalves said.