By Kenton X. Chance
VIRGIN GORDA, British Virgin Islands — One week after the devastating Hurricane Irma battered their adopted homeland, Vincentians in the British Virgin Islands — locked off from their families and the rest of the world — on Tuesday appealed to the Ralph Gonsalves government in Kingstown to help them.
Some 10 Vincentians are among a number of Caribbean nationals being housed at a Catholic community centre in Virgin Gorda, the third-largest and second most populous of the British Virgin Islands (BVI).
The occupants of the Catholic community centre are at risk of being soaked if it rains, because the hurricane ripped the shingles from the roof.
"The whole place is leaking. There is nothing on the roof; everything is gone," Branson Gould, who is originally from Campden Park, told iWitness News, pointing out a section of the roof where the light from outside was shining through.
"It is just the ply[wood]," he told iWitness News, meaning that there is no sheeting that would prevent water from entering the building should it rain.
Also living at the shelter is Avril Farrell, who is originally from Lowmans Windward
"Right now, we need help from the government of St. Vincent and the Grenadines. We need water, we need food, we need clothing and we need shelter."
She told iWitness News that she has to stay in the BVI because she is servicing a loan.
"… my daughter was born here so she has to stay here, but I would not be able to go back to St. Vincent right now," said the woman, who has been living in the BVI for 29 years and works as a store assistant.
She said that what is needed is some immediate assistance to help her to get back on her feet and that is where Kingstown comes in.
"Because I lost everything," the woman said.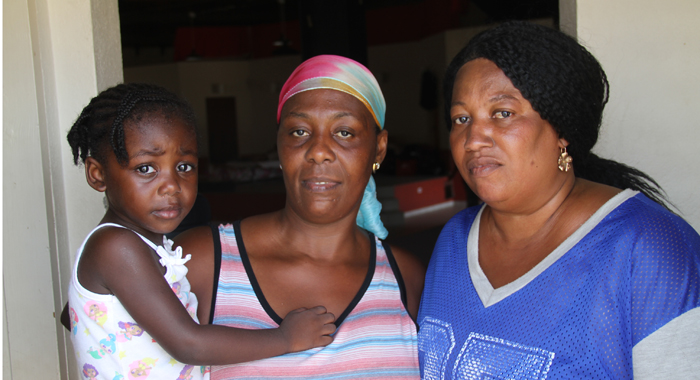 Among the Vincentians at the shelter is Jeanette "Diane" Daniel of Greiggs, who has been working as a housekeeper in Virgin Gorda for the past 10 years.
She is staying at the shelter with her two youngest daughters, ages 9 and 2 years old.
While Daniel lives in Virgin Gorda, she was at her sister's house in Tortola when the hurricane struck.
There, the experience was terrible, she told iWitness News.
"It's like trees blowing everywhere; I saw a boat drop on a guy's house. House roofs flying; windows, doors, cars being mashed up, flung to the sides," she recounted.
"I saw a tree literally break in a man's house; I saw a bar, the fridge just fly from outside. From where we were, we could have seen everything because it was cleared of all the trees. It was a very terrible experience.
"I saw the winds and, to me, that's a tornado because after it passed and we came back outside, you could see the tracks like where it dug the road coming up."
Daniel said she had experienced a hurricane before in St. Vincent but it was "not as terrible as Irma".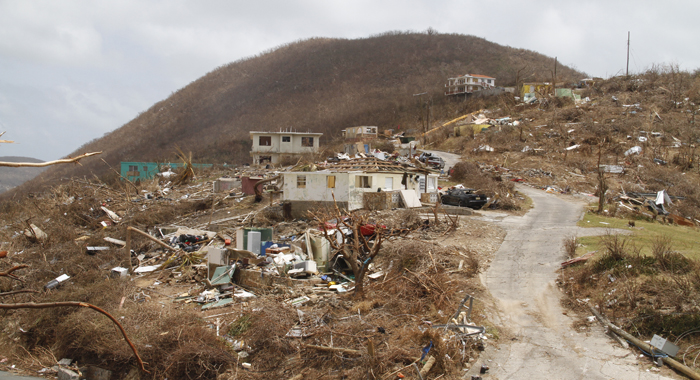 She said that on Sunday, she went to Beef Island and was able to make it back to Virgin Gorda via boat.
"But when Daniel returned to Virgin Gorda, there was no house to live in.
"My house was blown away. I have lost everything. My clothes, my furniture, everything," she said of the ply and concrete house that she was renting.
Daniel told iWitness News that she does not know where she goes from there.
"We are by the shelter — a couple of us. We have three kids here, along with a pregnant lady."
The pregnant woman is from Guyana.
"It is not really a good experience," Daniel told iWitness News of the living in a shelter.
"It is the first time I have ever been in a shelter and it is hard. But we still have to give thanks that we have life."
She said that she is "not really" thinking of returning to St. Vincent at this time, adding, "But I want to send my kids back home 'cause going back home with children and sit down not working, it is going to be hard," said the woman who has been living in the BVI for 10 years.
She said that her mother and her 20 and 22-year-old children can help to take care of her younger children.
"I just want to get them home and I can stay and work, help around, make money and just assist my kids at home," she said.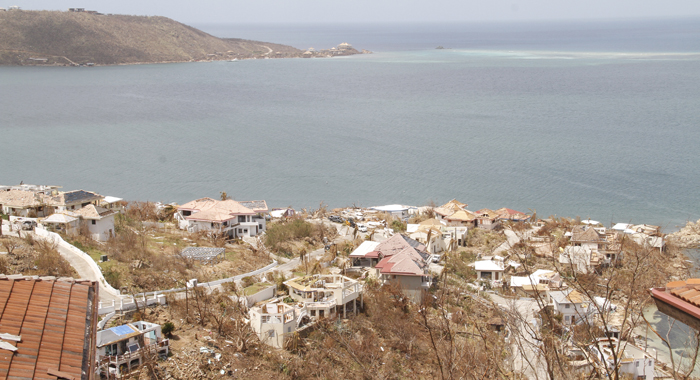 Residents of Virgin Gorda have put together a committee to respond to the needs of the island, which like Tortola has seen significant damage to the electricity distribution network, knocking the island off the grid.
Also in Virgin Gorda, Hurricane Irma destroyed both of the water desalination plants and damaged or destroyed between 70 and 80 per cent of the housing stock.
On Tuesday, St. Vincent and the Grenadines' Minister of Agriculture, Saboto Caesar, announced on Facebook that a boat leaves Port Kingstown on Friday, Sept. 15 to take food and other supplies to the BVI.
He said that persons interested in sending supplies to their families and friends are asked to ensure that these are brought to national collection points, which are to be announced or at the Geest Shed in Kingstown, no later than Thursday, Sept.14 at 3 p.m.
Caesar said there will be no charge for the transportation of these supplies to the BVI.
"All packages must be properly labelled. No meats or live plants will be permitted," he said.