Kenton X. Chance
ROAD TOWN, British Virgin Islands (IPS) — When Hurricane Irma ripped through the British Virgin Islands (BVI) on Sept. 6, claiming seven lives, injuring an unknown number of people and destroying built infrastructure as well as significantly damaging the natural environment, the ferocity of the storm shocked many of the islands' residents, including 72-year-old Egbert Smith, who has lived through plenty of severe storms.
"I see a lot of hurricanes pass through here, but I never see none like this. Never!" he told IPS from what was left of his home in Sophers Hole, a resort community toward the western end of Tortola, the largest and main island in the BVI.
Across from Smith's beachfront patio, the storm deposited a large catamaran onto the roof of a one-storey building, shredding a large part of the pleasure craft.
On the other end of the bay, the Jost Van Dyke ferry terminal lay in ruins, its roof ripped off, and a large SUV pinned on top of a raised metal platform, the mangled vehicle having been deposited there by the storm surge.
"They say it was a category 5 but I think it was more than that. It might have been more than that," Smith said of the monster storm, which lashed the island with 185 mph winds.
Before enduring Irma, Smith considered Hurricane Marilyn of 1995 to have been a terrible hurricane. But not anymore.
"This one was bad," he tells IPS of the storm, which trashed his bedroom and its contents as his wife hid inside a closet and he just put his feet up on a chair and relaxed, having given up on trying to pick up items that were falling in his house during the passage of the hurricane.
On Sept. 14, a full week after the storm, the BVI was still struggling to get basic systems back on track, with disaster managers forced to seek refuge in the recently constructed New Peebles Hospital after Irma destroyed their headquarters.
In addition to the dead and injured, the storm left widespread damage to the road infrastructure, housing stock, ports, telecommunications, electrical infrastructure and critical facilities.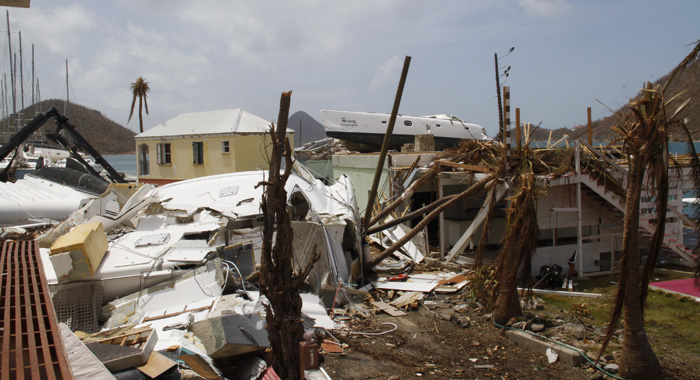 Governor of the British Overseas Territory, Augustus Jaspert, declared a state of emergency on Sept. 7 and on Sept. 11. He extended by three hours the curfew put in place three days earlier, ordering citizens to remain indoors between 6 p.m. and 9 a.m. to give disaster responders an opportunity to respond to the mammoth clean-up and recovery.
Disaster officials say a preliminary assessment indicated that 60 to 80 per cent of the buildings throughout the territory are damaged or destroyed, with a large percentage of the roofs severely compromised.
Approximately 351 persons are being accommodated in 10 temporary shelters and 106 persons were evacuated from Anegada, another of the islands, prior to impact.
One week after the storm, disaster managers were still considering options for housing the large number of displaced persons.
The municipal water supply is not functional due to the lack of electricity and there was a limited stock of potable water available, with the Royal Fleet Auxiliary Mounts Bay providing a limited supply to Virgin Gorda and Jost Van Dyke, two of the smaller islands in the territory.
https://www.youtube.com/watch?v=3vE8sdUEeq0&t=3s
Both of the desalination plants on Virgin Gorda, which has a population of 3,500, were destroyed.
The electricity generation, transmission and distribution infrastructure across the islands has been severely damaged and electricity is only being provided through generators.
Caribbean Cellular Telephone Ltd., the leading wireless provider in the BVI is not functioning and Digicel has coverage only in Road Town, the main city, while Flow has sporadic coverage throughout the territory.
The road infrastructure has been severely damaged and heavy equipment operators have been deployed to all districts and have been working to clear roads to at least single lane traffic.
The hurricane cut a similar swath of destruction across other islands in the northeastern Caribbean before slamming into Florida last weekend, leaving more than six million people without power and many thousands in shelters. Overall, the storm claimed at least 14 lives in the so-called Sunshine State, six in the coastal U.S. states of South Carolina and Georgia, and 38 across the Caribbean, though some estimates are even higher.
It also came on the heels of yet another devastating hurricane — Harvey — which sideswiped Barbados and caused catastrophic flooding in the U.S. Gulf state of Texas, where 82 people died and more than 30,000 were displaced.
https://www.youtube.com/watch?v=rdt1r38Mpjo
Camillo Gonsalves, minister of sustainable development in St. Vincent and the Grenadines, was among the officials from the Caribbean Community — a regional bloc of nations of which the BVI is an associate member — who visited the BVI in the aftermath of Irma.
Gonsalves visited to assess the situation in the territory and to ascertain what help Kingstown could provide, as well as to inquire into the welfare of Vincentian nationals, who make up 10 per cent of the population of the BVI.
The minister, who, as a diplomat, was among the team of negotiators who ensured the interest of small island development states was captured in the 2015 Paris climate accord, said that those who have been paying close enough attention should not be surprised by the devastating impact of Hurricane Irma.
"If you read the climate change literature, as shocking as it is to experience this sort of disaster, there is nothing here that is a surprise," he told IPS, adding that forecasters have long warned that there would be more frequent and intense tropical cyclones as a result of climate change.
"You can't point to any one storm and say this storm here was created by climate change but any casual reading of the scientific literature tells you this is going to happen in this area and it is going to affect livelihoods, it is going to affect infrastructure, it is going to affect just the way these countries exist and it is going to happen more and more in the future," Gonsalves said.
The Caribbean and other countries in the region, including the United States, are losing lives and suffering tens of billions of dollars in damage from severe hurricanes such as Irma and other weather events — at a time when Washington seems to want to reopen the debate about the role of human activity in the well-documented warming of the planet and what must be done to prevent it from getting even worse.
But Gonsalves is convinced that there is no debate about the causes of climate change and what must be done to mitigate against and adapt to it.
"We didn't create this problem," he said, adding that Caribbean nations, as small islands, have to assist one another and to band together in solidarity even as they are among the worst affected by climate change, notwithstanding their negligible contribution to it.
"Those who created this problem have a special responsibility to satisfy their debt to humanity and to assist countries like this not only recover from storms but adapt to the already changing circumstances and climate," Gonsalves told IPS.