By Kenton X. Chance
ROAD TOWN, British Virgin Islands (CMC) — Two tropical storms in the Atlantic Ocean are threatening to reverse progress made here since the devastating impact of Hurricane Irma on September 6.
Rain associated with the systems resulted in flooding over the last few days in some parts of Tortola, the largest of the islands making up the British Overseas Territory.
Director of the British Virgin Islands (BVI) Department of Disaster Management (DDM), Sharleen S. DaBreo, told the Caribbean Media Corporation (CMC) that the island was slowly transitioning from response to immediate recovery mode, which is the rehabilitation phase, after the hurricane, which the latest figures say, claimed four lives.
The category 5 cyclone destroyed or damaged 60 to 80 per cent of the building in the territory and sent hundreds of persons into emergency shelter.
"We are looking at getting needs in to start rebuilding a lot of the government infrastructure and seeing how we can help individuals homes to get covering on their roofs, because we are also monitoring two systems in the Atlantic that has the potential to impact us in the next five days," DaBreo said.
"It's very, very complicated and we are hoping that those systems will go out north and we won't have that, but, obviously, we have no control over that, so we have to prepare for that as well," she said.
She said that the number of persons in shelters is decreasing as individuals were getting back into their homes but with the approaching weather systems, disaster management officials are expecting that number to increase again.
On Thursday, just over 300 persons were in shelters.
https://www.youtube.com/watch?v=3vE8sdUEeq0
DaBreo said that the weather systems in the area were generating rain, which "is not a good thing for us because our drains are blocked and we have areas where the water is ponding very quickly".
And even as DaBreo and her team were attempting to assist the storm victims, they were doing so in unfamiliar territory as the hurricane destroyed the DDM's headquarters, forcing them to move into the basement of the new Peebles Hospital in the main city.
"We lost our structure, we lost a lot of our network, our entire weather station of over 20 stations is totally gone, seismic equipment is gone, strong-motion equipment is gone; so the whole monitoring, alert and warning mechanism itself has had a massive impact and this took us over 40 years to build and so these are significant losses for us.
"We have had to move as much as we can into the hospital setting here. We have tested these procedures before, we have tested our mobile capabilities to operate outside of the EOC setting, but not with everything lost, and so, it is giving us some complications and some challenges in getting things moving."
DaBreo said her staff has a lot of energy and are very dedicated but some of them are beginning to be affected by the stresses of the situation.
"Some of them have had some emotional times, spending over 40 building this, a lot of them have been with us for more than 20 years and so it is having a psychological effect on them.
"Yes, they are material losses and they understand that, but the effort that they put in over the years to get the networks in place had really had an impact on that.
"In addition to that, the younger ones in the organisation are having a hard time keeping up. You've got to watch your health, you've got to watch your psyche, you've got to really monitor what's going on. I'm having some challenges now with them because many of them are actually breaking down.
"We have some younger ones, I believe the hydration issues are now affecting, a lot of intense work, a lot of monitoring things, I think they are not taking care of themselves as they should, so we are now looking at a full care programme for the DDM," she told CMC.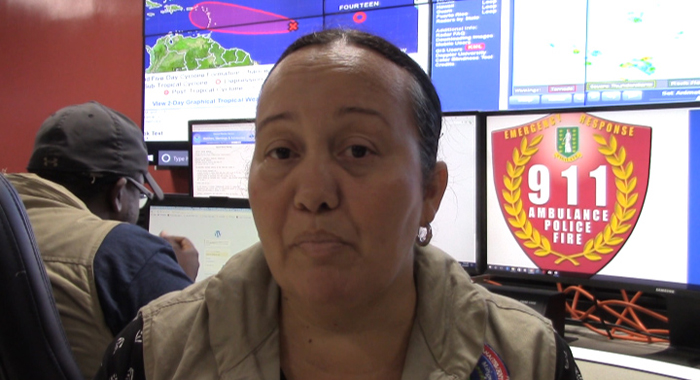 DaBreo said that the older members of her team have had the experience with similar situation have shown an ability to withstand such rigours.
"They are able work through the stress and the processes that need to be done and priorities what their needs are. The younger ones are having a challenge with that."
Regarding the death toll in the territory, which was previously announced as five and then seven, DaBreo said that the latest numbers show that it is, in fact, four persons.
"It is something that we wish we could have never had to report on. But that is the reality and that number is small," DaBreo said, adding that the full medical team met on Wednesday and found that one person who died during the passage of the storm actually succumbed to a previous illness.
"So, the official number is now four," DaBreo said, adding that she did not have information on whether any of the people who died as a result of the storm are non-nationals of the BVI.
"That information, I do not have. We just have based on the location. There was one from Virgin Gorda and the other three were from the mainland, Tortola," DaBreo said.
https://www.youtube.com/watch?v=SExsKtrMLGw
She said that the various delegations from Caribbean Community nations that have visited the BVI post-Hurricane Irma have noted that lot of the structures are still intact although their roofs and windows were impacted.
"So there is potential to move into the rebuilding phase a lot sooner than we had expected," she said, expressing confidence that her country would recover from Irma' devastation.
"There is no doubt about that. We will have an opportunity to fix a lot of things. Ministers understand the scope of the impact, they understand what efforts are going to be needed in order to go into that. We do have challenges, we are gonna need help but BVI has to recover from this.
"We have a very resilient population in many of our islands, we have done a lot of work to make people aware and to build education and we think that has been some of the reasons why we are in a state that we are, in terms of having structures, in terms of having people understanding what they need to do, and we want to continue to build on that, we want to continue to ensure that people are educated, people are aware, and people need to know what efforts need to be put in to take us into that rebuilding stages," she told CMC.