A Vincentian businessman has a proposal that he said could help to stabilize the price that the nation's agricultural produce can fetch on the regional market.
Leon "Bigger Bigs" of Bigger Trucking and Block Construction fame, who is now owner of Phoenix Kitchen, is proposing that farmers form a co-operative and install cooling facilities in a building at Yambou which he would make available to them.
He said that by doing so, the cooperative could control the supply to, and, by extension, the price that the produce can fetch on the regional market.
Samuel said that when he was a "trafficker", the Vincentian expression for business persons who take agricultural produce to other Caribbean islands for sale, he came to realize that the technique can be used to make agriculture "a success in St. Vincent and the Grenadines again".
He told a Dec. 10 event to mark the opening of Phoenix Kitchen's branch in Yambou that Vincentians involved in the trade in agricultural goods between St. Vincent and the Grenadines and Trinidad and Tobago do not make money.
"What they have is the benefit of the producers or the farmers who farm and give them or trust (credit) them the produce so they can take to Trinidad and what you call 'tun hand' — really amazing," said Samuel, who was once involved in the agricultural produce trade.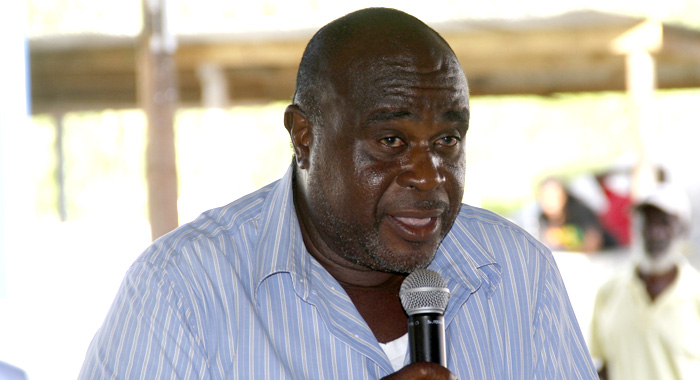 He said that traders sometimes make money, like after Christmas, when the market is empty, adding that traders also make money during the dry season, when the weather affects yields.
"I see eddoes soar as high as $400 a sack already, dasheen soar as high as $160-$180 a sack. I see it already and I bought it already," he said.
He said that since agricultural produce fetch those prices when there is a drought,
"We can create what is called an artificial drought."
He noted that when there is a glut or during the rainy season, the price of dasheen falls to as low as EC$40 a sack.
"It doesn't make sense to grow dasheen and sell them for $40 and $30 a sack. It's better you leave them in the field to spoil because … sometimes $40 a day you are paying one person to dig and then you are paying somebody $10, according to where you have the dasheen, to joge (tote) it to the road.
"So my plan that I want to share with us this afternoon, I would like to see we, as farmers, have a cooperative."
Samuel pointed to a building on his property that he said has over 10,000 square feet of floor space.
"It is sitting on lands that are owned by us and I am willing, should the farmers of St. Vincent want, to turn it over to them with deed and everything. All we have to do is equip it with cold storage."
He said this cold storage is a major problem for farmers in SVG.
"We have a big country like St. Vincent and the Grenadines, has so much of farmers and you hear everybody talk about farming, farming, farming, we don't even have cold storage to hold anything for one day. Does that make any sense?"
Samuel said that China is going to build US$300 million in cold storage for their farmers.
"If we, as farmers, can come together and invest, … we can begin right in Yambou here to build proper storage."
Samuel said he has recruited Andrew Miller of Andrews Refrigeration who has done measurement for the installation of cold storage on one side of the building.
"The cold storage should be … big enough so that a forklift would be able to stack three high in terms of pallet height.
He said that consultant Herbert "Haz" Samuel has agreed to help find the most efficient way of powering the cold storage.
"So we, as farmers, have to find a way to get out of this dilemma and fixing our problem as individuals and at the same time fixing the problem of the country, because we have a problem where we have a scarcity of resources in order for us to even maintain ourselves," the businessman said.
"Wherever you hear you selling something but the person who is buying from you is telling you how much they going to pay you… That is what is happening to farmers in this country here: that they have a sack of dasheen and the purchaser is going to tell them how much they going to pay them for that sack of dasheen. It is not the other way around, where the farmers know their expense and they are going to tell the purchaser what they want. This has to change and we can change this, as long as we form a cooperative in this country…"  Samuel said.