The Unity Labour Party administration will not heed, at this time, calls for the decriminalisation of recreational use of marijuana, which is widely smoked and available in St. Vincent and the Grenadines (SVG).
Minister of Finance Camillo Gonsalves outlined his government's position on the issue in his Budget Address on Monday.
"Unregulated consumption of recreational marijuana poses a number of risks and challenges that we do not currently have the data on which to make informed decisions, or the capacity to manage effectively," the minister said.
Gonsalves said that while there will no doubt be populist calls to "free up the weed" in its entirety, his government "is not currently prepared to take that step".
He said that in addition to the unknown risks and challenges, the government's regular scientific polling on the issue shows "a deep divergence of views on the issue of recreational marijuana in our society.
"We cannot responsibly ignore the deeply held beliefs of such a large section of the Vincentian public."
The minister, however, noted that global developments and shifting attitudes have presented SVG with an opportunity to leverage its home-grown experience and expertise in illegal cannabis cultivation into "a full-fledged industry that will take advantage of the positive medicinal properties of cannabis and its ability to produce pharmaceuticals that can be used in pain management, nausea prevention, seizure suppression, and in treating anxiety disorders, certain cancers, glaucoma, insomnia, etc.
Gonsalves said that the government plans to continue, this year, its wide and thorough consultations with the Vincentian public to canvass their views on "the desirability of a well-regulated, clearly defined, export-oriented, medical cannabis industry in St. Vincent and the Grenadines.
"Such an industry, if supported by the public and approved by Parliament, would position our country to take advantage of the economic opportunities presented by the rapidly expanding international market for medicinal cannabis products."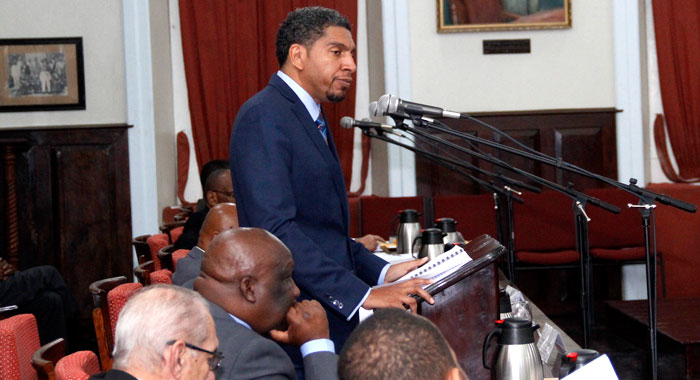 The minister, however, said that the nation must be clear-eyed and realistic about the potential of this industry, the prevalence and perception of marijuana in large sections of the Vincentian society, and the status of cannabis in our regional and international context.
"For example, we must first acknowledge that, despite anecdotal claims of the superiority of locally-cultivated cannabis, there is no empirical evidence to support these assertions.
"Much of the growth of the illicit trade in Vincentian marijuana is based not so much on its quality, but on our location, terrain, and multiplicity of small cultivators.
"In short, St. Vincent and the Grenadines has a competitive advantage in the illicit trade in marijuana — an advantage that does not automatically transfer to legal production of medicinal cannabis.
"Stripped of its illegality, cannabis becomes just another crop — like a dasheen or a banana. We must contemplate an industry that focuses not merely on the export of a raw cash crop, but rather on value-added extracts and pharmaceutical products."
The minister said that the nation must recognise that Vincentian cultivators currently produce the majority of their recreational marijuana for export to neighbouring countries in which the recreational consumption of marijuana remains illegal.
"It would be an irresponsible act to give official sanction to flooding regional markets with a product that remains illegal in those markets. The production and export of cannabis products must be linked to markets that licence and accept them. We are not a bad neighbour. There will be ample space for local cultivators and entrepreneurs in the medicinal cannabis industry," he said.
The government's latest position came in a speech in which the minister said that construction of Blacksand Resort at Peter's Hope, which is funded by Canadian investors, is expected to begin this year.
The investors have said that they want to offer medicinal marijuana services when the resort is complete.
The government has also said that it would bring to Parliament, as early as March, legislation for the establishment of a medical marijuana industry in St. Vincent and the Grenadines.
Last Wednesday, two opposition politicians, Member of Parliament for North Leeward, Roland "Patel" Matthews and Israel Bruce, the New Democratic Party's candidate for South Central Windward, said that they support the decriminalisation of small quantities of marijuana for recreational and religious use.