By Kenton X. Chance
About a quarter of the medical students who came to St. Vincent after Hurricane Maria devastated Dominica last September returned to the "Nature Isle" on Wednesday with three of them telling iWitness News that they had fond memories of their time in the "Gem of the Antilles".
"I can say that they are grateful and they are very thankful to the people of St. Vincent for being very accommodating to us when we really needed it," Otse Jemina Momoh, student president, at All Saints University told iWitness News at the Cruise Ship Berth in Kingstown.
Momoh, a Nigerian, was there to see off 105 students, many of them her compatriots, as they boarded a ferry back to the Dominican capital.
Over 400 students and staff from the university's campus in Roseau were transferred to Kingstown after the devastating category 5 storm that ravaged Dominica leaving thousands without housing, food, water, or electricity.
https://youtu.be/qGnPIf0bOME
'it was a good experience'
"We found that a lot of people here were really, really nice to us. And the situation coming here, we really needed it; so, thank them for opening their homes to us and their city to us…" Momoh further said of St. Vincent and the Grenadines.
"The city is beautiful and some things were challenging coming here, but, all in all, it was a good experience."
She said there were subtle differences between SVG and Dominica.
"Here was more refined. I would say it was a little easier for us. There were some things that were harder, like transportation, we're not used to living so far apart but I think that was okay, something we can manage," said the student president who has lived in Prospect, Harmony Hall, Arnos Vale, and now Glen, since coming to St. Vincent last September.
She completed her medical studies while in St. Vincent and will return to Nigeria when she is "ready to leave", said Momoh, who contrasted the fast pace of life in Nigeria to the more "lax" style of the Caribbean.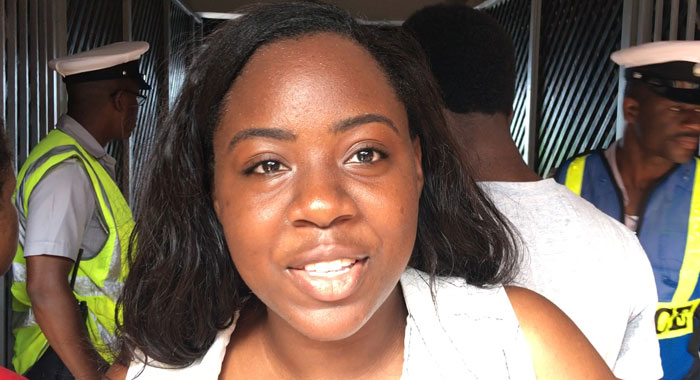 Momoh said her experience in the Caribbean was very different, compared to "more westernized places like the UK and the US".
"In general, the Caribbean has been very interesting, it has been very, very different; a good experience. We have seen so many things that are beautiful that we wouldn't ordinarily see in other places. It's been wonderful."
She, however, said that in Nigeria, she is accustomed to a more fast-paced life, where people do things on time.
"We're hustlers, really. Basically. When we came here, we found that a lot of things were a bit more lax. People close shops early, things like that. We had more that spirit of wanting to do things on time. Really hustling. So it was a bit more relaxed. People here were a bit more like chill and less stress and worry," Momoh told iWitness News.
'God … kept me alive'
Jonathan Moses, also a Nigerian, was leaving, after four months in SVG, a country he had never visited before the storm.
He said his experience in SVG was "awesome in the sense that, at least, we can walk anytime we want in the night, unlike Dominica, [where] we are not that secure, like some person can just come rob you and take your phone.
"This place was totally safe, nobody harassed us. It was OK, the environment was conducive and the people were very welcoming and they are very nice too."
Moses lived in Glen before moving to Kingstown and also visited Bequia and Young Island.
"It was awesome," he said of his trip to the Grenadines.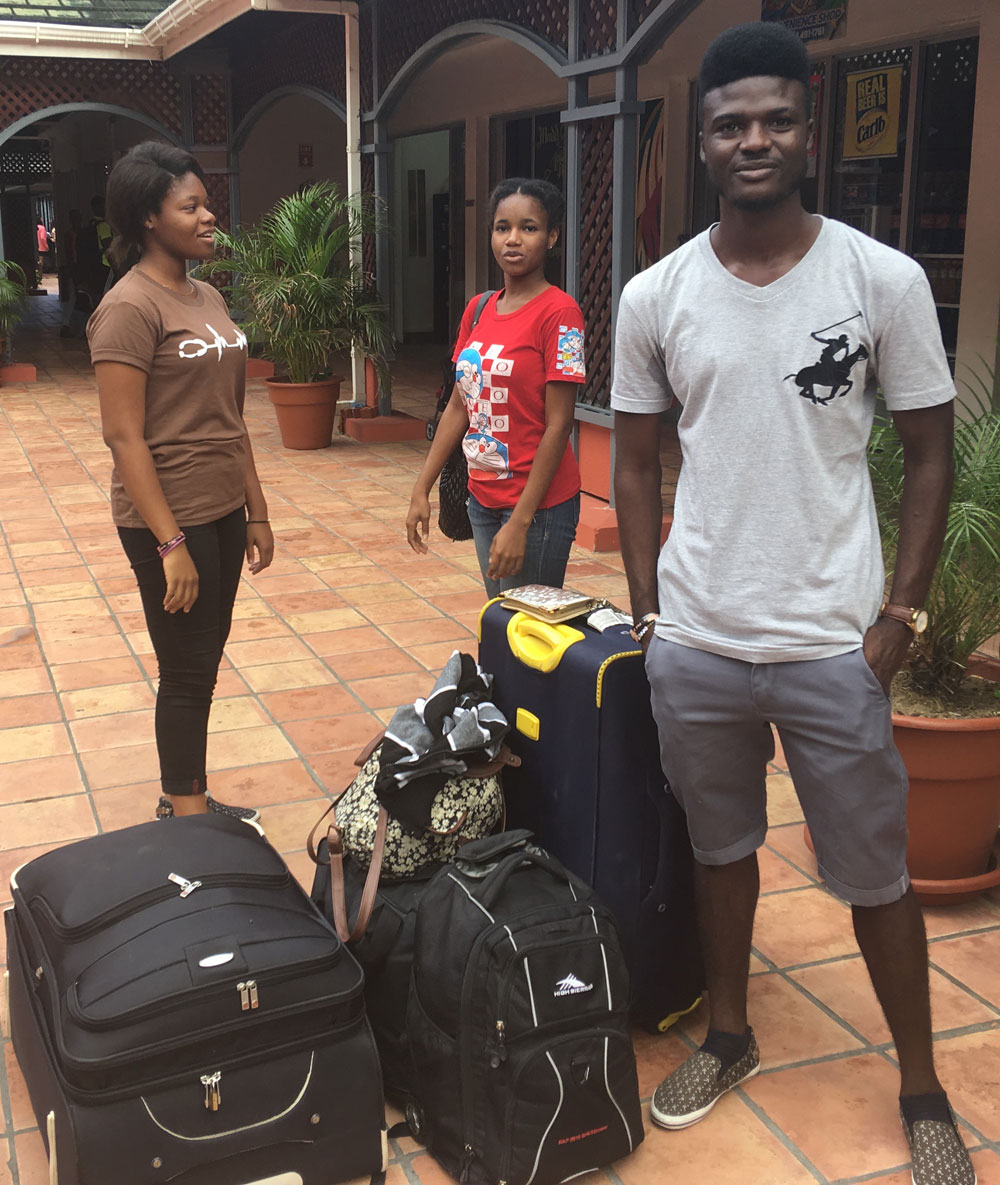 Moses recounted the "terrible" experience he had during the passage of Hurricane Maria
"It was bad… I would have lost my life because they asked everyone to stay indoors but I have been in previous storms in Dominica and it was not that serious so I say, ok, let me go to a hotel. It was just Nigerians in the hotel and two guests, one from the UK and one from the US and three of us were stranded.
"The hotel was totally brought down because we were close to the sea and I had to stay with a life jacket throughout the whole storm and I was scared something should come and hit me where I was or drop on me, or the water would take me into the sea," Moses told iWitness News.
"I just thank God for saving my life because it really was not easy. It was God that kept me alive," he said.
He said the storm destroyed his apartment and he had to move in with a friend.
"Getting food was not easy because people were fighting for food and the whole supermarket where they sell food was destroyed so we had to find a way to survive," Moses told iWitness News.
He was mindful that even as he returns to Dominica, the country is not back to normal as yet.
"The country is not fully back yet though. They are still building. So I just pray God would keep us when we get there."
'awesome' stay in SVG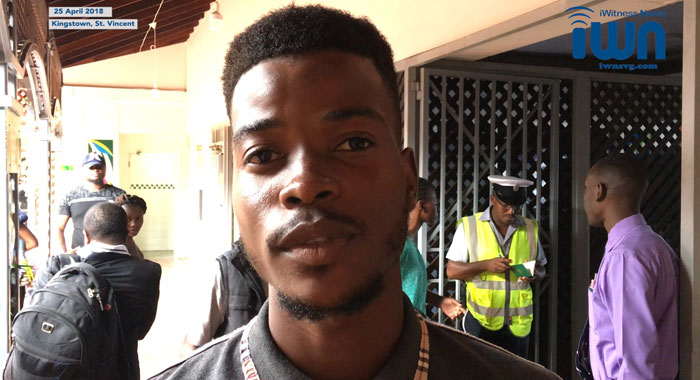 Meanwhile, Victor Ogunjobi, who is also from Nigeria, came to SVG last September.
He said his experience in SVG has been "awesome", in that he left "an island where hurricane just happened and getting out of there was a huge relief to me and also to the students.
"It was a really great opportunity to have experienced St. Vincent. I've been to Bequia, which is a very, very nice island. It was fun for me. St. Vincent was good, actually."
Ogunjobi said he had "an out of the world experience" during the passage of Hurricane Maria.
"It is not something you want to experience twice in your lifetime."
He, however, said he was looking forward to going back "because I love Dominica and I spent at least three years in Dominica so it feels almost like home already so I'd always want to see my friends and people I've made friends with all over the years again".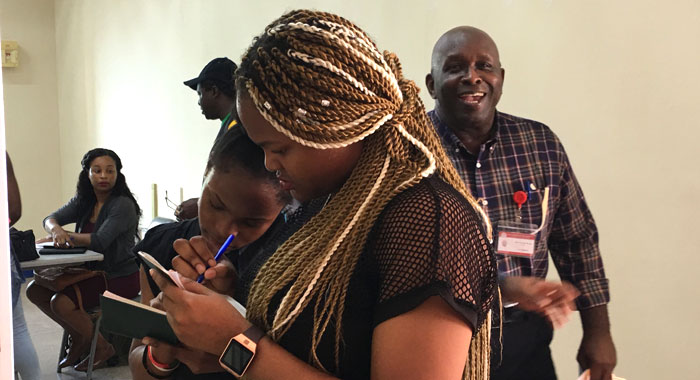 Also on hand to see the students off was Luis de Shong, principal assistant registrar, All Saints University College of Medicine, St. Vincent Campus.
He said that after Hurricane Maria, the university decided to transfer the Dominica campus to SVG to allow the students to continue their medical education.
He said 382 arrived by ferry and a further 70 by air and the two campuses have been operating as one in St. Vincent since then.
De Shong said that classes have gone along quite smoothly.
"Now that Dominica is said to be back up and running, we have completed the refurbishment of the campus in Dominica and so we are moving to re-establish, recommence operation there on 7th of May when the new semester begins.
"So what we have in here this morning is a contingent of persons leaving on the ferry to go back to Dominica and there are several persons, both students and members of faculty who will travel by air between now and 5, 6th, 7th of May."
"The return to Dominica is not mandatory. Students have a choice. They can take the decision to go back and they could ask for a transfer. What I can say to you, the students in the pre-med classes 1, 2, 3, and 4 and the MD 1, and 2, and 3, we have said that they could seek an official transfer and they have begun all of the steps which would lead to the eventual transfer. So they stayed," de Shong said.
However, one student, who asked iWitness News to allow her to speak anonymously, showed us a letter that students were asked to sign and said she felt that they had no choice but to go back to Dominica.
De Shong, however, said that the university had not pressured any of the students to return to Dominica.