At least one of the 105 medical students at All Saints University who left St. Vincent on Wednesday on board a ferry for Dominica felt that she was being pressured to return to the hurricane-ravaged country.
The female student who asked to speak to iWitness News without giving her name, showed us a document that she said students had been asked to sign before returning to Dominica.
The students were brought to St. Vincent and the Grenadines in September and October last year after Hurricane Maria left scores dead and thousands without shelter, food, water or electricity across Dominica.
The university said in a note to the Vincentian media on Tuesday that its Dominica Campus of the All Saints University, College of Medicine, will re-commence operations on May 7, 2018 and 100 students were being returned to the country.
But the student, speaking to iWitness News at the Cruise Ship Berth from shortly before the ferry was scheduled to depart for Dominica at 9:30 a.m. Wednesday, said that she would rather remain in St. Vincent until at least September.
"I think I prefer St. Vincent, by far, to Dominica because we get to relax, we are not doing things by compulsion, we are doing things by our own pace," the student told iWitness News.
"But what I don't understand is the reason why we have to go back to Dominica by force. This is by force. That's why I am not signing this letter. I am not going to sign the letter. None of my friends are going to sign the letter, because it says they didn't coerce us to go back. But they did, because they refused to let anyone transfer from Dominica to St. Vincent campus.
"So where are we supposed to go to? Literally, everything they are trying to do, they are trying to make it coded without anyone knowing what they are doing. We know. We are adults; we are not babies. We know they are trying to make us go back. To be honest, no one wants to go back and things there are not proper.
"I have friends who went there on Monday and they are like to get a house is terribly difficult. It's very difficult to get a house, very difficult to even get proper food. So how are you going to survive? Why they don't just wait until September for people to go back. It is terrible," the student said.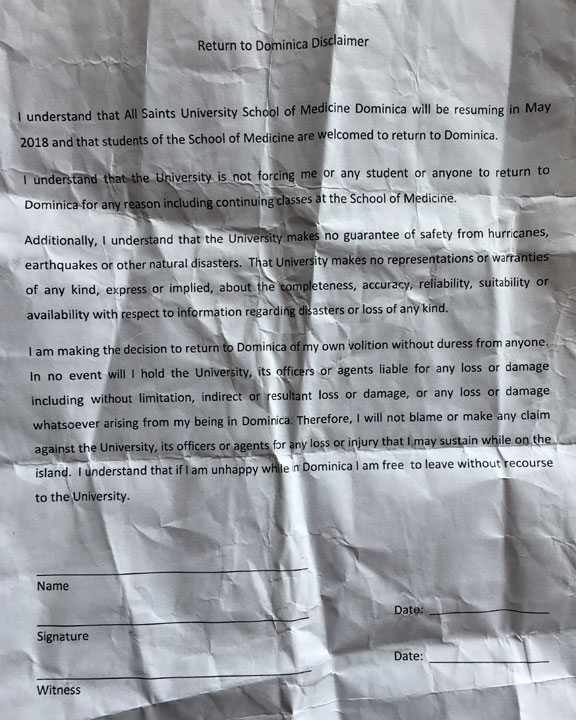 "They only reason they are making us go back is because of accreditation. I don't understand why you would choose accreditation over people's life. Let's say something bad happens to people there or starvation because there is famine, what are you going to do?.
"The crime rate in that country is high right. I have friends there and it is putting everybody at risk. Everybody is scared. They are choosing property and school over people's lives. We want to go back, but in September, not now. At least give the country one year to revive and come back before putting people back. It's by force. They are forcing people to go back and this letter; I will definitely not advise anyone to sign it. Definitely, no one should sign this," she said.
The students showed iWitness News an undated document, purportedly issued by the university.
The document, which did not include a letterhead, was headlined "Return to Dominica Disclaimer".
It had space for the name and signature of the signatory, the signature of a witness and the date of each signature.
If recipients sign the document, they acknowledge that they are not being forced to return to Dominica and promise not to "blame or make any claim against the University, its officers or agents for any loss or injury that I may sustain while on the island".
But Luis de Shong, principal assistant registrar, All Saints University College of Medicine, St. Vincent Campus denied that the students were being pressured to return to Dominica.
"The return to Dominica is not mandatory. Students have a choice. They can take the decision to go back and they could ask for a transfer. What I can say to you, the students in the pre-med classes 1, 2, 3, and 4 and the MD 1, and 2, and 3, we have said that they could seek an official transfer and they have begun all of the steps which would lead to the eventual transfer. So they stayed," he told iWitness News at the Cruise Ship Berth in Kingstown, from where the students were departing via ferry.
de Shong said that all members of faculty are returning to Dominica.
The university officials had said, "Now that Dominica is said to be back up and running, we have completed the refurbishment of the campus in Dominica and so we are moving to re-establish, recommence operation there on 7th of May when the new semester begins…"
Asked if he had visited Dominica, de Shong said:
"I did not go myself but there are officials in Dominica and also our executive dean from here, Dr. Terrence Marcelle who have been making regular visits to Dominica and that's the information that the headquarters in Toronto has been given and so, therefore, we have taken that decision to recommence operation there on the 7th of May."
He said that students should not expect that Dominica would be as it was the night before it was struck by the category 5 hurricane.
"It will not be the same as the night before the storm and we have emphasised that to students that they have to make some adjustments but we have been assured that the facility for us, that we own, is back up and running and they can access housing and there is adequate water and also electricity in and around Roseau, where they actually live. They hardly ever move beyond the confines of Roseau for their accommodation," he said.
Asked specifically about the student's claim about being coerced to return to Dominica, de Shong said:
"I am not aware of anybody pressuring anyone. Students were given the option. They could go or they could stay. If they choose to stay, they can apply for transfer. So, as far as I am aware, the persons who are actually boarding this ferry this morning took that personal decision to go."