Vincentian gospel artiste and cultural ambassador, Bridget Blucher, was honoured in Kingstown on Sunday at the climax of the 2018 Digicel SVG Gospel Festival
The National Gospel Fest Committee and the Vincentian Association of Artists, Musicians and Entertainers honoured Blucher as she celebrates 20 years of religious ministry.
In introducing Blucher, coordinator of SVG Gospel Fest, Michael Peters, said:
"God has blessed this country with a very special lady who, in turn, has blessed millions around the world. And wherever she goes, she says, 'I am Vincy.' Tonight, she is celebrating 20 years of music ministry. We could not allow that anniversary to go by so we are going to, first of all, honour her."
Rev. Manson Shortte, chair of the National Gospel Fest Committee, said it gave his group great pleasure to honour Blucher as she celebrates 20 years in gospel music.
"I believe that when I present this, I am presenting it with all the folks who have enjoyed your music in St. Vincent and the Grenadines. So, on behalf of the Gospel Fest Committee, I would like to present this token of our appreciation to you and may God continue to bless you as you continue this wonderful ministry for the Lord," Shortte said.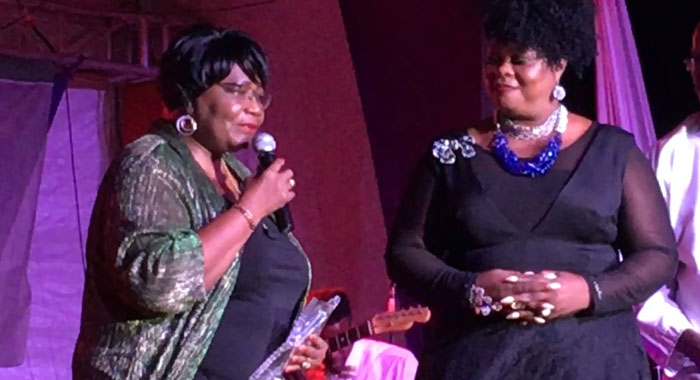 Meanwhile, president of the Vincentian Association of Artists, Musicians and Entertainers, Rene Baptiste, noted the progress that SVG Gospel Fest has made since its introduction 16 years ago when she was Minister of Culture.
"Sixteen years ago, when this (Gospel Fest) started, we had our challenges but look at us now. It's a legacy programme, a great programme. We are giving praise and thanks to almighty God for the lips and the voices he has given us to sing and the feet to dance, and the musicians to play on their instruments," Baptiste said.
Speaking specifically about Blucher, Baptiste said: "… but he has given us a woman, a Vincentian woman, born of this earth and this soil, celebrating 20 years in this particular ministry, lifting up the gospel, using her voice as a great instrument of peace, of love, of joy, of prosperity, of success, of victory".
At Sunday's event, Bridget Blucher Ministries gave away a 50-inch flat screen television and a stereo system.
During this visit to St. Vincent, the artiste also gave laptop computers to three students and $600 bursaries to three students.