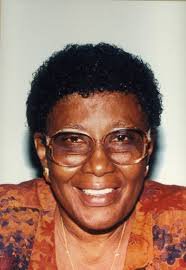 Yvonne Francis-Gibson gave birth to one child but was mother to many. She will go down in history as an extremely vocal champion and activist against the social and political challenges that faced Vincentian, regardless of their political, religious or social status.
In 1981, as President of the SVG Teachers Association, she led the march against the "Dread Bills" under the rallying cry "kill the bill". In 1979, she was a central figure in the "Remember November" teachers' strike and was tear-gassed and jailed for it by the then Labour government. Such treatment did not deter her from fighting for just causes on behalf of working people. She took the issues regionally and internationally through affiliated teacher and trade union organisations.
After her retirement from the teaching service in 1987, she continued her social activism and entered politics at the parliamentary level. She was elected Member of Parliament for the constituency of West St. George. In that role, she worked to change laws that discriminated against women in our society. Because of her efforts, female teachers in SVG now have the right to maternity leave, and married women could now file income tax separate from their husbands as persons in their own right, among other benefits.
Yvonne Francis Gibson served Vincentians well — as a mother, trade unionist and feminist, activist, parliamentarian, Minister of Education, Minister of Health and as President of the Women's Arm of the New Democratic Party. She has "fought the good fight". She has paid her dues.
We express our condolences to her son, relatives and other friends, all of whom may be consoled in knowing, with confidence, that "It is well with her soul."