By Kenton X. Chance
PLACENCIA, Belize (CMC) — The Sixth Caribbean Sustainable Energy Forum (CSEF VI) has begun here with the former prime minister of Aruba urging the region to acknowledge the fears of stakeholders in the non-renewable energy sector amidst the shift to renewables.
Mike Eman is also urging countries to ensure that any saving resulting from that shift should be used to improve the quality of life of citizens.
He told the conference, which ends on Wednesday, that his island has enjoyed impressive development, increasing from 2,000 to 8,000 the number of hotel rooms, and significant growth in its gross domestic product (GDP) and per capita income.
But Eman said while he was proud of the progress, he saw the deficiencies.
He said what was needed was not only-five star hotel but also five-star schools, neighbourhoods, healthcare, and homes — "a five-star quality of life.
"And it is this gap that we see growing on all of our islands, and maybe even all over the world."
Eman said that when the Caribbean countries embark on a journey to create a new economy based on renewables and new energy polices, it should not only look at the technical opportunities but should also think about "the cost of lowering the energy prices — which is important".
He said that in increasing reliance on renewable energy, Aruba reduced from 6,000 to 3,000 barrels daily the amount of oil it imported to produce energy and potable water.
"Let us think about those saving and let us reflect and put the value of those savings in the context of the society we would like to create, where there is prosperity for all, where we can invest in building nice and better neighbourhood for our people…"
The former prime minister said those savings were used to invest in public spaces.
"There are so many recreational opportunities in the world which cost, which create the difference between those what have and those who don't have. Not everyone can go to Disney World, but if you build nice public spaces … those are the most democratic moments that the community can share together.
"And it is these opportunities that we will have in the journey of conversion of our society not relying on fuel oil, which is so expensive and creating new space in our budget, new space in the budget of our utilities to make this possible," Eman said.
He told the conference that very often, boardrooms, councils of ministers and parliaments discuss the achievement and the goals relative to the renewable energy sector.
"But there are also concerns. There is also fear and we should also recognise those fears and those concerns.
"Very often, on this stage, it's all about optimism, it's all about the possibilities, but in this room I am sure … there are people working in utilities that are concerned. Concerned about their jobs, concerned about the technology that we are going to implement and we need to address those concerns. We cannot over look those concerns."
Eman said that one of the great moments of success for Aruba was when it reached consensus with the utilities that by 2020 the nation wanted to be totally energy sustainable and not be just a policy vision but something that is carried in the society.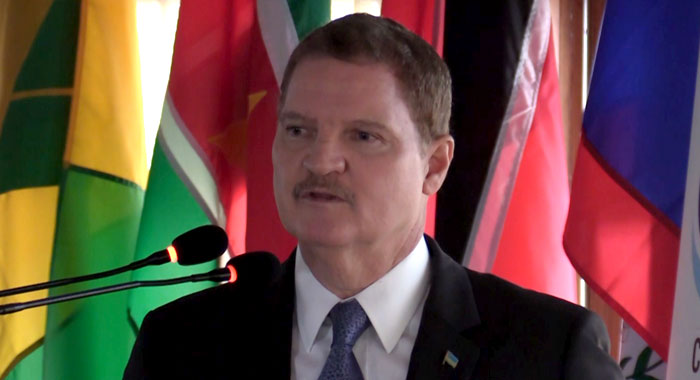 He said this is an opportunity to get the society on board with the policies a country would like to implement, adding it is also an opportunity to create dialogue about energy, the expensive cost of pensions systems and medical insurance, and the whole concept of sustainability.
"We have to understand that when we ask utilities to go along it is often seen as a turkey to prepare the thanksgiving dinner. And we should take away that fear. So, my friends, we have an opportunity o link these changes to something deeper and bigger, and it is that message I will like to leave with you."
He said that in Aruba the concept of renewable energy was linked to improving the quality of life of the people.
"When we looked at tourism, we were thinking about how we make the experience of the tourists more pleasant and more attractive by building nice and more beautiful hotels.
"Today, we have changed the motto: we say a nice place to live is a nice place to visit. The [emphasis] is on making it a nice place to live for the all the citizens, and, automatically, it becomes a nice place to visit.
"So let us embark on this journey of making the transition to renewable energy as part to a broader concept of a community commitment towards changing the things that should be changed and carrying the torch of this fire where, very often, we believe there is darkness to bring light and see the opportunities that these changes can make," Eman said.
The former prime minister noted that then President John F. Kennedy had announced that he wanted to the United States to put a man on the moon by the end of the 1960s.
"Probably he did not ask his technical advisors if that was possible," Eman said, emphasising that technocrats will find solution if given a political mandate
"But he felt that he need to make a commitment, because, as he said, the challenge that we are willing to embark on, a challenge that we are not willing to postpone, and a challenge that we feel would bring out new energy needs, skills and will create new opportunity for the development of our islands and our countries," Eman said.