The Hairouna Film Festival (HFF), presented by Jolly Exciting, has announced St. Vincent and the Grenadines' first film festival.
This historic event consists of free screenings in outdoor locations from March 22 to 30.
During HFF, persons will be treated to carefully selected short and feature films from St. Vincent, Jamaica, Trinidad, Barbados, Colombia and Dominica.
The film festival is supported by Third Horizon, a Caribbean media company based in Miami, which hosts Caribbean film festivals in Miami, Guyana and New York.
"At this moment an immense wave of creativity is sweeping across the Caribbean. The community of Caribbean filmmakers is steadily growing, quality of work is progressively improving, new festivals are emerging, more and more opportunities for funding are becoming available," Aiko Roudette, HFF festival director said.
"We are in the nascent stages of what will likely become a flourishing Caribbean Film Industry. HFF aims to bring St. Vincent and the Grenadines into this movement that is occurring across the region."
HFF has adopted the model of the "pop-up cinema", meaning that all screenings will happen outdoors in public spaces, making the films part of the community landscape.
Hosting the screenings in public places also ensures that the festival is accessible to all Vincentians, particularly as we will visit multiple communities in St. Vincent and even screen in Bequia during the Easter Regatta, organisers say.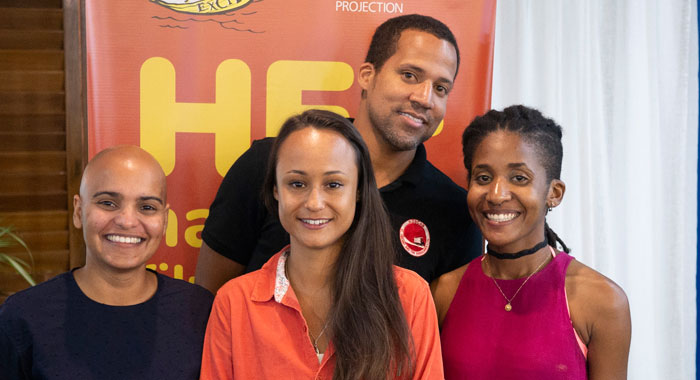 The festival opens in Calliaqua on March 22, with a short film called "Black Doll" by Vicnentian Akley Olton, and a feature film, "Bad Lucky Goat".
On March 23, the festival returns to Calliaqua for a full night dedicated to the best of Vincentian filmmaking.
On March the festival moves to the Redemption Sharpes playing field for a series of Caribbean short films.
On March 25, the festival goes to the SVG Community College.
A special screening will be held at the Belle Isle Correctional Facility for the inmates on March 26.
On March 28, the festival moves to Barrouallie and to the Old Sandy Bay school on March 29.
The festival culminates on March 30 with a final screening and intimate evening lime at Flowt, Blue Lagoon.
All screenings start at 6:30 p.m.
"We are especially excited about our night dedicated purely to Vincentian filmmakers, Saturday March 23rd. Those being highlighted are: Tolga Akcayli, Lesroy Arthur, Alex Barnwell, Colin Brown, Nadia Huggins, Javed DaSouza, Kamillo Edwards, Aiko Roudette, Shadique Gill, The Hub Collective in Bequia, Eniye Kagbala, Troy Ollivierre, Akley Olton and Camp Innovate iT will be on the big screen," Roudette said.
"We aren't leaving out the Grenadines! We have two public screenings during the Bequia Easter Regatta this year. The first screening will take place under the Almond Tree in Port Elizabeth on Saturday, April 20, 2019. The second will be held at Plantation House on Sunday, April 21, 2019."
Organisers say HFF seeks to continue its work beyond the official dates of the festival in the form of an on-going screening series.
This series intends to provide Vincentians with the opportunity to watch excellent Caribbean films year-round, including creating a platform for Vincentian filmmakers to continually showcase their work. We also have plans to collaborate with artists, poets and performers.
The HFF team says they have worked tirelessly to organize what they believe will be an entertaining, inspirational and educational event that will stimulate the Vincentian film industry.
"We believe that The Hairouna Film Festival is poised to be a catalyst for the development of an economically viable Vincentian film sector, further integrating St. Vincent and the Grenadines into the growing Caribbean film industry. It is important for us to not only consume media featuring relatable characters and scenarios, but also be empowered to create and share our own stories and culture with others," the HFF team said.
In addition to Roudette, the team also include Art Director, Nadia Huggins, Marketing and Social Media Manager, Olivia Stephens and Logistics Director, Miles Boyea.