Results at a glance
Miss SVG 2019 – Miss Mustique Company Sharikah Rodney
First Runner-up – Miss Metrocint General Insurance Co. Ltd. Sylvorn Lavia
Second Runner-up — Miss Flow Sonia Delecia
Best Interview — Miss Mustique Co. Ltd., Sharikah Rodney
Best in Evening Gown — Miss Mustique Co. Ltd., Sharikah Rodney
Best Talent — Miss Metrocint General Insurance Co. Ltd. Sylvorn Lavia
Best in Swimwear — Miss Mustique Co. Ltd., Sharikah Rodney
Miss Photogenic Miss Vincentian Chocolate, Megan Greaves
Miss Congeniality Miss Massy Stores (SVG) Ltd., Felica Thomas
Other contestant: Miss Lotto Kircia Modeste
Miss SVG 2019, Sharikah Rodney was not sure how to feel immediately after she was crowned shortly before midnight Saturday.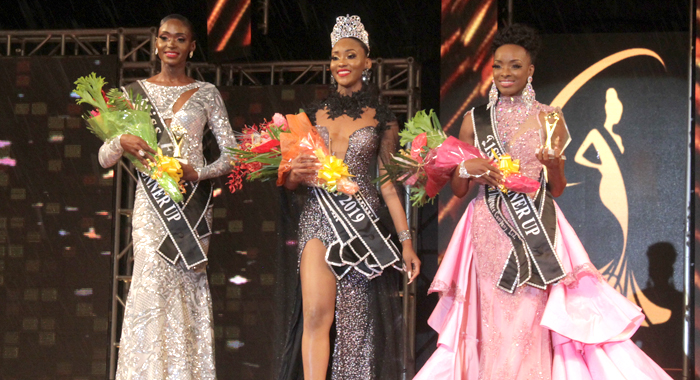 "I don't know if to feel happy or sad, but it feels absolutely amazing. Hard work has definitely paid off and it's a surreal feeling. I cannot wait to reign as Miss SVG 2019, the 19-year-old Greiggs resident told reporters.
Rodney won the Swimwear, Interview, and Evening Wear segments of the show, while the talent segment remains in the custody of detective Sylvorn Lavia.
Lavia, 22, of Fancy, who was sponsored by Metrocint General Insurance Co. Ltd., was first runner up in the show.
Lavia's talent was a song encouraging women to be fight back against abuse and to believe in themselves.
Rodney, who was sponsored by Mustique Co. Ltd., told reporters that Lavia was her biggest challenger, and congratulated her on her performance.
The new Miss SVG told reporters that her strongest segment of the show was the Swim Wear category.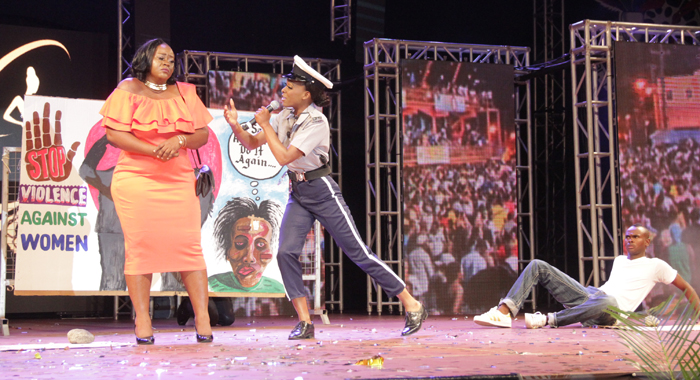 The "goddesses", as the producers of the show called them, wore swimwear by Vincentian designer, Pinky Todd-Williams of Pinky's Creations.
"But I also feel absolutely amazing about interview; definitely," Rodney said.
In the interview segment, contestants were asked a question based on their biography, and a general question.
Rodney was asked:
You aspire to become a forensic accountant. In addition to accounting and legal knowledge, what are some personal skills or traits that you possess that will make you a good forensic accountant?
She responded:
"A forensic accountant is an individual who possess the skills to investigate fraud and embezzlement as well as to assist in legal proceedings. I believe in fairness and that is skill that I possess to become a forensic accountant. I also believe in integrity because fairness is the only way that business can run smoothly. Also, I am a responsible person so if I am to work with companies throughout St. Vincent and the Grenadines, I will make sure that they adhere to ethical business practices. That way, the business will run smoothly."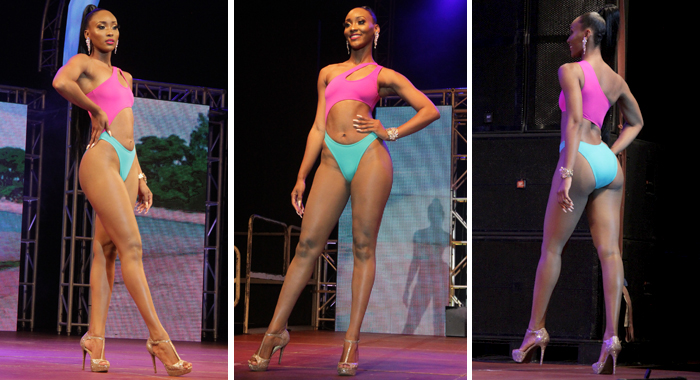 Her second question was:
"Pick one person, dead or alive, and explain why St. Vincent and the Grenadines should be proud of his or her contribution to the country as we celebrate 40 years of independence."
Rodney said:
"Firstly, I must say that there are many iconic persons here in St. Vincent and the Grenadines, but one person I thinks stands out most is the Honourable Rene Baptiste, better known as Mama Culture. She is the true embodiment of a dynamic woman. She is very versed in all aspects of our country as she has worked in law, finance, political, as well as the cultural sector and I believe that she is the epitome of a successful woman… (inaudible because of cheering)"
Rodney won the Evening Wear segment of the show with a dress designed by Vincentian designer Kimon Baptiste-St. Rose.
Rodney's prizes include a three-year university scholarship worth EC$80,000, which is tenable at the University of the West Indies.
The SVG Community College: Division of Arts, Sciences and General Studies graduate said she plans to pursue studies in forensic accounting in Barbados or Grenada.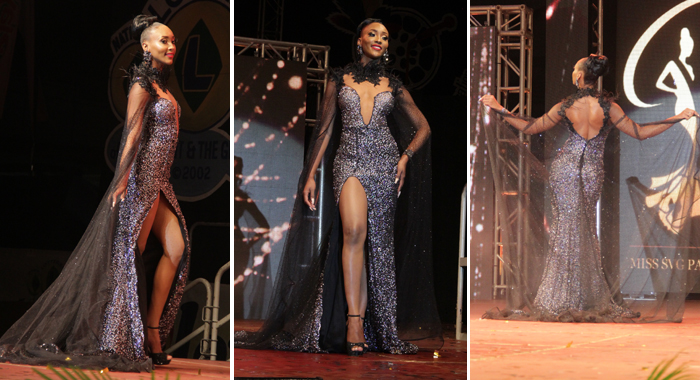 She said she plans to pursue training in this field because she believes in fairness.
"And fairness is the only way businesses will run smoothly," Rodney told reporters.
She said she has no particular issues on which she plans to focus during her one-year reign as Miss SVG.
"But I expect my reign will be one of significance. So definitely, I would like to make some difference in my community of Greiggs. Thanks to everybody in Greiggs who came out and support me tonight. Truly, truly you are appreciated.
Rodney said she was always confident that she would win.
"I have never given up on myself. Yes, the journey has been challenging and tonight, I knew there was competition, but I put my best food forward and I never stopped."
Rodney said the hardest part of the journey for her was the gym "because I hate working out but I never gave up…"