Yvonne Ollivierre, of Paget Farm, Bequia, was on Thursday presented with keys to a house built under the government's "Lives to Live" programme, the first such home erected in the Grenadines.
Under the programme, the government constructs homes for disadvantaged persons as well as builds indoor bathrooms and provide upgrade to homes belonging to indigent persons.
The house was was designed to accommodate Ollivierre's son and her brother, both of whom are physically challenged.
Minister of Housing, Montgomery Daniel said the request for assistance came around 2016 and the ministry sought to address the issue.
He added that the new homeowner also contributed to the two-bedroom house and commended Ollivierre for her input on the project, saying that "it made it a fine property overall".  
Daniel said it is the policy of the government to ensure that the standard of living of Vincentians is improved.
The target is to complete 24 more units by the end of this year, Daniel said.
A boulder damaged Ollivierre's original property during a disaster in 2005.
Daniel said that after the home was damaged, the National Emergency Management Organisation was instrumental in assisting Ollivierre by providing financial assistance for a temporary dwelling house.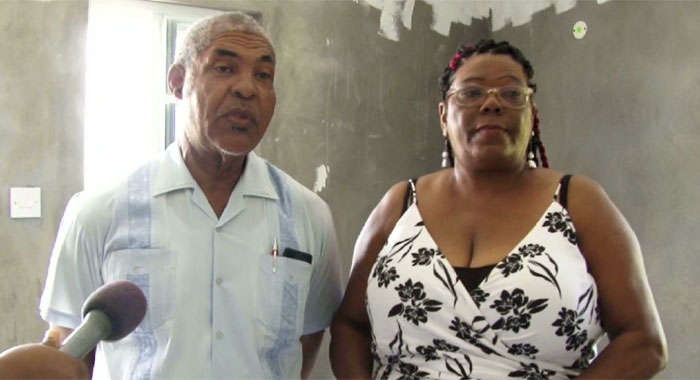 The house, which is almost complete, adds to the approximately 226 houses that the government has built under the "Lives to Live" programme. 
Speaking at the handing over event, Deputy Director of Grenadines Affairs, Herman Belmar said: "Today is a milestone not only for Yvonne but for the Northern Grenadines in particular."
He said that while minor works had been done in the Grenadines under the Lives to Love programme, Olliverre's hope was the first "major structure" in that part of the archipelago.
Meanwhile, chair of the Housing and Land Development Corporation, Beresford Phillips, said the house was an early Christmas gift and encouraged Ollivierre to take care of it.
Phillips thanked Ollivierre for exhibiting patience during the construction.
Ollivierre thanked the government and more particularly the staff of the Ministry of Housing and Governor General Susan Dougan in seeing this project to reality. Ollivierre described the assistance as "a warm and bright ray of light representing good and caring people who are attentive to individuals like myself".
She further said that after living 14 years in uncomfortable conditions "it is a privilege to be able to reclaim a home and make memories for reflection".
She also expressed her appreciation towards the government for its assistance.