An Arnos Vale man will be sentenced on Friday for possession of two firearms and 396 rounds of ammunition without a licence.
On Tuesday, at the Serious Offences Court, in Kingstown, Sealey "Ricky" Matthias, 56, who is also known as "Mikey", pleaded guilty to a charge that, on July 7, at Stubbs, he had in his possession one Smith & Wesson .40 pistol, serial number unknown, without a licence.
He also pleaded guilty to a charge that on the same date and at the same place, he had in his possession 10 rounds of .40 ammunition without a licence.
Matthias further pleaded guilty to a charge that on July 7, at Arnos Vale, he had in his possession, a 12-gauge shot gun, serial number, W715154 without a licence.
He also pleaded guilty to nine counts of possession of ammunition without a licence.
The ammunition, totalling 396 rounds, is as follows: 31 rounds of 12-gauge; 107 rounds of .40; 200 rounds of .22; 28 rounds of .38; 10 rounds of 9mm; 6 rounds of .44; 12 rounds of .357; and two rounds of .32
Matthias was initially charged along with his common-law wife, Francella "Fatty" Thomas, 52, who pleaded not guilty to all count.
The prosecution withdrew the charges against her, after defence counsel, Michelle Fife, said that her clients had accepted the facts.
Matthias and Thomas were initially arraigned on July 10 at the Kingstown Magistrate's Court, where Matthias pleaded guilty to the two Stubbs charges.
Senior Magistrate Rickie Burnett had granted an application by Senior Prosecutor Adolphus Delplesche to adjourn and transfer the matters to the Serious Offences Court for facts and sentencing the following day, July 11.
However, when the defendants appeared at that court on July 11, Matthias reversed his two guilty pleas and he and Thomas maintained their innocence on the other 10.
Chief magistrate Rechnne Browne increased their bail bond from EC$15,000 to EC$50,000.
On Tuesday, Fife asked that the charges be put to her clients again, and Matthias pleaded guilty to all, while Thomas maintained her not guilty pleas.
In presenting the facts on Tuesday, Delplesche said that on July 7, about 4 p.m. Police Constable 43 De Roche went to the Stubbs public road to investigate a motor vehicle collision involving PN200, which was driven by Matthias.
While investigating the accident, De Roche observed that Matthias was behaving suspiciously.
De Roche requested a search of the vehicle, to which Matthias consented.
The police officer found inside a black leather bag on the back seat of the vehicle the Smith and Western pistol, which was loaded with 10 rounds of .40 ammunition.
Matthias was taken into custody and a more extensive investigation was launched.
The investigation then involved Sergeant 366 Giles, who at 10:20 p.m. led a raid party, including PC 706 Wright to Matthias' home in Arnos Vale.
When they arrived at Arnos Vale, Matthias took the police to an abandoned concrete home and told them that the lady next door had the keys to the building.
The police went next door, where they met Thomas who had the keys.
Thomas told the police, "Ricky lives here but when we vex he go over to that house to sleep."
A search warrant was read and shown to Thomas.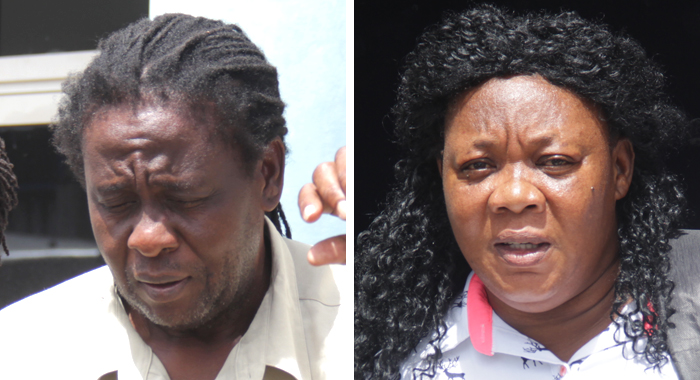 Delplesche said the house is fenced, has a gate and has dogs in the yard, including a ferocious pit bull.
He said Thomas told the police that the dogs, except the pit bull, which was "stationed in a very strategic position", were tied.
Thomas restrained the pit bull to allow the search to take place.
In one of the two bedrooms inside the house, police found inside a barrel of tools and household items, a black rifle bag, which Matthias told the police belonged to him.
Inside the bag, the police found the 12-guage shotgun loaded with seven round of ammunition, with seven additional rounds in a box.
Matthias told the police, "Officer, that is mine."
In the second bedroom, inside a chest of drawer containing some female underwear, police found a black magazine containing seven round of .40mm ammunition.
Thomas told the police that the drawer is hers, adding, "But I don't know anything about those."
Matthias told the police, "Officer, ah find them."
The search continued and police found two packs of .22 ammunition totalling 200 rounds on a cupboard in the second bedroom, which is occupied by both defendants.
Thomas said: "Way all them dey come from, Ricky?"
Matthias said: "I find them on the site where I work."
Thomas then joined in assisting in the search and lifted a mattress from a bed, under which there was a green bag with two black handles.
Asked about the bag, Matthias said: "Officer, I found them. Is find I find them where I am working."
The bag was found to contain three rounds of .380 ammunition, two rounds of .32 ammunition, 17 rounds of 12 gauge ammunition, 25 rounds of .38 ammunition, 10 rounds of 9mm ammunition, six rounds of .44 ammunition, 12 rounds of .357 ammunition, and 100 rounds of .40 ammunition.
The defendants were arrested and taken into custody and the offences of possession of firearm of ammunition were pointed out to them.
On July 8, at the Calliaqua Police Station, the defendants were again cautioned and interviewed. They made no statement.
A police ballistics expert concluded that the firearms were functional and the ammunition live.