Although the Grenadines span approximately 100 kilometres and contain more than 70 islands, rocks and cays, Environmental Protection in the Caribbean (EPIC) is bringing people throughout the region together through a shared resource — seabirds. 
In December 2019, a crew of members from Grenada and St. Vincent and the Grenadines (SVG) installed "Wildlife Reserve" signs on Battowia and Petit Canouan in the northern Grenadines.
Working in cooperation with the Department of Forestry, the signs were designed to inform the public of regulations protecting these vital conservation zones.
Battowia and Petit Canouan are two of the most critical nesting islands for seabirds in the SVG and the entire Caribbean.
However, although both islands have been designated as national wildlife reserves since 1989, they continue to experience many illegal activities, such as seabird harvesting, overgrazing of livestock, and burning of vegetation.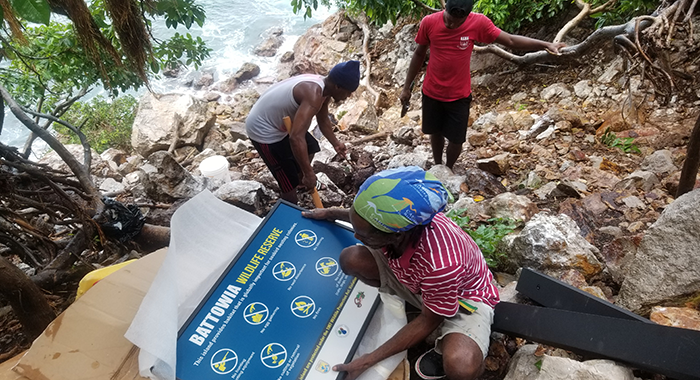 The transboundary Grenadines harbour tens of thousands of breeding seabirds in remote, isolated and inaccessible colonies.
Some of these islands are globally significant for seabird populations, meaning that they harbour at least 1% of the global population for a species.
While SVG has established wildlife reserves on many of their remote Grenadine islands, Grenada has yet to advance legal protection for seabirds and their nesting habitats.
The sign installation crew consisted primarily of fisherfolk from Carriacou and Bequia, representing a transboundary effort for seabird conservation — a milestone for both Grenada and SVG, and for seabirds, who have received very little attention in the region.
Carriacou fisherman and sailor Vaughn Thomas lent his sailboat and sailing skills to access the offshore islands and directed the installation operation.
He was assisted by Cassion Grant and Oron Compton, two fishermen from Paget Farm, Bequia, who contributed their invaluable knowledge of both islands and surrounding waters.
One team member recounted how he learned about all of the Grenadine islands through his grandfather, who taught him how to fish, build boats, navigate and other critical survival skills required for a young man of the Grenadines to make a living and survive at sea.
While on Battowia, EPIC Project Coordinator and Seabird Biologist Juliana Coffey documented a sizable Magnificent Frigatebird colony. Magnificent frigate birds had not been recorded nesting in SVG or in Grenada in many years, and only four other colonies are known in the entire Lesser Antilles.
This discovery, although remarkable, is not surprising given the lack of scientific investigations on offshore islands in the Grenadines.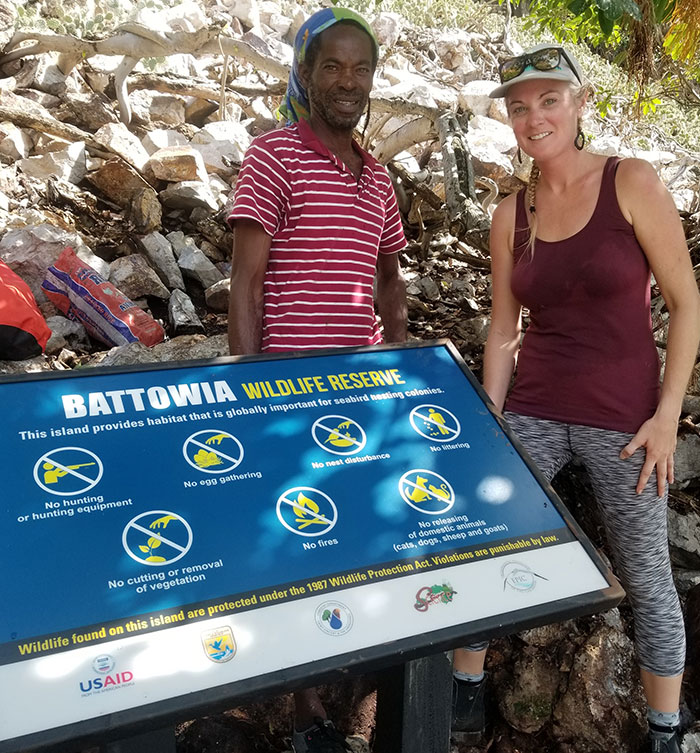 Fisherfolk had previously described nesting frigate birds on the island, demonstrating the value of integrating local fisherfolk knowledge into research and conservation, as well as encouraging their participation in such efforts.
Fisherfolk throughout these islands observe seabirds on a daily basis — often using them to find fish, navigate and understand weather patterns — and as such have acquired detailed knowledge of seabirds.
Through continued funding support from USAID, the U.S. Fish and Wildlife Service, and individual donations, EPIC will continue its seabird conservation efforts in the Grenadines in 2020.
Formation of a transboundary seabird working group will allow for members from each island throughout both nations representing various sectors, such as government, NGO, fisherfolk and tour operators, to contribute their expertise towards developing solutions.
Persons interested in becoming involved or who have further questions relating to the project can contact Project Coordinator Juliana Coffey at [email protected], (473) 422-9547, or on WhatsApp at (709) 770-6877.