Regional carrier LIAT has come under criticism after a man who was quarantined in Guyana, because of alleged contact with that country's fatal COVID-19 case, was able to fly on the airline to St. Vincent.
The Trinidadian man was able to board a LIAT flight one day after Caribbean Airlines (CAL) flagged him and informed LIAT after he had tried to use CAL to return home, seven days into his 14-day quarantine.
The arrival of the man at Argyle International Airport (AIA) on Saturday generated some anxiety and resulted in the domestic terminal being closed for some time and the LIAT flight grounded for hours.
Port-of-Spain initially said that it would not allow the LIAT aircraft to land or the man to deplane, Prime Minister Ralph Gonsalves said on WE FM on Sunday.
The man, who Gonsalves said is Nigerian by birth and Trinidadian by marriage, was also turned away from a number of hotels in St. Vincent and the Grenadines before one decided to allow him to complete his quarantine at their facilities.
Work was expected to begin this week to retrofit a property close to the airport in Argyle for the isolation of persons with COVID-19 and other infectious diseases.
The Ministry of Health had said that they could accommodate up to 28 COVID-19 patients even in the absence of the designated isolation facility.
However, Gonsalves said Sunday that he was prepared to make his private home at Gorse available for housing the man, if hotel accommodation had not been secured.
The prime minister detailed the incident as he apprised the nation of his government's response to the deadly virus, one case of which has been confirmed locally.
Gonsalves said that apparently, CAL, which had flown the man to Guyana, had identified him "as somebody whom they will have to watch because he came in on the flight went to the Guyanese authority and he attempted to leave the night before the last (Friday night) from Guyana on CAL".
CAL denied the man boarding and at 11:50 p.m. Friday, the Trinidadian carrier sent traffic (communication) to LIAT.
"Normal traffic, not anything heightened, I understand, to indicate that they had stopped this person and he might try to get to Trinidad by LIAT," Gonsalves said.
"But LIAT didn't see that traffic," Gonsalves said.
He said that on Saturday morning, the man boarded a LIAT flight from Guyana to Trinidad, connecting via Barbados and St. Vincent.
Gonsalves continued:
"But LIAT only informed us several hours after they began work the morning in Guyana because it takes two hours to go from Guyana to Barbados. You deplane people in Barbados you take on; that's a 20 minutes, half an hour activity. Takes half an hour to come to St. Vincent.
"All the passengers, some 40-odd of them deplaned in from St. Vincent, left a few on-board-passengers not only deplaned but cleared Immigration and Customs and persons were cleared to go on to the flight and were on the plane.
"It's only then we found out. That would have been certainly four and a half, five hours after LIAT began work that morning in in Guyana.
"Obviously that's unacceptable," the prime minister said, adding that Julie Reifer-Jones, LIAT's chief executive, had accepted this.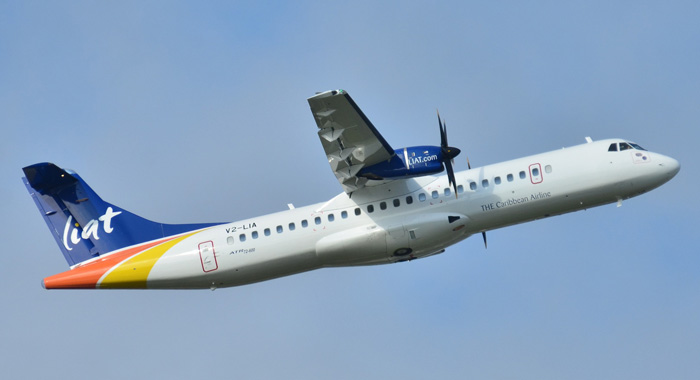 'passenger of interest'
On Sunday, LIAT said in a statement that it temporarily halted one of its flights on Saturday "following an advisory from the authorities that one of its passengers was a 'person of interest' with regard to COVID-19.
"The airline was advised that its flight LI 771 should be held and the public health authorities in St. Vincent and the Grenadines activated their protocols," the airline said.
It said that the "passenger of interest" did not display any symptoms at check in, boarding or while on the flight.
"The passenger of interest was offloaded by the authorities and taken to a quarantine area. The other passengers and crew were taken to a separate isolated area where they were checked by the public health authorities. The crew and other passengers have been cleared by the medical authorities in St. Vincent and the Grenadines."
The airline said that as a precautionary measure, the aircraft was cleaned and sanitised in St. Vincent and that additional measures are being taken to move the aircraft to one of its bases "for additional cleaning and sanitisation".
"The company's COVID-19 Project Team has also been in contact with authorities across its network and has submitted all the necessary information that was requested.
"LIAT remains committed to working with the authorities to assist in protecting the region. LIAT reiterates that the safety and security of our employees and customers are our number one priority and we will continue to monitor closely the evolving COVID-19 situation," the airline said.
Airlines have to communicate better
And, Gonsalves said that CAL and LIAT and other airlines have to communicate with each other "in a manner which would show the heightened nature of this issue".
The prime minister said that none of the "40-odd" persons who came to St. Vincent on the flight had "any symptoms or any travel history, when questioned by the immigration, which would require further action, like, for instance, quarantining.
"But it is the task of our ministry to have to track down 40-something persons," he said.
Late Saturday night, the Ministry of Health issued a bulletin, asking persons who had travelled to St. Vincent on LIAT's LI771 to contact the COVID-19 hotline at telephone number 534-4325.
The prime minister said that Director of Airport, Corsel Robertson took the decision to close the domestic terminal to accommodate the passengers on the LIAT flight, except the Nigerian-Trinidadian.
Domestic passengers, therefore, had to use the international terminal.
The Nigerian-Trinidadian passenger was placed in an ambulance, which was parked near the fire station.
By Saturday evening, the domestic terminal was reopened, having been cleaned and the plane itself was cleaned and then subsequently went on its way.
Gonsalves said that the man would be tested for COVID-19.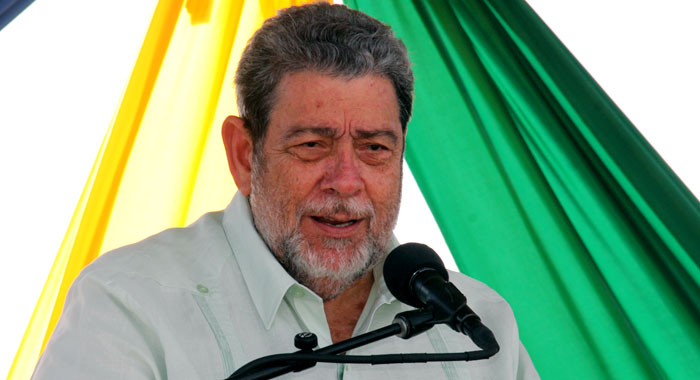 No need for 'heightened fear, panic or hysteria'
He said that the coronavirus is "a serious problem", adding, "But it's not a problem, it's not a difficulty for which we must have a heightened fear, panic or hysteria.
"A heightened fear, panic and hysteria will not help us," Gonsalves said and went on to use, as an illustration, the case of the man who had travelled on LIAT.
Gonsalves said that the man, whom he said he understands works at the Tobago House of Assembly, "acted not as responsibly as he should have by breaking his 14-day quarantine" and in light of this, police security has been posted at his hotel.
The prime minister said "the initial reaction from the authorities in Trinidad and Tobago at the airport … was not the best.
"The reports that I received is that they say that plane will not be coming back to Trinidad," said Gonsalves, who is chair of LIAT's shareholder governments.
He said the highest levels of LIAT's corporate headquarters in Antigua told him that the authorities at the airport in Trinidad were "reported as saying to me that the Trinidadian would not be allowed in.
"So I had to tell him that is fantasy," Gonsalves said, adding, "You can't deny a citizen the right to return to his country."
He said he called the Attorney General of Trinidad and Tobago, who agreed with me.
"But the LIAT plane was still not permitted to enter. Subsequently, the plane was… it might have been this morning that they left or very late last night," he said, adding that the aircraft was still on the ground at AIA at 10 p.m. Saturday.
Gonsalves said he had tried to reach Prime Minister of Trinidad and Tobago, Keith Rowley but was unable to do so because Rowley was "somewhere where the signal and internet facility was not available".
Gonsalves said that in addition to the attorney general in Port-of-Spain, he also spoke to the Minister of National Security in Trinidad and Tobago.
The prime minister said he also contacted his Barbadian counterpart, Mia Mottley — who is also chair of CARICOM, and CARICOM Secretary General, Irwin LaRocque.
"Because all our institutions must be kept in play, this is what leadership has to be about. Now there were two, two interesting cases."
The prime minister noted that the passengers on the Barbados-St. Vincent leg of the Trinidad-bound flight included two Germans.
"But the rules in Trinidad are that no Germans are allowed in. That's what I've been advised," he said.
Gonsalves commented:
"Now, those rules should be known properly in Barbados. Well, fortunately again, those two persons had no symptoms. And their travel history would have been checked and everything. We do them in accordance with all the protocols in managing the risk. … I'm told all sorts of crazy stuff was spoken about this particular incident involving this, this particular aircraft, but what I've given you supplemented with some of the details … that's the story," Gonsalves said.
The prime minister said that SVG has four samples to send to Trinidad for testing for COVID-19 and these will be dispatched by Monday morning.
The developments on the LIAT flight came on a day that Gonsalves announced that his government could reduce its departure tax in an effort to encourage inter-regional travel to dampen the economic impact of the deadly virus.