Wearing a face mask in an effort to contain the spread of COVID-19 remains "remains a recommendation" in St. Vincent and the Grenadines, the government's infectious disease specialist said on Thursday.
Dr. Jose Davy made the comment at a Ministry of Health Press conference in Kingstown on Thursday, where Prime Minister Ralph Gonsalves, Minister of Health Senator Luke Browne and Chief Medical Officer Dr. Simone Keizer-Beache did not wear masks, even though they were on offer by Permanent Secretary in the Ministry of Health, Cuthbert Knights.
In fact, the prime minister explicitly declined Knight's offer of a surgical mask when he (the PM) entered the room after the press conference had begun and sat on a chair in the "audience".
The Ministry of Health, weeks ago, issued an advisory that persons wear even a cloth mask when they go out in public.
However, senior government officials, including the prime minister, have been repeatedly seen in public without a face mask.
In fact, on Wednesday, Browne did not wear a mask at an event where Taiwan donated 40,000 surgical masks to his ministry.
Taiwan Ambassador to SVG, Calvin Ho, who made the donation on behalf of his country, wore a surgical mask at the event.
And, a photo from a similar hand over in St. Lucia, shows that country's Prime Minister, Allen Chastanet, as well as the Taiwan envoy to Castries, Douglas Cheng-Tsung Shen, and the Minister of Health Mary Isaac all wearing masks.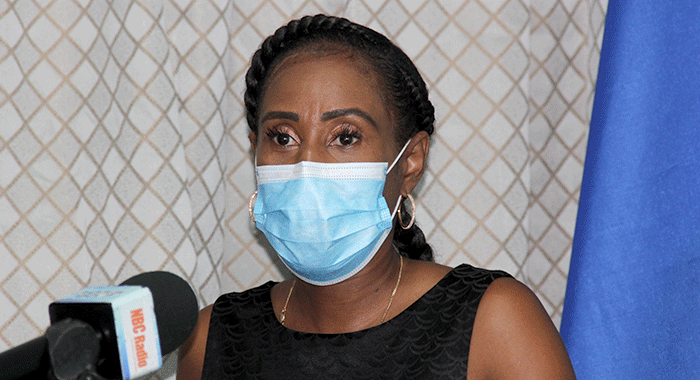 At Thursday's press conference, Davy said that while the Ministry of Health has not issued a mandatory advice for face masks, "it remains a recommendation".
"While minister was speaking, he did mention that when or if there's community spread, then that advisory would be made mandatory," Davy said.
She added:
"So for now, it will remain a recommendation if you go out in public that you all wear face coverings; it can be fabric with or without the Pellon (interfacing).
"And of course, we must know that using face masks or face coverings, that is not the only way for protection. We must maintain all of the other measures given such as hand hygiene, physical distancing and cough etiquette, etc.," Davy said.
Speaking at the same press conference, Gonsalves said that "from a policy standpoint", "the political directorate" had asked the Ministry of Health to provide "recommendation, advisory, as the case may be, related to the wearing of masks" and for the education of persons in relation to masks.
"I was advised that the ordinary cloth masks, that it doesn't really protect you the wearer as such, but the person, the other person, and very much so if you're in closer contact where you can have any requisite physical distancing as far as reasonably practicable because there are certain protocols for wearing a mask."
He said cloth masks don't have an "inner part" (interfacing) that would protect the wearer from someone else, but would protect the other person from the wearer.
"If you're wearing a mask, it seems that you're wearing it in part as protection and in part style. Some people put it on their head. Some people take it off and put it below they mouth," the prime minister said.
He said he had seen someone with a mask below their chin and when he inquired about why they were wearing it that way, they said, "I can keep it on all day."
Gonsalves continued:
"I say, that is the problem. I'm told that once you put it on, you should keep it on all day. It's not easy to keep on these things in the hot weather all day.
"And I said, 'When you put it down below there, it becomes like a bag. Collecting germs'," the prime minister said.
He continued:
"You know I will speak matters. In a more pointed way, than the — so that the ordinary folk who are listening to me, where the epidemiologist or those are giving the advice mightn't put it in those terms. Sometimes speaking it so bluntly, may get me into trouble, but I prefer that kind of, quote-unquote trouble than trying to mince words where I don't need the mince them."
On the question of whether it should be mandatory for bus driver, conductor and commuters wearing mask, the prime minister said he had raised this with the Vincentians Transportation Association (VINTAS) in their meeting last week.
"…I had told the Vice President of VINTAS when he had raised it in our discussion last week on several issues that we have to provide a period of education for persons in relation to wearing the masks. Because we don't want the wearing of the mask to be done in such a way that it makes it worse than what you're trying to avoid."
He said that some persons have advocated that omnibuses not transport persons who are not wearing masks.
Gonsalves said:
"One of the ways we have been functioning, as you notice, throughout this whole period, we have sought to educate and build consensus and avoid some of the more draconian measures as some persons have called publicly for draconian Chinese methods, the Wuhan methods.
"Well, that's not the option we have chosen. We have taken as much with the utmost seriousness as you have seen all the steps we have taken. But, we are seeking to address this health challenge that we have in a scientific way."