Incumbent MP for East George, Camillo Gonsalves is urging constituents to ask former opposition candidate Linton Lewis to tell them what happened between him and the New Democratic Party (NDP), of which he was chairman.
Camillo's suggestion came at a meeting in Glen on Saturday, where his father, Prime Minister Ralph Gonsalves, said that Lewis was a better candidate than his successor, Laverne Gibson-Velox.
In 2015, Camillo of the Unity Labour Party, which his father leads, defeated Lewis, who was making his fourth consecutive bid to win a seat in St. George, which is split into two constituencies — east and west.
And speaking at the public meeting in Glen, Camillo thanked his ULP predecessor and "my comrade, my friend, my mentor, my brother" Clayton Burgin for speaking at the meeting.
Gonsalves succeeded Burgin who demitted office in 2015, after two five-year terms as MP for East St. George.
"And I want you to think, those of you who have been watching this campaign, to think if you have ever seen the former candidate for the NDP on any stage for their candidate this time around.
"Linton Lewis ran with distinction for this NDP. He ran in 2015, he ran in 2010, he ran in 2005, he ran in West St. George, he ran in East St. George, he sacrificed for his party," said Gonsalves, who is seeking a second term in office.
"He elevated himself to the level of chairman of the New Democratic Party. But as you go around and as you see their candidate walking around with all sort of misfits and rejects, you do not see Linton Lewis walk around with the candidate and you must ask yourself why.
"Because here I am walking around with Clayton Burgin even though he preceded me and holding Clayton close because he has experience and knowledge that I value.
"But the other side, they done with Linton, they throw him 'way. But many of you here know Linton and have his phone number. Alyo must call him and ask him what the NDP did to him.  It's not for me to talk his business; he must talk he own business."
Camillo suggested that constituents ask Lewis, a former NDP senator, "why the NDP treated him how they treated him and why they throw him one side after all the years that he has served his party, reaching the level of chairman and now he can't even walk down the road with the new candidate.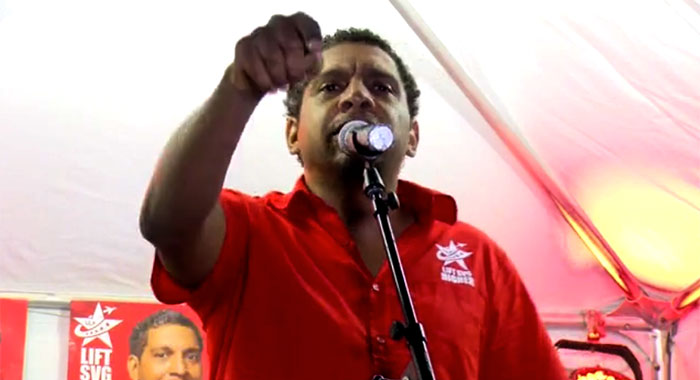 "There is a reason for that, but for that, you must understand if the party is willing to throw aside their chairman, think about what they would do to you. That is the message. If they are willing to throw away the man who campaign over and over again with them, but they're willing to walk around with all kinda reject and has-been, ask yourself what they will do to you. I leave that there and now I talk about Glen."
But while Gonsalves was raising issues about Lewis and the NDP, there is a similar situation in the ULP, where Jomo Thomas, the party's candidate for South Leeward in 2015, resigned from the party even as he was speaker of the House of the Assembly and giving the party a few months' notice before also quitting that chair.
Thomas also has not been campaigning with or for his successor, Mineva Glasgow.
Meanwhile, Lewis told iWitness News that he resigned as chairman of the NDP in 2017, adding that he supposed that Camillo's comments were based on his observation.
He said that when he resigned it was the last time he heard "of and from" the NDP and that he does not consider himself a member of the party, based on its constitution, as he has not been paying his subscription.
Lewis further told iWitness News he would not go into, "now", why he resigned as chairman of the party at its 2017 convention.
Meanwhile, speaking at the same rally, Prime Minister Gonsalves reminded constituents that the names on the ballot are Camillo's and Gibson-Velox's
"If you say yes to Camillo and no to Linton … Laverne can't walk in the shoes of Linton Lewis," he prime minister said.
"Linton Lewis is a scholar, highly accomplished professional, is not that people say he ain't nothing, is just that they prefer the ULP and Camillo to the NDP and Linton. The NDP has a worse slate of candidates throughout the country than they had last time," said Gonsalves, who is seeking a fifth five-year term as prime minister.
The prime minister, citing his status as the current chair of CARICOM, said that Lewis, in his capacity as chairman of the Caribbean Court of Justice Trust Fund, had made a presentation to CARICOM heads at their virtual meeting last week.
"And I had asked chairman Linton come and make a presentation to CARICOM about the state of the Caribbean Court of Justice Trust Fund," the prime minister said, referring to a position that Lewis also held in 2015, at his last outing at the polls.
"Linton is an accomplished individual and I never said anything against Linton and I ain't saying nothing against Laverne but all I can tell yo', I know both of them and Laverne can't walk inside a Linton shoes," the prime minister said.