By Kenton X. Chance
The ongoing eruption of La Soufriere has dumped over 12 inches of volcanic ash on the north-eastern village of Owia, resulting in the collapse of several buildings, including six churches, and the community centre.
However, the neighbouring village of Fancy — the closest settlement to the volcano on the northern tip of St. Vincent — was largely spared.
Fancy's green, seen even from the sea, was in stark contrast to the greyish white that has blanketed Owia, like much of northern St. Vincent since the volcano erupted explosively on April 9, after three months of effusive eruption.
iWitness News visited the communities, on Wednesday, travelling, along with villagers, for three hours on a fishing boat from Kingstown, to get a first-hand account of the impact of the eruption on the two communities.
The sea is the only access to Fancy as the road between Fancy and the rest of St. Vincent is badly damaged.
Owia's "Big River", located on the southern tip of the village, deposited huge boulders along the roadside, and destroyed a part of the road.
In addition to the damage to infrastructure, there is extensive loss to agriculture in both Owia and Fancy.
In Owia, arrowroot rhizomes that had been harvested lay rotting outside the processing plant, the roof of which has been damaged extensively by the ash.
This is expected to be a severe blow to the village, which, like most of the communities north of the Rabacca Dry River, has high incidences of poverty and unemployment.
iWitness News was told that in Fancy, only one house roof collapsed.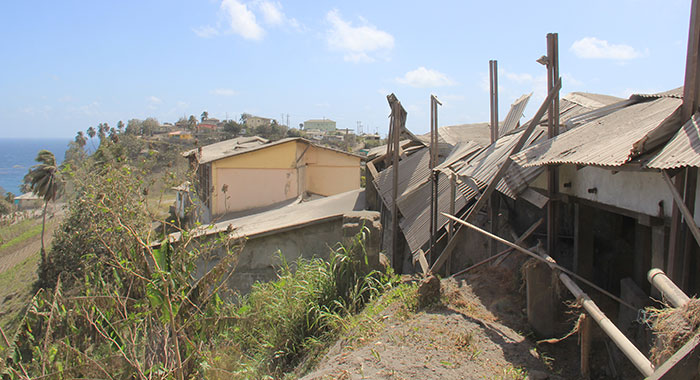 Silence dominates in each of the two villages, where most of the residents have heeded the call to evacuate.
However, sound is not necessary to report the extent of the damage, as the visuals scream that the impact of the eruption may have set the community back by a decade .
Some residents left weeks before the evacuation order was given, but most left after Prime Minister Ralph Gonsalves gave the order on April 8, about 15 hours before the volcano erupted explosively.
Thaddeus Bowens, 65, of Fancy, was on the rocky beach in the village on Wednesday to welcome villagers who were returning, temporarily, to collect items from their homes before returning to the safe zone.
Also on the beach is farmer Lloyd Ballantyne, who had been waiting since Sunday for a boat to arrive with enough space so he could evacuate his ram goats, a prized asset for farmers, and a quick dime for the unscrupulous.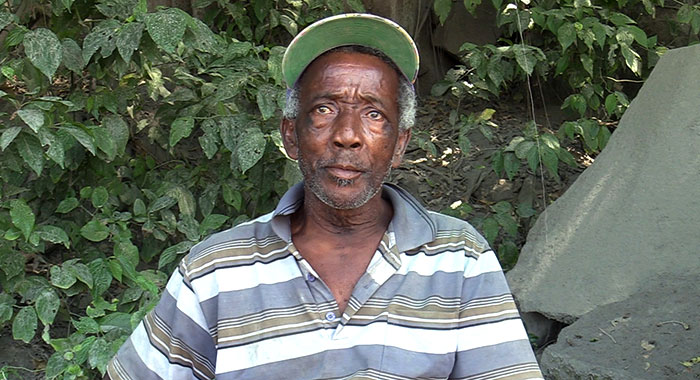 Bowens, 65, told iWitness News that he stayed put, having experienced the effusive eruption of 1971 and the explosive eruption of 1979.
"And I know the consequences of it. So I say I have to end my mission to face it; that I could experience it more," he told iWitness News.
Bowens, 65, was the only person in Fancy to not evacuate.
"The experience was really fine to me," he said, adding that the Monday after the April 9 eruption, he heard something rolling, but it was the river.
"The river was rolling coming down with a whole set of big trees inside of it," he said, adding that, for him, the heavy deposit of volcanic ash was the only problem.
"[It] sounded like when thunder rolling when that start to spit out, just so it rolling," he said, describing the sound of the eruption.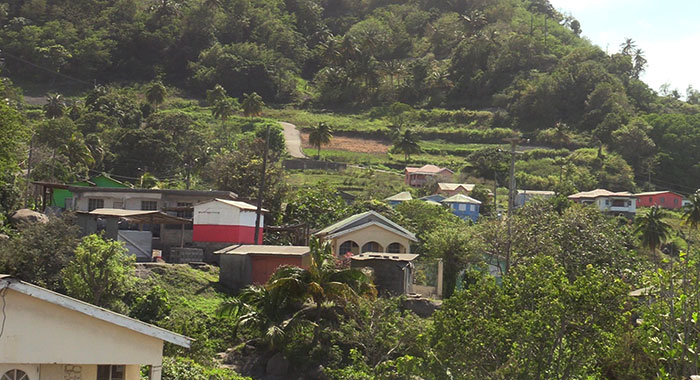 Bowens, however, said he was not scared at all.
"I wasn't even thinking about it. I know my God go protect me," he said.
Told that God also gives wisdom to make wise choices, Bowens said that staying during the eruption was his choice.
"I want to see how much faith I have in Him," he said, adding that after the initial eruption, five persons had stayed.
"But the other four of them run off after the first [explosion]. I chose to stay alone because I have a work to do and I want to do my work — to face the judgment and to see how strong I am in faith. I have a big belief in my God."
He said that the ashes had burned all of his root crops and he estimates the damage to be "couple thousand dollars well".
"It will be a hard start over again," Bowens said, adding that he is willing to do so "once I get a little help from whosoever".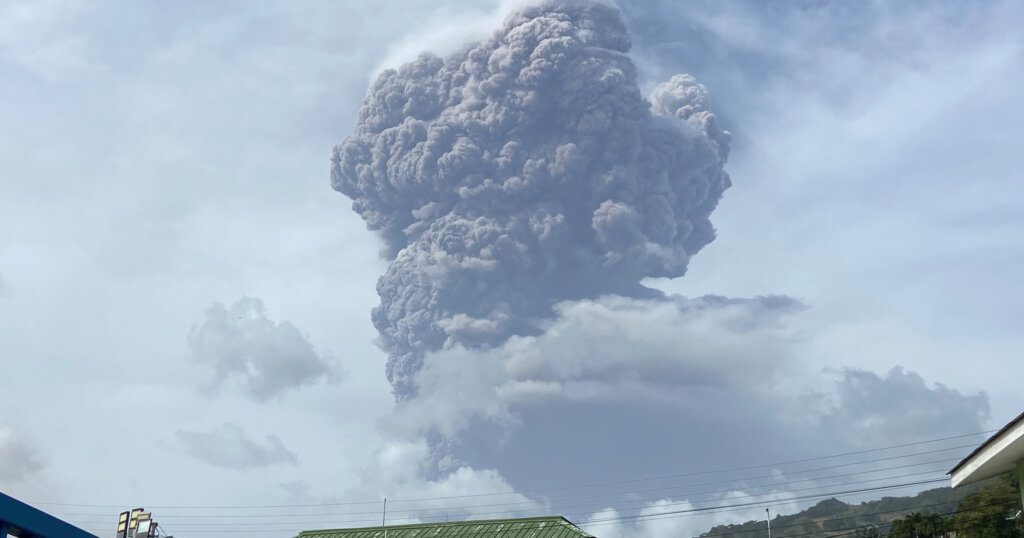 iWitness News noted to Bowens that geologist Professor Richard Robertson, the lead scientist monitoring the volcano, has said that the eruption is not over.
"I'm sticking up. As I told you, I have a work to do and I want to finish my work," Bowens said, adding that his family evacuated.
"I know they will feel funny about it (me staying behind), think about me, but after the first eruptions, some people came up here so I told them to tell my people I am safe."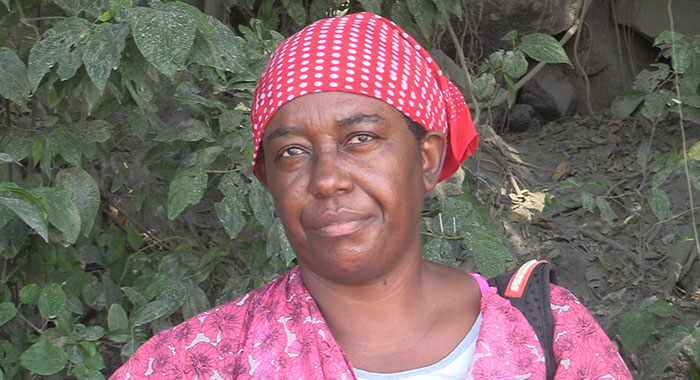 Meanwhile, Kay Bowens, a farmer and resident of Fancy, came back to the village, on Wednesday, for the first time since she evacuated two weeks before the eruption.
"… when I came into the house, I cried. All I said to myself that where there is life there is hope, but I am still wondering if I will be discouraged from going to plant.
"What happened in Fancy, it's like a desert to me," Ms Bowens told iWitness News.
She said she cried when she saw "the state of the house — all the furniture, my bed — and these are just material things but when I came in the house and I saw the condition of it, I said, 'Well, I have life, but I left my house, thinking I am going to come back in a good spirit.' That's why I cried."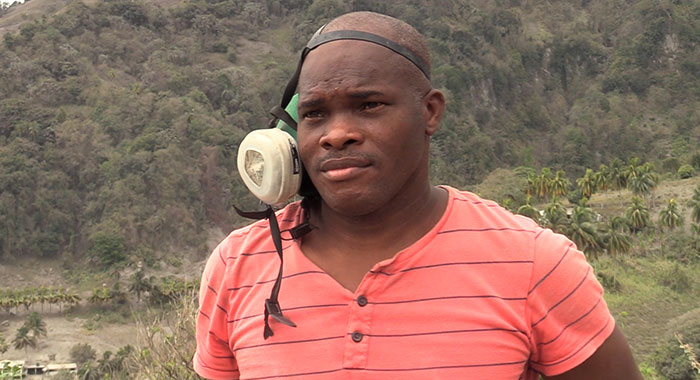 Meanwhile, in Owia, Dale Medica, a mechanic and technician, stayed for the entire eruption.
"I am here from day one since all the activities began taking place at La Soufriere. I always said to myself I am not moving; I am sticking around," he told iWitness News adding that his main motivation was to protect his property from the volcanic ash.
He said he had geared up so he decided not evacuate.
Medica said he had done some sandblasting the night before and was priming the vehicle the morning of April 9 when the volcano erupted.
"I just heard the explosion and when I watched up towards the mountain, I saw a lot of ash going up into the sky. So I continued to sift my sand and get my children out of harm's way."
He said that his family had already decided that on April 9, the evacuation order having been given, the other members of the household would move to Bequia, an island in the northern Grenadines.
"I had my driver already, on standby, and then they moved out. I just stick around; saw the ash going toward St. Lucia and Barbados."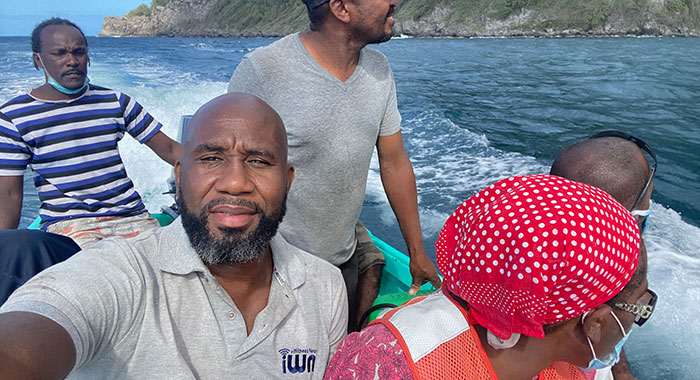 He said he stored up the sand to prevent contamination and also began covering up the vehicles.
"When I was covering up the vehicles, stone started to lash (fall on) me," Medica told iWitness News, adding that he ran for his whole-face respirator and helmet.
Medica said he also gathered up some of the volcanic stone and the ash and then went to check on people to see who was going to move.
The explosion sounded like a huge bomb, akin to what one would hear in a movie in a theatre, Medica said, adding that he had to calm down some people, telling them that the explosion might only last a day.
iWitness News noted to him that the eruption was continuing for two weeks now.
"I know at some point it is going to stop," Medica said, adding that volcano became really "rampant" on April 10, from almost 3 p.m.
"And it continued until during the night. And up to about after 1 a.m., my generator just shut down on me, so I had to come outside with my respirator."
He, however, said that minutes after coming outside, he felt as if he could not breathe because the respirator was getting clogged by the thick ash.
"I had to run back inside the house and after a time, I said, 'I can't go with this thing.'"
He said he went to another friend's, where they had set up another generator.
"We started his generator and within about seven minutes, his generator shut down as well.
"I had to go back outside and prepare, get ply board and so because the whole intake filter blocked up with ash."
Medica said he had to go back inside again, because he again felt he could not breathe through the respirator as it was being clogged by ash.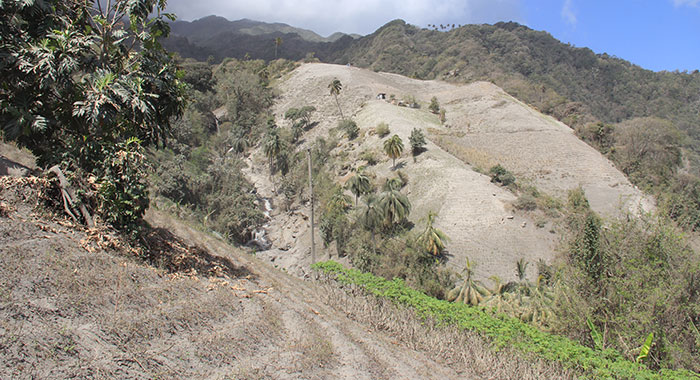 He told iWitness News that to get to the generator, he was running into things, because even though he was using a flashlight, he was only seeing ash falling on the beam.
Medica said he was able to restart the generator and went back into his house and "listen for all the explosions — which one buss the hardest and me and me partner we there kicksing (joking) and thing and we drinking something soft".
Medica said they decided that if fire came, they would move.
"If I ain't see fire. I'm sticking around," he told iWitness News.
Medica said it was still dark outside at almost 7 a.m., on April 10, the second day of the eruption.
This almost cracked him.
"At that point, I wanted to give up but I said, no. This is going to clear up. So I watched toward St. Lucia, I watched the sky and saw a little round hole open up off St. Lucia so I was just monitoring that and about half an hour after, it kind of cleared up," he said, adding that during that time, the eruptions were continuing.
He said that his count showed that 16 persons had remained in the village after the eruption began.
However, on the Monday after the eruption (April 12), the Coast Guard came, and 11 persons left.
Fred Anderson, a retiree and farmer, who had stayed after the eruption began, told iWitness News that he was one of the 11 who left, but that he did so unwillingly.
"They come up here with army man with gun and thing, so I go," Anderson told iWitness News on Wednesday, having returned to the village to tend to his animals.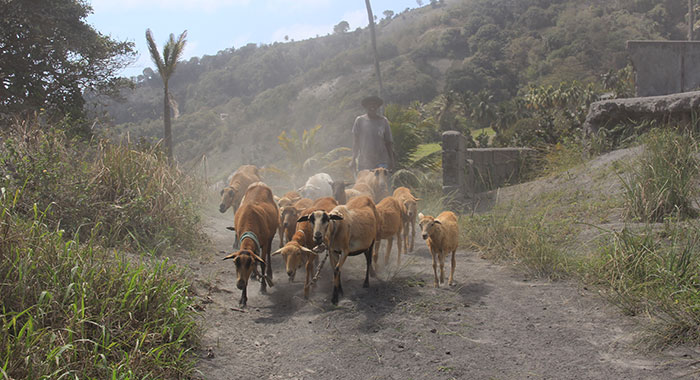 However, Medica did not leave on the Coast Guard vessel, having gone into hiding when the law enforcement officers arrived.
"I went and hide. I say I ain't moving. They have to come for me in handcuffs. I have my investment set up and I can't move," he said, adding that in addition to sandblasting, he also wires vehicles.
"I can't just leave them to go down the drain like that. So even if I had to struggle with the volcano to secure them."
He did not consider it as risking life to save his property.
"I know what happened to me a few years ago, like the December Flood [of 2013], wherein water went through my property, damaged some walls and so for me, and then two persons came from the government, I gave them an estimate, they took it and they never gave me anything.
"So I just say, if my place break down, government is not going to give me because I am a full [opposition] NDP supporter. Everybody knows. So I just say I want to stick around to take care of my things.
"So who wants to say bad about me, this is just me. I am in these things a long time," he said, adding that during the Rock Gutter tragedy of 2015, he drove his daughter to the hospital and returned and helped to retrieve a body from the sea.
"I am just 'Toad," he said, referring to his nickname.
Medica said that the five persons who remained in the community have been working together to clean roofs, in an effort to prevent them from collapsing.
"I started on my roof the Saturday morning from around after 9 the day after the eruption. They joined in and they helped us. We go on a lot of people's houses, which were to the point of dropping in. We tried to save some.
"Some we could not save; they collapsed. Sunday (April 11), again, we up again on top [of] houses and so and then we just watched the blasting.
"But from that, nothing serious again happened to Owia. So I say this was its first doom, Owia get it, so I just believe nothing [else would happen]. The biggest explosion was Sunday afternoon. I hear noises like a vacuum sucking back".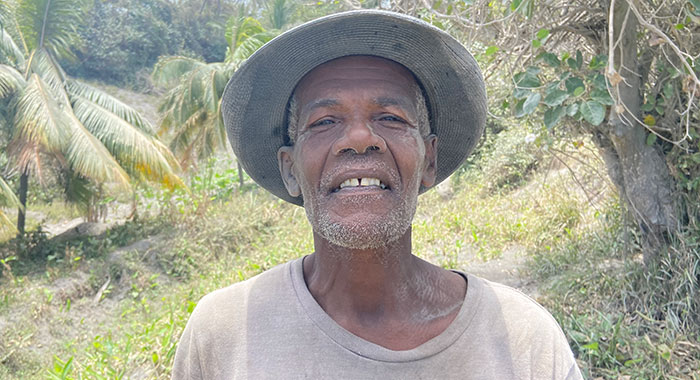 Meanwhile Grafton Caesar, of Owia, a root crop farmer, said the eruption destroyed his crop and the river claimed his flock of sheep.
"First of all, I have to thank God; let us put it that way," he said adding that he lost over three acres of ginger and 15 sheep.
He said his farm is in the mountains and he could not go there during the height of the eruption.
Caesar said he had stayed back in Owia to take care of his livestock, which he said are his assets.
He said he did not go to the farm for four days and when he went, he did not see livestock, not even goats, which are more hardy and likely to survive the eruptions.
He said there are cliffs and caves along the riverside, so the livestock sought shelter there.
However, the river overflowed its banks and washed the animals from the caves and into the sea.
"It is …just sheep and goat and pigs — all the pig pens from different areas, all of them gone," he told iWitness News.
Caesar said he had also been assisting other farmers, by letting loose the livestock that were left tied when their owners fled.
In usual time, untethered livestock was a big problem for Caesar, because they would graze on his produce.
"I had enemies, some of their sheep and goats were in the mountains and I just cut the rope. At this time, you can't check for enemies because once you got the love that the master gives us, a light in me, I am not concerned about enemies or friends. I am cutting the ropes and setting the captives free," he said, adding that he was releasing the animals so they could get food.
Caesar said he is also feeding the dogs in the community.
He said that Shevern John, a resident of the community who failed last November in her bid to become MP for North Windward, where Owia is located, gave him rice to cook and feed the dogs in the community.
He said he also gives the dogs water.