Residents of North Leeward will confront multiple issues as the all clear has been given for them to return to all but two of their communities.
The government has said that constituents can return home, except for Chateaubelair and Fitz Hughes, the two built-up North Leeward communities closest to the volcano.
Speaking to iWitness News last Monday, May 24, former North Leeward MP, Roland "Patel" Matthews, a Petit Bordel resident, said that that from observation and what constituents have told him, there are multiple issues affecting the community following last month's explosive eruption of La Soufriere.
He said that in the town of Chateaubelair and in the village of Fitz Hughes there are still significant amounts of volcanic ash on the ground.
"Yes, government, through BRAGSA has been doing a good job but there is still a lot to be done," he noted.
The government has said that residents of Chateaubelair and Fitz Hughes will be told to return home after the ash has been cleaned up.
But this apart, agriculture, as the main stay of the constituency's economy, has been ravaged.
"And the agriculture sector in North Leeward has been completely ravaged. There is hardly anything left, in terms of crops, especially," Matthews said.
"There are a few livestock roaming — goat, sheep, pigs, donkeys, cattle — but some farmers have lost their animals, whether through starvation or some unscrupulous people who came in, use the situation to steal people's animals."
He said that farmers have lost a great deal as a result of the eruption.
"Their entire crops have been decimated and they have to start from scratch," said Matthews, who was voted out of office last November, after two five-year terms.
"And starting from scratch is going to be a problem as well because of the heavy ash cover that is on the ground," the former shadow minister for agriculture said.
He told iWitness News that in areas where people plant root crops; there is as much as eight inches of volcanic ash on the ground.
"So there is going to be a challenge. Going forward with agriculture being the mainstay and nothing is happening, people are going to need resources, financial resources, to get them going over the next several months and that, as well, is going to be a challenge, because most of the people in North Leeward are persons who are mostly self-employed and when their source of income is affected, it is going to be a problem."
Matthews, who is also a businessman, noted that he operates a shop in his home village.
He said that his customers are mainly self-employed people, including farmers and fishers.
"And without them getting the money, it is going to affect my business as well. So generally, going forward, I see problems; I see challenges faced by the people because of the fact that they don't have financial resources to keep them going at this time."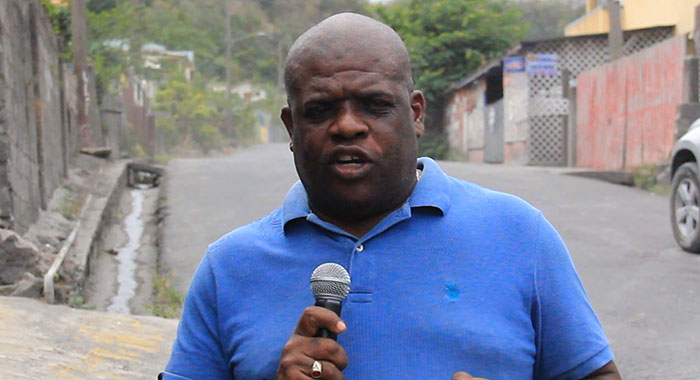 He said that he thinks that the EC$119 million fiscal package passed in Parliament on May 11 "is a good gesture but more can be done".
The former MP, however, said that in Petit Bordel, for example, residents who joined together to help to remove ash from the main streets were overlooked for employment when the state agency moved in.
"When BRAGSA came in, they came in with heavy equipment, yes, and they came in with teams from outside the community and many of the guys were very disheartened because they were saying, 'Look, here we are volunteering, and the opportunity comes for us to make some money and none of us are employed.'"
Matthews said that some of the villagers were eventually given one-day contracts to clean drains.
"But, as you can see, a lot of work is still needed to be done in North Leeward, in Petit Bordel and the surrounding areas if we are to get back on track.
"So, yes, while the money from government has been passed, $119 million or thereabout, and it is a lot of money, but, as I said, because of the problem and the many challenges we have in North Leeward, something more could have been done, especially as far as the communities are concerned."
Matthews said he thinks that monies should have been made available to the communities themselves.
"There are businesses that have been affected, there are farmers that have been affected and other individuals that have been affected and there should be a way that resources, monetary resources, that is, could reach these people to help them to overcome the obstacles that they are going face from here on. "
But iWitness News noted that the fiscal package includes cash pay out to certain categories of workers and businesspeople in the Red and Orange Zones whose income has been affected as a result of the eruption.
Matthews responded:
"… we have seen this movie played out before, where income support was supposed to be given to farmers, even vendors, other persons affected and it happened with COVID but you and I know that a lot of persons who should get did not get because the methodology used to determine who gets seem as if it was not properly done."
He said he knows farmers and businesspeople in his community and "no approach was even made to some farmers or us to give them assistance.
"That is why I say to you, I emphasise the fact that a better approach, a better method must be used so that everyone who is in need should be able to get some assistance from the government," Matthews told iWitness News.