The lawyer for the man whose shooting has been at the centre of public discussion over the last 10 weeks has credited public pressure for the charges laid in the case on Thursday.
Kay Bacchus-Baptiste, however, said that her client, Cornelius John, 60, the shooting victim should not have been charged.
"Now, the fact that Mr. John has been charged, I am not happy with that. I am not convinced that it was just," she said on the opposition New Democratic Party's programme on NICE Radio Thursday night.
"I am not convinced that it follows the prosecutorial code, either from the evidential basis or the public interest," she said of the charges brought against her client.
"Surely, it is against the public interest to charge Mr. John. And that will be demonstrated when the public comes out tomorrow and on the following days to demonstrate their utter dismay and disgust that Mr. John has been charged, very vaguely for threats," Bacchus Baptiste said.
On Thursday, Director of Public Prosecution (DPP), Sejilla Mc Dowall said in a press statement that she had advised the commissioner of police to bring charges against John as well as his alleged assailants, Assistant Director of Public Prosecution Karim Nelson and Ashelle Morgan, a lawyer who is a government senator and deputy speaker of the House of Assembly.
The chief prosecutor has instructed the police chief to lay the following charges:
· Threatening Language against Cornelius John in respect of complaints made by Nicole John;
· Threatening Language against Cornelius John in respect of a complaint made by Ashelle Morgan;
· Wounding and Unlawful discharge of firearm against Karim Nelson in respect of complaints by Cornelius John; and
· Assault with intent to commit Wounding against Ashelle Morgan in respect of a complaint by Mr. Cornelius John.
Nicole John is Cornelius's John's wife.
Morgan and Nelson, along with a third person whose identity has not been disclosed, are alleged to have gone to John's house on April 13 before he was shot.
The DPP said that cross complaints were made in the matter.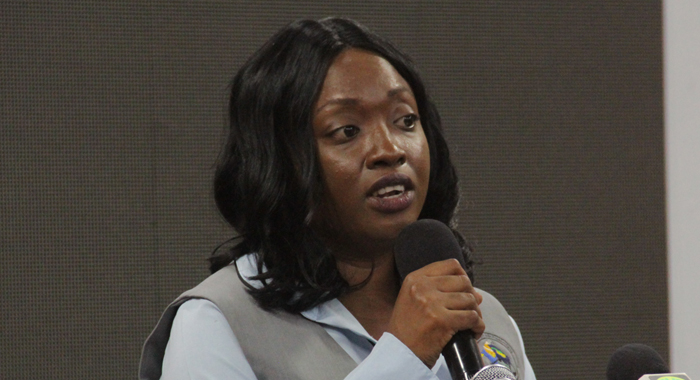 Bacchus-Baptiste explained her comment about why her client should not have been charged.
"The reason I am saying this is that I have been involved in listening to the police trying desperately over the past two weeks to make a case against Mr. John –interviewing witnesses or laying charges which they have not substantiated.
"At first, they said they were going to charge him because his wife made a complaint against him. There was absolutely no talk of Ashelle Morgan making a complaint for threats against him at all in the first round.
So when were these complaints made by Ashelle? In May? In June?" the lawyer said.
She continued:
"Secondly, the wife herself explained that she was not threatened on the day in question. So how this becomes a cross complaint I do not understand. Then they tried to say that Mr. John assaulted Karim and Ashelle with a cutlass. I was there when the police put that to Mr. John. They tried to raise a case but they could not find the evidence; not an iota of evidence to support that. Where did that charge come from?"
"They tried to make it a threat with a cutlass, but as I said, there was no evidence at all to support it. And then it changed because at first they said he threatened Karim and he threatened Ashelle and then that dropped and it became only verbal threats against the wife and against Ashelle."
The lawyer said that she would know, at the arraignment Friday morning at the Serious Offences Court, where John's alleged threats were made.
She said that the summons ordering her client to appear before the Serious Offences Court "is very vague, obviously hurriedly done, the date is wrong, and even the time '8:30 a.m. noon' is amusing.
"And the charge itself, it just says threats, as if they are still trying to make up their minds what kinds of threats.
"I won't be surprised if tomorrow, DV, a cutlass materialises and it becomes threats like that because this is purposely put in the most vague way that it could be. So, on that ground, I do not agree, absolutely, with the Director of Public Prosecution that she followed the prosecutorial code in an open, frank, and honest way."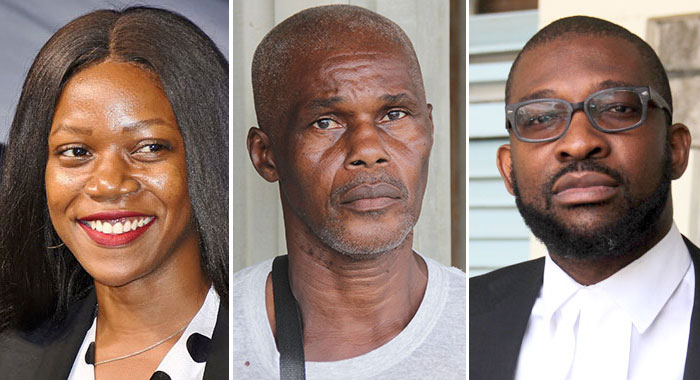 Bacchus-Baptise noted that no charges have been laid in connection to John's allegation that he was threatened with an illegal firearm.
"I do not know what rules the Director of Public Prosecution used to separate what Karim [allegedly] did from what Ashelle Morgan [allegedly] did. It was clearly a common enterprise."
Bacchus-Baptiste said that the prosecution has a tendency of laying against a defendant all the possible charges, something that she, as a defence counsel, has complained about.
She said that three or four charges could have been brought against Nelson and Morgan.
In her press statement on Thursday, the DPP said she esteemd "my professional obligations to act judiciously: without fear or favour, malice or ill will; regardless to the persons involved. I will not descend nor will I condescend. It is my obligation to uphold and maintain the integrity of the Office of the Director of Public Prosecutions (National Prosecution Service) as the Chief Prosecutorial Officer.
"I am resolute that I will not be swayed by improper influences that seek to heavily encroach on my decision making. I am empowered by the Constitution Order to come to a determination as to the direction of the complaints."
Mc Dowall said that she reasoned that the justice of the situation demands that matters on which the charges were brought are ventilated in a court of law, as there are conflicting facts.
She said that she had advised the police chief to lay the charged, "given my assessment of the facts and circumstances, applying legal principles and the Code for Prosecutors".