KINGSTOWN, St. Vincent (CMC) — Former speaker of the St. Vincent and the Grenadines Parliament, Jomo Thomas has promised "a fulsome and vigorous defence" to moves by Prime Minister Ralph Gonsalves to seek an estimated half a million dollars in damages after claiming that Thomas defamed him in his weekly newspaper column.
"But in keeping with my lawyers' advice, I don't want to talk about the letter too much but you all can read the column. The column is called 'Fool's gold, nation's lost'," Thomas said on his radio programme here.
Lawyers, representing Gonsalves wrote to Thomas, who is also an attorney, claiming that in his newspaper column on Aug. 13, which appeared in the Vincentian newspaper, he "falsely and maliciously published" and article that contained "defamatory words".
The column in question dealt with the protest outside the Parliament on Aug. 5, when Gonsalves was hit on the head with a missile and had to be flown to Barbados for further medical treatment.
The lawyers claimed that by using the alleged defamatory words, the author was suggesting that their client had committed "misbehaviour in public office, an offence punishable by imprisonment and /or civil sanction and damages.
"Further, and additionally you meant and were taken to mean that he had abused his office to persecute people and deny them their legal rights".
But Thomas told his radio listeners on Monday that he had only received the letter from the lawyers earlier during the day, despite the fact that it had been in circulation in the media "for close to 48 hours".
"A bailiff brought the letter today to my office, but that letter was in the public domain and people had seen it and had talked about it," said Thomas, who in 2015 contested general election on behalf of the Gonsalves-led ruling Unity Labour Party (ULP) and later served as the Speaker in the last Parliament under the ULP administration.
"I am told that I am being sued for EC$500,000 and I have one month within which to pay the EC$500,000 or I will be sued. Clearly, once I got the letter, I contacted some perspective lawyers and we are mulling over the letter. As I said this morning on radio, we are going to do a fulsome and vigorous defence to what is there."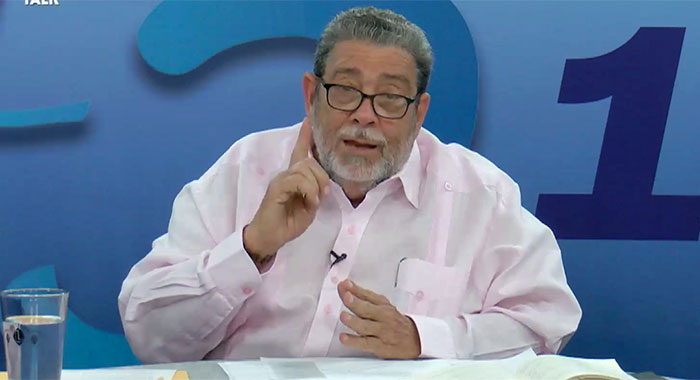 Thomas said that persons have the opportunity to read the letter "and see whether there is anything slanderous there.
"I don't think that I slandered anyone. I can tell you that that letter, because it was co-copied to the media, evidently, someone wanted to maximise whatever publicity they can get from it.
"I think the letter is intended to intimidate, as I said on another radio last week, to intimidate and to get people into cowering and not speaking their — not allowing their voices to be heard. I think by now everybody should know that I cannot be silenced or I don't think it was directed at me. But that's all that I wanted to say for now on that," he said, reiterating that "based on advice of counsel, I was told that I should not engage that point.
"So I wouldn't want to engage it too much. The case is still a far way from any kind of court appearance. There is four weeks within which a request is made to pay EC$500,000 and we'll see where we go from there."
He told his listeners that he only wanted to mention the letter "because I am sure that people wanted me to talk about it and I just wanted to give the context in which and why I don't want to talk about it, why I was advised not to talk about it.
"You all should know that there is this maxim that says it is a fool who takes himself for counsel. So I would not be speaking to that issue and I will not take myself for counsel. As I have said, I have spoken to a number of people and we shall select a team who would be doing the representation in this matter.
"As I said, there is going to be a response to the prime minister's pre-action letter and then we are going to move from there, but everyone in St. Vincent can be sure that a fulsome and vigorous defence will be made to whatever claim form is formed by the prime minister and his lawyers," Thomas added.
In their letter, the lawyers said that Prime Minister Gonsalves had agreed not to take legal action against an online publication, iWitness News, that carried Thomas' column since the online publication had removed the article after he had telephoned the publisher and brought "to his attention the defamatory publication".