A Sandy Bay resident, who has been ordered to relocate although her home was not directly affected by the volcanic eruption or subsequent lahars, is expressing concerns about the size of the replacement homes that the government is offering.
The resident, who asked not be identified, told iWitness News that while she does not mind relocating, it is difficult to accept a two-bedroom house as a replacement for her four-bedroom home.
The government has started the foundations for 27 houses at Orange Hill and will build about 37 houses there to relocate persons in North Windward whose homes were destroyed, or where the current location has been deemed unsafe, Prime Minister Ralph Gonsalves said last week.
Houses will also be built in Sandy Bay, the prime minister further stated.
They will be two and three-bedroom structures, with the two-bedroom version being 20 by 30 feet, contractors working on the houses told iWitness News at the construction site on Monday.
The resident told iWitness News that four adults and two children live in her house, which is 27 by 42 feet and contains four bedrooms and two bathrooms.
She said that the general area where she lives near Karo River was not affected by the volcanic eruption and while there was some flooding as a result of lahars, her house was not affected.
"We are quite a distance away from the river," she said, adding that her household does not have a problem with moving.
She said that she learned that they had to relocate when a Physical Planning assessor visited to inquire about damage to properties in the area.
"I told him the only thing we might want is some galvanize (sheets) because they are rusty.
"And he was like, 'You mean relocate?"
The woman said she asked him what he meant by that.
"And he said that people living close to the river have to relocate."
The resident said that NEMO had a community meeting in Sandy Bay and she saw her name on the list of homeowners who had to relocate.
"So I went to [my parliamentary representative] Mr. [Montgomery] Daniel and said I really would not want to relocate because we just built our house and we spent a lot of money," the woman said, adding that she had "tears in my eyes" as she spoke.
"And he was like, if the government not spending a lot of money too.
"So I said, 'That's not the point. I mean you guys can do something to the river, for instance stone (gabion) baskets and these things because all these years I am living here, the river never really affected us. So I don't see the reason why we have to move'," said the woman whose family has been living in the area for at least 100 years.
"Like I said, the problem is not moving, but with these two-bedroom houses," she said, noting that at the meeting, residents were told that the government will also build some three-bedroom houses.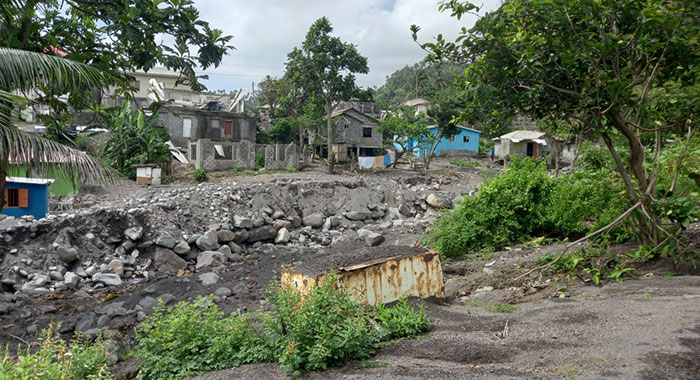 The woman told iWitness News that her family "struggled" to build their house.
"That is the part where I am getting upset about. I know one time we went for help and we didn't get the help. So we struggled to build this house so it is not easy just getting up and move like that."
Asked how she would respond to the view that her house is at risk and therefore she should move willingly.
"I'm gonna tell them I'd rather stay here than going in those two-bedroom houses, well jammed up, that they are building, because the river never affected us.
"A lot of people are saying we don't have to move because they don't see us as being at risk. According to my neighbor, she doesn't have a problem with moving but she needs back her fair square," the resident said.
"I don't mind moving but I need back even if it's a three-bedroom house, I don't mind. But they are not going to come and tell me I have to go in a two-bedroom house. It's unacceptable."
Another issue is the plan to demolish the houses after relocation
"Most of my neighbours are saying, relocate us but leave our houses. They (the government) are saying they are going to knock down the houses. They don't know how people struggled to get where they are today and I don't think it is a good idea for them to say they are going to knock down the houses to plant trees. Leave our houses and relocate us if you want. Leave us to make the decision if we want to go or not."
Another Pole Yard?
On Thursday, iWitness News received a voice note, purportedly from another resident of the area, who was expressing concern about the size of the relocation house.
The speaker, a female, also expressed concern about the layout of the houses in Orange Hill and the spaces between them.
"Down there is just like Pole Yard," she said, referring to a slum-like squatters' settlement in Arnos Vale.
"You are going to be jammed up like in Pole Yard. Next thing you might end up living next to somebody who is your enemy. Bare problem you are going to get into.
"What is really wrong with them? Why don't they put baskets at the river and seaside? That's what they have to do," the speaker said, referring to the area in Sandy Bay.
"Nobody is going down there to live because I am not moving. First of all, year go, year come, they don't see after us. They don't do anything to our house. Hurricane came, our house roof blew off and they did nothing. When they come, I will tell them what I have to tell them."
Meanwhile, the prime minister, speaking on NBC Radio on Aug. 18, said that the government had received the lahar mapping and demarcation zone report, including the preliminary report for Sandy Bay.
He said that the report had identified 72 homes for relocation and 69 that were deemed to be at-risk.
"So you are talking about, in that area, some 137 buildings. I am talking both those that are impacted or at-risk, and we are going to do this in phases, obviously," Gonsalves said.