A 41-year-old thief who targeted houses during the day while their occupants were at work says he needs prayers.
And, on Monday, Senior Magistrate Rickie Burnett gave Christopher Dasent, of Diamond, originally of Marriaqua, five and a half years to go down in sackcloth and ashes.
Christopher's current address is Diamond, but when the magistrate asked him, during mitigation, where he is from, the mason said Marriaqua.
"I could see that because I noticed that way back you were burglarising homes in the valley," Burnett said, referring to the defendant's criminal record.
On Monday, he was sentenced in connection with four burglaries, and could have been spending even more time in jail had the sentences for offences committed on the same day not run concurrently, in keeping with the sentencing guidelines.
Burnett noted that as far back as 1998, Dasent was burglarising homes, and asked him to explain his behaviour, noting that his last two convictions in 2019 are also for burglary.
Dasent said that he has nervous breakdowns sometimes and doesn't know what he is "doing with myself".
"I need somebody to pray for me," Dasent said, adding that sometimes he would be good and then "I just gone off like I don't know myself".
Asked if that just started to happen to him, Dasent said yes, adding that he was working in Orange Hill with the government recently and "just click off just so".
Dasent said that someone gave him a "spliff" — marijuana cigarette — and he does not know what they put in it.
Burnett then asked him to explain his actions in 2019 and Dasent said it was "the same nervous breakdown, sir".
The magistrate said that in looking at the complainants, they seem to be young people who are still paying mortgages for their homes.
Dasent asked for forgiveness, saying that he needs some help.
Burglar says he can 'do better than that'
Burnett said that prison is not new to Dasent.
"Yes please, sir," the defendant added.
"And you are going back to prison today. Look at your record," the magistrate said and called out the name of some of the people whose homes Dasent had previously burglarised.
Dasent asked for "some mercy" saying that he could "do better than that".
He said it would be better if the court put him "on a bond or something
"Putting you on a bond is impossible. It is not going to happen in this real world and in this real court. So make up your mind to go to prison, because that's where you are going."
The magistrate further noted that Dasent's sentences would be consecutive and the only concurrent one would be those on different days.
Dasent was nabbed as detectives at the Calliaqua Police Station investigated a series of burglaries in the Prospect-Harmony Hall area, which mostly occurred during the day.
Detective Constable 446 Hope's investigation identified Dasent as a suspect and police issued a wanted bulletin for him on Sept. 3.
On Sept. 8, counsel Ronnie Marks handed over Dasent to police at the Calliaqua Police Station.
On Friday, at the Kingstown Magistrate's Court, Dasent pleaded guilty to four charges and the court adjourned the hearing of the facts and sentencing to Monday, so that the complainants could attend the hearing. 
Attempted burglary in Harmony Hall
He pleaded guilty to a charge that on July 30, at Harmony Hall, with intent to commit the offence of burglary on the dwelling house of Joselle John, of Harmony Hall, did an act which was more than merely preparatory to the commission of the offence.
John, 41, a public servant, secured her three-story house, the first two floors of which are incomplete, and left for work about 8:12 a.m. on the date in question.
The house is fitted with burglar bars, a burglar gate, and a padlock. When she returned about 5:56 p.m. that same day, John found a piece of 2"x2" wood in the porch and the dead bolt lock for a door on the ground. The matter was reported and Hope conducted an investigation, which led to Dasent.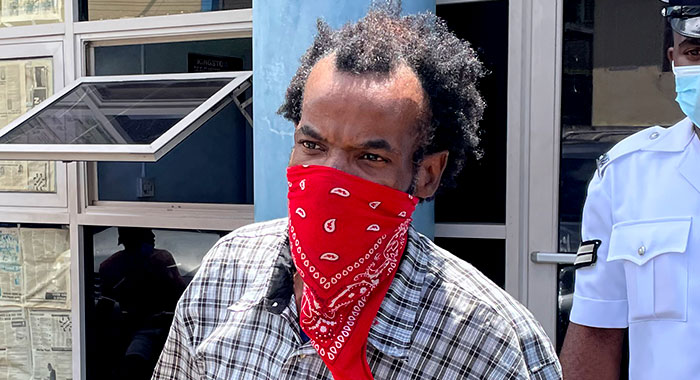 Burglary at The Limelight
The burglar also pleaded guilty to a charge that between Sept. 1 and 3, at Belmont, without lawful excuse, he damaged one metal and wooden door, valued at EC$540, and one metal burglar bar, valued at EC$80, total value, EC$620, the property of Basil Brackin, of Owia, and was reckless as to whether such property would be damaged.
He further pleaded guilty to a charge that on the same day, he entered Brackin's liquor and provision shop as a trespasser with intent to commit an offence, to wit theft.
The facts in that case are that Brackin, who owns the liquor and provision shop "The Limelight" at Belmont, secured the property about 10 p.m. on Sept. 2.
About 2 a.m. the following day, he saw a number of missed calls on his phone and when he returned the call, one of his tenants told him that the police were trying to contact him in connection with a burglary at the business place.
Footage from the business place led the police to Dasent.
Dasent was taken into custody at the Calliaqua Police Station and gave a statement in the presence of Justice of the Peace Elson Simons, admitting to the offence.
Break-in in Ribishi
He further pleaded guilty to charge that on July 30, at Ribishi, he entered the dwelling house of Garvey Best, of Ribishi, as a trespasser and stole one bottle of red wine, valued at EC$45; four white Fruit of the Loom shirts, valued at EC$80; two short Primark pants, valued at EC$150; two Johnny cotton t-shirts, valued at EC$90; one 8GB flash drive, valued at EC$35; and EC$100 in cash, Best's property.
The court heard that on July 30, Best, a 46-year-old teacher, secured his house and went to the Milton Cato Memorial Hospital.
He returned about 8:20 p.m. and found that the glass in a 2'x4' sash window was broken. Checks revealed that the items mentioned were missing.
After he was arrested in connection with the burglary, Dasent volunteered a statement, admitting to the offence.
Burglary in Prospect
He also pleaded guilty to a charge that on Aug. 24, at Prospect, he entered the dwelling house of Wayne Hull, of Prospect, as a trespasser and stole one back Samsung tablet, valued at EC$500; one red and white sash charger, valued at EC$50; one Sunset Glow body mist, valued at EC$25; one pink Chiffon body mist, valued at EC$25; one fashion necklace, valued at EC$25; one black Chester power pack, valued at EC$70; one box of Vicks cold and flu tablets, valued at EC$100, and EC$60 in cash, Hull's property.
The facts of the case are that on Aug. 24, Hull, 40, a manager, and his common-law wife, Sharron Guy, secured their house, a three-storey concrete structure, which is fitted with various kinds of security apparatus.
About 1:45 p.m. that day, Guy returned and found a ladder from the storeroom in the garage with the storeroom door, as well as the entrance door on the ground floor, open.
The police retrieved surveillance footage from the property, which saw a then unidentified man burglarising the house.
During Hope's investigation, he was able to identify the man as Dasent.
Police executed a search at Dasent's home and a number of the stolen items were recovered. Dasent gave a statement admitting to the crime.
Burnett sentenced Dasent to 12 months in jail for each crime committed against John and Best. The sentences, however, will run concurrently.
For buglarising Hull's home, Dasent was jailed for 14 months, to run consecutive to the other sentence.
He will serve a consecutive sentence of two years and six months for his crime against Best, and concurrent sentences of six months for damaging Brackin's property and 12 months for burglarising the shop. These concurrent sentences will run consecutive to the other sentences.