Flow St. Vincent and the Grenadines launched its Flow Business brand on Wednesday, in Villa, unveiling a suite of telecommunications packages catering to small and medium sized enterprises (SME) with the promise of transparency, simplicity and greater connectivity being delivered to the local small and medium-sized business sector.
"The telecoms industry demands a fresh perspective to serve a change in needs of our customers, along with bringing to market new products and services to facilitate ICT innovation," Flow's Country Manager Wayne Hull said.
"The ability to change, unlearn and learn new things is embedded in our culture at Flow. We live to serve our customers every single day. Our philosophy is to build a great network and sell products that add value to our customers lives."
Hull added recapped the progress the telecommunications magnate has accomplished in recent years, including multiple speed upgrades, integral network installations and several innovative projects that improved customers' experience.
"While we are here to reveal the new brand to serve our valued customers in the business segment, we are also here today to commit to all our customers in St Vincent and the Grenadines that we will do things better. More specifically to our business customers no matter what size you are, my team will lift our game to make you satisfied customers."
He said the Flow Business brand is backed by a solid team of professionals.
"… also, we have the largest network in the Caribbean and proven quality of service standards. The Flow Business suite of products and services will support the growth of our customers in this era of integrated connectivity."
The event, which was attended by individuals within the SME business sector, included a preview of the available packages.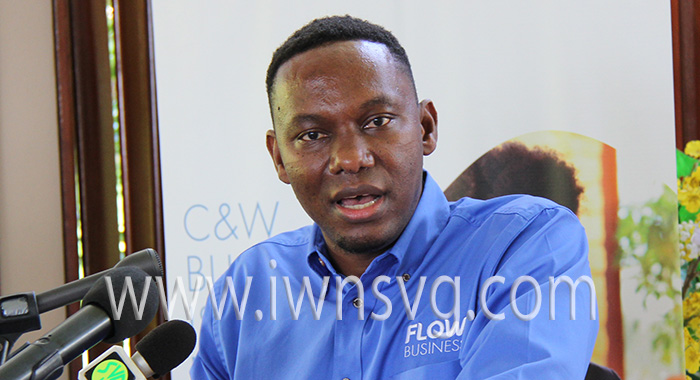 Head of SMB & Partner Channel-South Caribbean, Andrea Liverpool gave a preview of the companies packages, including "Essential" and "Advanced".
Businesses that may be well suited to the Essential and Advanced packages include barber shops, salons, cafes and eateries, community shops, contractors, entrepreneurs, and other self-starter entrepreneurs.
Then there is the Elite package is designed for businesses that need superior internet speeds to keep larger teams collaborating with customers, Liverpool explained.
"All customers signing on to any of our Fixed and Mobile plans get a Free Chromebook or a 50% discount off an iPhone with the elite plan."
She said that the launch of FLOW Business afforded the company the opportunity to do two things.
"Firstly, to reaffirm our commitment to you, our valued customers, and secondly it coincides with the introduction of our new value proposition built with the needs of our SMBs in mind. Each plan is guaranteed to provide you with the reliable connectivity and digital tools needed to succeed" Liverpool concluded.
In addition to the 'Essential' and 'Advanced' packages, clients can build their own tailored plans, choosing from standalone products across broadband, voice, mobile and video – all customized for their needs with around-the-clock service support.
One of the SME stakeholders in attendance was President of SVG Hotel & Tourism Association Kim Halbich, who congratulated the company for always being a leader in business innovation and maintaining communication with its business partners.
The SVGTA President expressed her gratitude, saying that the Flow management understood the needs of the tourism sector with hoteliers receiving tailored packages during the pandemic even before the launch of Flow Business.
Halbich further said that there will be opportunities for both Flow Business and the SVGHTA as there are plans to digitise, train, certify, its membership through its Rethink and Rebuild strategies in the future.