First Lady of India, Savita Kovind, on Thursday, visited the Children with Special Needs, in Kingstown, where she handed over a cheque for US$25,000 to the Governor General Dame Susan Dougan for the Governor General's Charitable Trust.
Kovind is in St. Vincent and the Grenadines along with her husband, President of India Shri Ram Nath Kovind, on a three-day official visit that ends today.
SVG's Cabinet Secretary Kathiann Barnwell-Scott, Permanent Secretary in the Ministry of Education Myccle Burke, members of the Indian delegation as well as other members of the diplomatic corps witnessed the donation.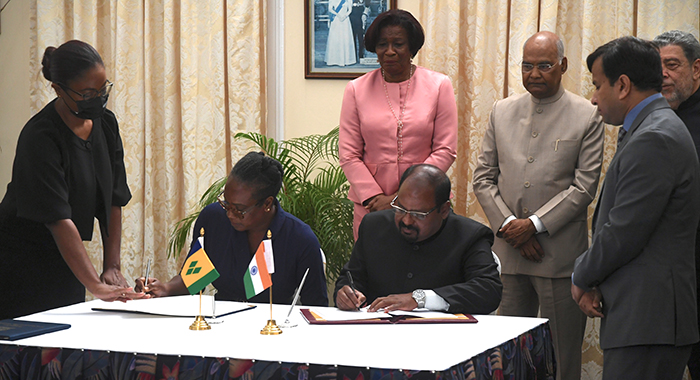 Also on Thursday, India and SVG signed two memoranda of understanding — the Automatic Exchange of Information and Assistance on Collection of Taxes.
Permanent Secretary in the Ministry of Foreign Affairs and Foreign Trade, Sandy Peters-Phillips signed on behalf of Kingstown, while Shri Saurabh Kumar, Secretary (East) signed on behalf of New Delhi at Government House in Kingstown.
Governor General Dame Susan Dougan, Prime Minister of SVG Ralph Gonsalves, cabinet ministers, the cabinet secretary, Minister of the Public Service Frederick Stephenson, the President of India and members of his delegation, and Members of the Diplomatic Corps witnessed the signing.