The St. Vincent and the Grenadines chess team will today (Friday) face off against Brunei, following Thursday's rest day and Wednesday's disappointing game results.
Chinedu Enemchukwu, the team's captain, will take the black pieces against 2,035-rated Munir Siraj Md Ahmed for Brunei.
Rodney Guan Teck Lim, an unrated player, will play against SVG's Brian Cottle, who is also unrated.
Oris Robinson will represent SVG against Shawal Sharikhan and SVG's James Schneider will tackle Rhaman Abd pg Yussaf.
Ugur Mentes will keep the reserve bench.
Team SVG Chess was placed on the back foot on Wednesday, following a clean sweep the previous day.
SVG came up against the Pacific nation of Nauru for round 6 of the Olympiad, having made light work of the Central African Republic.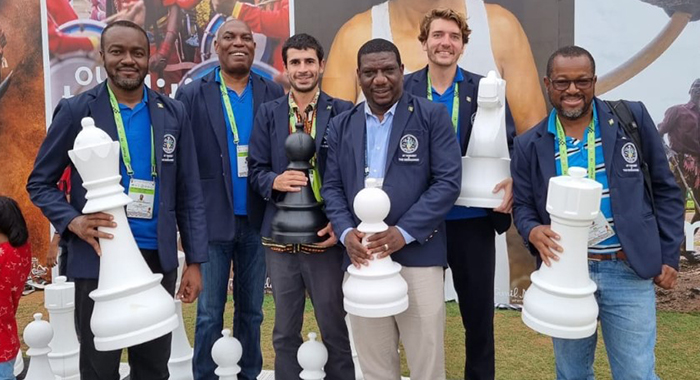 SVG were met with some unfortunate news in that it could not field the team the way it had decided on Tuesday.
As such, Enemchukwu was forced to return to the original line up of Enemchukwu, Cottle, Robinson and Mentes.
Enemchukwu came up against FIDE Master Ricko Depaune of Nauru and fought to a stalemate, as neither of the players could outfox the other.
In the end they both settled for a tame draw.
This was not to be the tale of the remaining three tables, which saw SVG suffering defeats at the hand of the Nauruans.
Cottle, unrated, lost in his clash with Thubalkain Dabuae a player with the rating 1,941; Robinson suffered at the hands of Yoshi Harris, another unrated player. Mentes was upper-handed by Selu Jed Taleka. Taleka is rated at 1,672 while Mentes is yet to be rated.
James Schneider, due to the administrative confusions, sat in the reserve chair.