The Trinidadian charity that built the 27 prefabricated houses that were given out on Thursday to families affected by the eruption of La Soufriere volcano, says they are "not meant for any type of aggrandisement for anyone".
Dalvi Paladee, of the Sri Sathya Sai Baba Foundation, told the handing over ceremony in Orange Hill that a lot of people feel that in doing a good deed, one seeks God's grace and would be blessed for it.
"I want you to change that thinking. And remember this, every act of service that you are allowed to do is your blessing. That is your grace," Paladee said, adding, "Your grace is the chances that he gave you to serve."
He said there are many people in the world who could probably help others.
"These projects are not meant for any type of aggrandisement for anyone. It is meant to motivate people to do more, to show love for other people."
Paladee said that every week in Trinidad and Tobago, his group builds a similar house for a needy family at no cost to the family.
"The houses are fully furnished. We try to stay anonymous. Today, it seems that anonymity may be lost. I'll take the chance," he said.
Paladee was at a ceremony that was attended by a number of government officials, including Prime Minister Ralph Gonsalves and his deputy, Montgomery Daniel, and was broadcast live on a number of media platforms.
Erection of the houses was completed in September 2021, five months after the eruption of the volcano forced one-fifth of the population of the country — over 20,000 people, who live largely in the north of St. Vincent — out of their homes.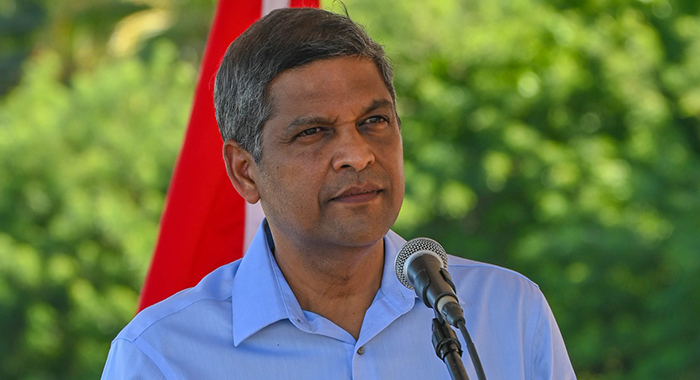 "The message we want to leave with you guys is simple: love can conquer anything. The only reason we build houses is to bring love which at that time would have been needed in a country that had had so many challenges with so many families losing their homes," he said.
He noted that some people take a lifetime to own a home, adding that having to wait one year is not a long time.
"These houses are hurricane resistant up to a category four. These houses cannot burn. These houses are termite resistant," Paladee said.
"These houses, if the families who're getting the houses today keep love as the basis for their lives from today, these houses will last forever," he said.
"It is love you're looking at. It is love that is being reflected by the houses. How lucky are these recipients, out of the six billion people, to receive a house without paying a dollar in a world where it seems that that is an impossible task?"
Paladee said that the group of Trinidadian volunteers who erected the houses did so when the COVID-19 pandemic was "in full swing".
He said that normally, they would have had to quarantine for seven days, then do some pre-work before the main group arrived.
"And we knew that we would finish erection with the pre-work in three days. Amazingly, within 24 hours, we had 60 volunteers from our group who volunteered to give up two weeks of their time to come here and serve people who they don't know and who they will never know," he said.
He said that two years prior, in Dominica, the same group built 18 houses in three days, using two teams.
"So we had three teams. Now we have become more professional at what we do and so they said we will come and build three houses per team per day. And so we will be able to do 27 homes."
The government donated the approximately 4,000 square feet of land on which each house is constructed and the state-owned company BRAGSA built the concrete foundation on which the houses are erected.