Before the government stepped in, the opposition New Democratic Party had offered to pay for the funeral of the five Clare Valley men who died in the minibus accident in Sandy Bay on Sept. 11.
Parliamentary Representative for South Leeward, Nigel "Nature" Stephenson said at the men's funeral in Clare Valley on Sunday that the party had already contacted a funeral home to make the arrangements.
Stephenson, who is into a third five-year term as MP for South Leeward, where Clare Valley is located, said that he visited the village on the afternoon of the accident.
"… and on my arrival to Clare Valley, I started to see little gatherings in various parts of the village."
He said the expressions on people's faces was as if something ominous was about to happen.
"But the thing that they feared most had already happened to them because they lost five of their beloved sons," he said.
He said the men's death "is also my loss not only as the representative for the constituency of South Leeward and Clare Valley, but, as an individual, I share your pain".
Stephenson, said he, along with NDP President and Opposition Leader Godwin Friday, and Senator Shevern John, the NDP's caretaker for North Windward, where the accident occurred visited Clare Valley the day after the accident.
"… we had the opportunity to reach out to most of the families who were at home and we tried to console them. But no number of words, sobering words and encouraging words that were brought to them could have encouraged them in a way to tell them that their loved ones were coming back.
"We understood the grief. We saw it first-hand; nobody has to tell us about it. And when I tell you grief and pain it was overwhelming," Stephenson said.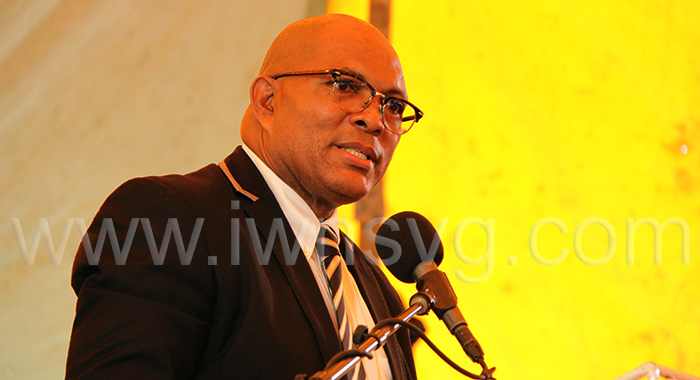 "Quickly, I thought to myself, the mental bludgeoning the pain and suffering that the families and the community, by extension, were going through, we didn't think that having suffered that much that the burden of the funeral should have been on the surviving relatives.
"So, Dr. Friday and I reached out to a funeral home to make arrangements for the funeral, for the burial. But I'm very happy that this is a national disaster that the government came forward and have now borne upon themselves the expenses," Stephenson said at the funeral, which Prime Minister Ralph Gonsalves also attended.
"So, my friends, you must not be in doubt that you would never have had to bear this burden alone because your joy is our joy, your pain is our pain and we will do all that we can to cushion your pain that you're feeling."
The MP, however, said that only God can ultimately cushion their pain.
"… It is going to take years. So, when we're talking about death, it is an enemy, as the Bible describes it. It is your enemy. But you would not be allowed to walk the road all by yourself because we are going to be here in whatever capacity to assist you through this."
Giovanni Enrique "Durh" Barker, 21; Khalil Karl Travis Robin aka "Keno" and "Snackman", 29; Kenroy Kevin "Pressure" Haywood, 29; Elvis Logie "Billy" Harold, 30; and, Ishmael Dorrel Bruce aka Darrel, 39, who died when the minibus in which they were travelling to a funeral in Owia, crashed in Sandy Bay on Sept. 11.
They were buried at the Chauncey Cemetery, on Sunday, after the funeral service in Clare Valley.