Opposition Leader Godwin Friday has questioned the thinking behind the court in sentencing a woman who had 60 kilos of cocaine in her possession to two years and 10 months in prison.
"… 60 [kilos] of cocaine and you get less than three years. That is something that other persons may have, whether it's marijuana and so on, and you get a much stiffer sentence. Where's the consistency?" the opposition leader said on Hot97 FM.
Friday, a lawyer, noted that the prosecution has the right to appeal a sentence, adding that the Director of Public Prosecution, Sejilla McDowall must decide whether she would do so.
On Feb. 3, Chief Magistrate Rechanne Browne sentenced Lucresha Nanton, a 35-year-old nurse, to the prison term, one week after she pleaded guilty to possession of the cocaine, which was found in a locked room at Owia Clinic.
Nanton had also been charged with possession of the drug for the purpose of drug trafficking.
She pleaded not guilty to that charge and the prosecutor, Station Sergeant of Police Renrick Cato, withdrew it after consulting his superiors at the DPP's office.
"Well, it tells us, again, that they have accepted, in the circumstances, that … one person who has a much smaller quantity could have a much longer sentence — 10, 15 years," Friday said of the message that the sentence was sending.
"And then you have people speculating and saying, 'Well, why is it different?" he said.
"And then you have the notion that somehow the system cannot be trusted because some people seem to be faring better and some are not."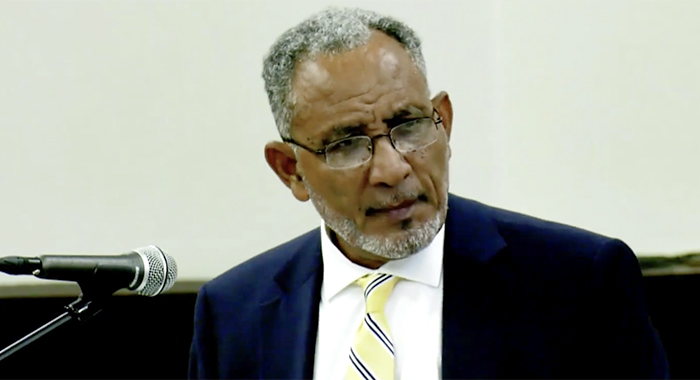 He spoke of "the classic case" of Cornelius John who was shot when three people entered his yard in April 2021.
"You still don't know who shot him. And, you know, the persons who are accused, weren't even called to mount a defence," the opposition leader said.
In 2021, Assistant Director of Public Prosecution, Karim Nelson and Ashelle Morgan, a lawyer and government senator were freed, after a six-day, trial on charges that Morgan assaulted John by pointing a gun at him at his home on April 13 while Nelson was accused of unlawfully and maliciously wounding John by shooting him in the left leg on the same day.
The court upheld no case submissions on both charges.
Friday said that ordinarily, a case involving 60 kilogrammes of cocaine would be heard in the High Court.
At the magistrate's court level, a person who pleads guilty or is found guilty of possession of cocaine can be sentenced to a maximum of seven years in prison and a fine of EC$500,000.
At the High Court, the maximum penalty is 25 years in prison and a fine of EC$5 million.
Meanwhile, a person who commits the offence of drug trafficking or of being in possession of a controlled drug for the purpose of drug trafficking is liable on summary conviction to a fine of EC$100,000 or where there is evidence of the street value of the controlled drug, three times the street value of the controlled drug, whichever is the greater, and to imprisonment for up to 10 years but not less than five years.
At the High Court, drug trafficking carries a maximum penalty of life imprisonment.
The opposition leader noted that the prosecution decides whether a case is heard before the magistrate's court or the high court.
"All those decisions are made in ways that are, of course, not transparent to the public," he said.
The DPP has no legal obligation to explain her decisions.