Hundreds of Bim Bims, Brownie Guides, Girl Guides, Ranger Guides, Young Leaders and Guiders of the local Girl Guiding Association turned out on Sunday to celebrate World Thinking Day under the theme "Our World, Our Peaceful Future: The Environment and Peace".
World Thinking Day is a special day across the 152 member organisations and 10 million members of the World Association of Girl Guides and Girl Scouts (WAGGGS).
World Thinking Day is celebrated on Feb. 22 each year and is a day for international friendship since 1926. Every year on Feb. 22, Girl Guides and Girl Scouts celebrate the movement by connecting with each other and having fun together, learning about and taking action on the global issues that affect their local communities, and fundraising for Girl Guides and Girl Scouts around the world.
Locally, the Girl Guides Association of St. Vincent and the Grenadines hosted a celebratory parade from the Peace Memorial Hall to the Kingstown Methodist Church where a special ceremony was held.
This year's ceremony featured Bim Bims, Brownie Guides, Girl Guides and Ranger Guides from the Windward, Leeward, Kingstown and Grenadines Divisions.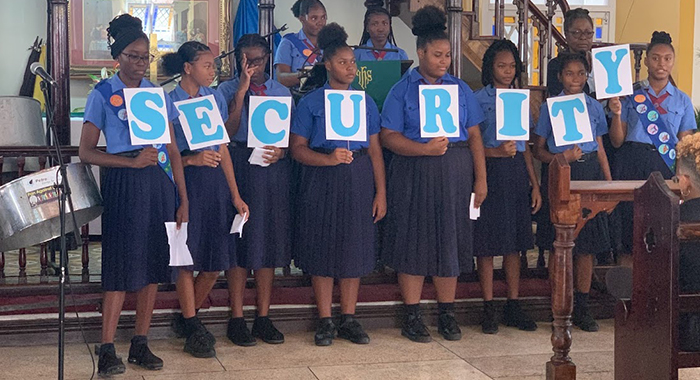 The feature speaker, Janeel Miller-Findlay emphatically encouraged all present to be guided by the four Rs in their everyday life: "Reduce, Reuse, Recycle and Recover".
The Reverend Janice Soyer-Delaney also reminded the guiding community that they are not too young to make a difference.
Delaney shared the influence of 11-year-old Barbadian, Maria Marshall, a UNICEF youth advocate for climate advocacy.
Marshall has been championing climate issues and believes that "no matter how old you are, you can make a real change on big issues like the climate crisis".
Members of the guiding community were encouraged to wear their uniforms to school and work on Wednesday in recognition of World Thinking Day 2023.
Activities for the week will climax with eight Brownie Guides participating in the annual Althea Commissiong Brownie Public Speaking on Saturday at the Girl Guides Headquarters in Level Gardens.
The topic for the public speaking event is "Our Peaceful Future. What would this look like and what can the Girl Guide Movement do to ensure that Brownies inherit such a future?"