The Unity Labour Party (ULP) government, despite its claims of principled support for Taiwan, hides Taiwanese diplomats when it hosts countries do not regard Taipei as independent of China.
This is the observation of MP for Central Kingstown, St. Clair Leacock, a vice president of the main opposition New Democratic Party (NDP).
Leacock made the observation as he responded to a comment by Prime Minister Ralph Gonsalves who said that the loans totally EC$577 million that Kingstown owe Taipei "put a hook in the gill of anybody" in St. Vincent and the Grenadines, who wants to break diplomatic ties with Taiwan.
"… it's insulting to say that you want to demit office and leave the hands of the New Democratic Party tied and that through a foreign policy initiative, we will have to leave we mouth in we mooma (mother)," Leacock said on his party's "New Times" programme on NICE Radio.
He said he has more to say on the topic and would "show in a very detailed way the inconsistency, the immorality, the indecency" of the ULP government's political argument.
"Because they love Taiwan so much that they are the first ones will pull Taiwan out of the line when a foreign delegation coming here from India. They must not be seen. You hide them when a Cuban delegation is coming here because the two shall not meet," Leacock said.
"Because that's your ideological navel string to a backward anachronistic policy that's getting St. Vincent nowhere. We're not going to become the little Cuba of the eastern Caribbean. That's what you want," he further said.
"But you can't pay for your ideology so you hold out to that in your right hand and in the left hand you want Taiwan to fund your retarded, autocratic, dictatorial selfishness."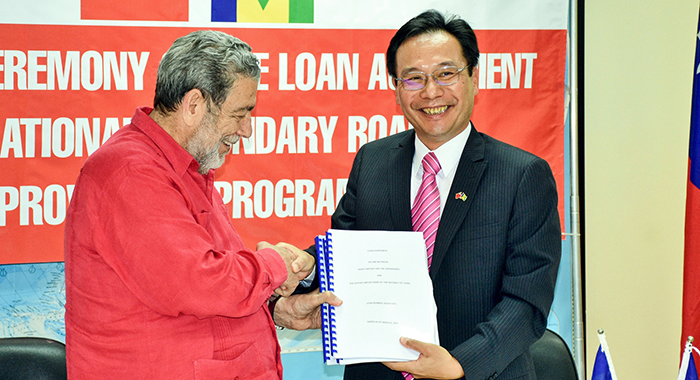 In 2016, the NDP, then under the leadership of Arnhim Eustace, announced that it no longer recognises Taiwan as a country separate from China.
China and Taiwan split in 1949 amidst civil war and Beijing regards Taiwan as a renegade province and has not ruled out the use of force to bring the self-ruled island under its governance.
Current leader of the NDP, Godwin Friday, who is also Leader of the Opposition has continued with the One China policy since taking over the reins of the party in 2017.
However, senior party officials including Leacock and party chairman Daniel Cummings, have made public comments that suggest that the NDP may be reconsidering its pro-China stance.
Gonsalves, on the other hand, had been a strong critic of SVG-Taiwan ties before coming to office in 2001.
However, his government has maintained the relationship and defends them as based on principle.
Kingstown and Taipei established diplomatic relations in 1981 and have maintained them unbroken since then, remaining one of the 13 countries that consider Taiwan to be a country independent of China.