By Kenton X. Chance
ACCRA, Ghana (CMC) — The African Export-Import Bank (Afreximbank) opened its 30th annual meetings here on Monday, with Barbados Prime Minister Mia Mottley praising the bank's payment system that would allow countries across the continent to trade with each other using their local currencies.
Eleven Caribbean Community (CARICOM) countries have joined Afreximbank, and last week the Association of CARICOM Central Banks adopted the bank's Pan-African Payment and Settlement System (PAPSS) as their preferred payment infrastructure for a pilot project.
Afreximbank has 60 member nations, about US$32 billion in total assets and guarantees and an estimated US$6 billion in shareholders' funds.
President and chairman of the Afreximbank's board of directors, Professor Benedict O. Oramah told Monday's opening ceremony that PAPSS will save the continent US$5 billion in intra-African transfer charges.
Mottley, delivering a keynote address titled "A New Middle Passage by Africans for Africans — Strengthening Inter-connectivity between Africa and its Diaspora for Shared Prosperity", spoke of CARICOM's experience, decades ago, when devising a multilateral clearing facility, which was intended to facilitate inter regional trade.
"But unlike PAPSS, there was no guarantor and therefore when a country got into difficulties with respect to liquidity, it meant that that money remained owing," Motley explained.
"The difference this time around is the courage and the commitment of the Africa ExIm Bank to be able to say, as we have done here in Africa, we are prepared to guarantee this mechanism to ensure, as you heard President Ruto say today, 'why should my traders in Kenya and Djibouti have to trade in a currency that has nothing at all to do with what we are trading? Perhaps not even the location of the goods which we are trading.
"The only way we're going to make that difference is through the institutional capacity being delivered by the Africa ExIm Bank," he said, adding, "and this time around, in the words of (Jamaican reggae singer) Jimmy Cliff, we can get it if we really want if we try and try and try.
"This time, we are trying again, and I believe that the inter regional trade not only in the Caribbean community, but across the Atlantic will make a significant dent.
Mottley, along with the Bahamas Prime Minister Phillip Davis, who is also chair of the 15-member CARICOM grouping  and St. Vincent and the Grenadines Prime Minister Dr. Ralph Gonsalves, are attending the meetings.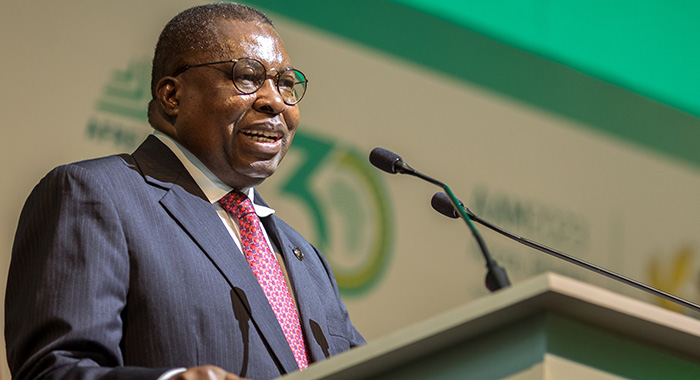 Oramah said the presence of CARICOM leaders at the event is "an indication that we are finally determined to have one homeland".
He said their presence show that the region is ready "to redraw the map of the world to unveil a new continent, the AfriCaribbean continent, that extends from Mauritius in the East to The Bahamas in the West," adding "together, we pave the way for global Africa to speak with one voice."
Over the next few weeks, Afreximbank will formally launch the operations of its Caribbean office in Bridgetown, Barbados and Oramah said "we are connecting African businesses with opportunities in the Caribbean and Caribbean businesses with opportunities in Africa".
He said the bank is working with some African and Caribbean airlines to commence commercial operations between the two regions.
Afreximbank has approved US$1.5 billion to support the CARICOM initiative, with plans to double that in the near future.
"We do these not because it is merely a nice thing to do but because a united Africa and the Caribbean represent a more potent force that can confront the exigencies of now and the challenges of tomorrow," Oramah said.
"A new middle passage is emerging; one underpinned by trade, investment, and socio-cultural exchange, correcting the ills of slavery and fragmentation. We are supporting African investors to build ports, roads and power plants in the Caribbean; we are promoting cross acquisition of banks. Afreximbank is proud to be home to numerous interns from the Caribbean since 2021."
Oramah said the history of Afreximbank is a "clear proof that we can only develop in the direction we choose by having well-resourced and professionally run institutional arrangements we own and control.
"It will also expedite and enable payments for intra-African trade in African currencies," he said, noting that PAPSS makes it possible for African countries to trade with each other using local currencies, rather that with dollars, pounds, euros or other major international currencies.
"By this singular move, we are one step closer to a full integration of African and CARICOM economies," he said, noting that with PAPSS, every African currency will become convertible within Africa.
"Afreximbank backs the clearing and settlements with an amount of three billion US dollars. With this level of financial commitment to start up the initiative, you can now understand why for 60 years it never saw the light of day; you can now appreciate why we need our own institutions if we hope to attain our development aspirations."
The Afreximbank president said that as international banks continue to withdraw from Africa, his financial institution has made significant progress in improving access to letters of credit and other trade services across the entire continent.
"We have SWIFT communication arrangements with almost 500 of the 600 regulated commercial banks in Africa, making Afreximbank perhaps the bank with the most extensive reach on the continent."
Oramah said trade lines have been made available to more than 200 of those banks in an aggregate amount of over four billion US dollars, halfway to Afreximbank's target of eight billion US dollars by the end of 2026.
"Whether you are in Comoros, Nigeria, Chad, Zimbabwe, Cape Verde or Tunisia, there is a bank that can offer you a window to Afreximbank services."
Oramah said the bank has also brought a new kind of hope to Africa: "the capacity to confront global challenges without going a-begging".
He said the COVID-19 pandemic and the Russian-Ukraine crisis exposed the vulnerability of Africa in many ways.
"From the break of the pandemic in 2020 to the Ukraine crisis in 2022, the Bank has disbursed over US$45 billion into the continent, which enabled many governments, central and commercial banks, corporates, and SMEs to weather the combined effects of these crises by helping countries to honour maturing trade debt payment obligations; to pay for critical imports and to pursue strategic investments," Oramah said.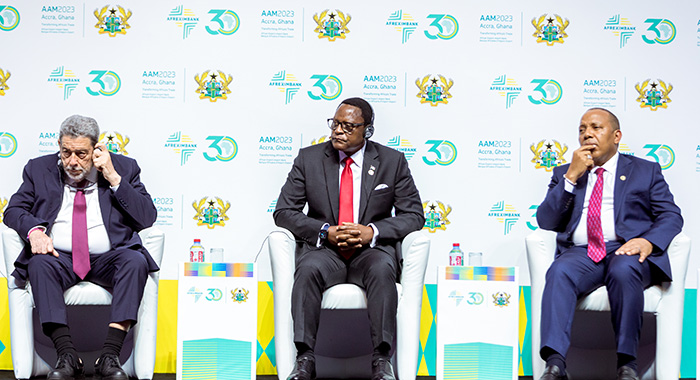 However, Gonsalves, addressing a heads of state and government panel on "Delivering the Vision: The Benefits of Strong Continental Financial Institutions" suggested that Areximbank re-examine its definition of the Caribbean.
"CARICOM is 20 million people. A very important area; a lot of money here. But the countries washed by the Caribbean Sea outside of CARICOM are important," Gonsalves said.
He said he was not merely speaking about non-CARICOM islands in the Caribbean but also counties in Central and South America that are washed by the Caribbean Sea, namely Venezuela, Columbia, Mexico, Panama, Costa Rica, Nicaragua, Guatemala and Brazil.
He noted that Brazil is the largest country in Latin America and has 220 million people, half of which are of African descent.
"It is the largest group in a state of persons who are Africans or of African descent, outside of Nigeria,' Gonsalves said, noting that Nigeria has 210 million people.
"Now, if the linkage takes place, using CARICOM as the bridge to make the link with these other areas, you are talking about 1.4 billion people in Africa plus 450 million people which I have just described," Gonsalves said.
"That's 1.85 billion people, professor. Imagine Africa Ex-Im Bank is linking and playing a leading role in almost one-quarter of the eight billion people in the world. Heavenly Father, that is something for your consideration."
Gonsalves said that the framework for the inclusion of these countries is his Africa, Brazil, the Caribbean and the Diaspora of Africa (ABCD) Commission, which CARICOM and the African Union have accepted.
"… the same way that the bank has forged links with CARICOM to oversee, to help to carry out the broad strategic purposes and to oversee the implementation of many of the things which you ask me about," Gonsalves said.