Magistrate John Ballah on Monday began sitting at the Kingstown Magistrate's Court, less than two hours after taking the relevant oaths at Government House.
Counsel Roderick Jones was the first lawyer to appear before the magistrate.
Jones congratulated Ballah on his elevation to the bench and wished him a long and successful career as a magistrate.
Ballah responded, "Thank you, counsel."
Jones was representing businessman Dominic "Demus" Ross, a 56-year-old businessman, of Paul's Avenue, in connection with charges of making use of indecent language and assault occasioning actual bodily harm.
The prosecutor, Corporal of Police Shamrock Pierre, congratulated Ballah on his elevation, saying he was "humbled" to see him sitting as a magistrate.
"A lot of people would not know that both of us were trained together 20 years ago," he said, adding that he and Ballah worked together as police officers and also at the Office of the Director of Public Prosecutions.
"I am pleased to be the first prosecutor to appear before you," Pierre said and wished Ballah all the best, adding that he knows that the new magistrate has what is necessary to dispense justice.
Until recently, Ballah was an assistant superintendent of police and has now filled the magistrate post that had been vacant since Justice Rickie Burnett was appointed a judge in April.
Ballah has become the only public servant in the magistracy, as all of the other magistrates are employed on contract.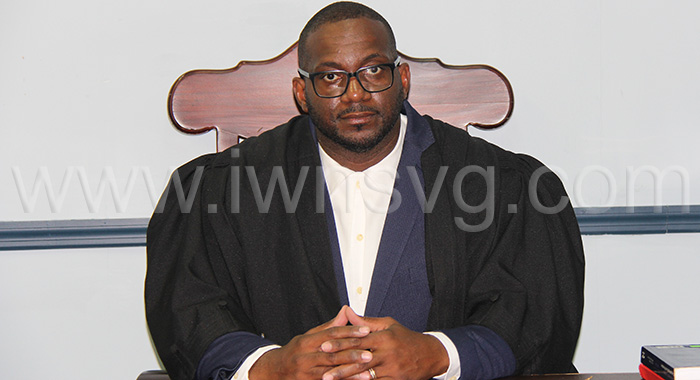 Up to the point of his appointment, Ballah was head of the Legal Research and Policies Unit of the Royal St. Vincent and the Grenadines Police Force.
The unit aims to improve the service offered to the people of St. Vincent and the Grenadines in the swift execution of justice.
Among other things, the unit aims to develop and enhance case file preparation and investigation and reduce the timeline of case files readiness for trials.
Ballah was called to the Bar in October 2016.
Since then, he has had a stint at the Office of the DPP and was among counsel for the Crown in the Veron Primus murder trial last December. 
With his appointment, Ballah brings to two the number of former police officers who are magistrates, the other being Bertie Pompey, a retired deputy commissioner of police.