Budding Vincentian architect, engineer and businessman Lorenzo Bacchus continues to excel in his home away from home — Taiwan.
This time, Bacchus grabbed the valedictorian nod of his department's 2023 graduating class, when he completed a Master of Science in civil and disaster prevention engineering from the National Taipei University of Technology, on June 10.
Bacchus has become the first person in his immediate family to achieve such a feat.
It was Bacchus' second graduation from the institution, having completed a Bachelor of Science in architecture in 2021.
In 2016, Bacchus was granted a Taiwan Ministry of Foreign Affairs scholarship to read for a degree in Taiwan and he has been away from his family and country since then.
Bacchus said his success was a product of his dedication and his support system, which assured him that the journey would all be worth it in the end.
Bacchus consistently ranked in the top five in his class and completed his four-year undergraduate studies with a 4.0 GPA although his degree programme was delivered in Mandarin Chinese.
Bacchus' final project in his bachelor's programme — "City Life Terminal: Before and After", an architectural design project focusing on the regeneration of Kingstown and the redesign of the Kingstown Bus Terminal — received an award for being one of the best design projects.
It was also presented to various government officials and private sector representatives in St. Vincent and the Grenadines (SVG), through the Embassy of SVG in Taiwan.
As he began his post-graduate studies, Bacchus continued to grow and promote his business, Bacchus Design & Construction, which received the Honorable Henry Channon award for the design of the Cumberland Nature Trail bridges.
Bacchus said that though his years as a bachelor's student were rough and stressful, he takes pride in having had the courage to see it through to the end.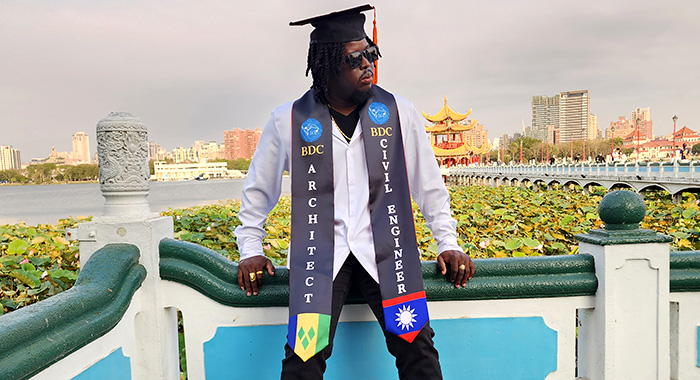 However, he immediately dove headfirst into his master's degree programme in 2021.
This, too, proved to be challenging as the two-year journey required him to leave many friendships, familial relationships and pastimes behind to allow greater focus on his priorities.
In the end, although the programme was delivered totally in Mandarin Chinese, Bacchus was named valedictorian of his department's graduating class.
A draft of his master's thesis was also presented at the Taiwan Society of Construction Engineers' 20th Construction Industry Sustainable Development Seminar, and received positive feedback on the relevance of his research to the field.
Bacchus considers himself an architect and engineer at heart but also has a passion for cooking.
This inspired him, during his master's studies, to introduce a Caribbean food business called BDC Catering, to bring a taste of home to the Caribbean diaspora in Taiwan.
These two businesses and his resilience caught the attention of the National Taiwan Normal University's English as a Medium of Instruction Program and led to the programme's invitation to Bacchus and his wife, Rotasha Bacchus, to share with students of the institution about their life in Taiwan.
Bacchus said the experience was very significant as he sees himself as not only an ambassador for his business but also for his country
Bacchus expressed deep gratitude to his wife for always being there from the very beginning of his journey in Taiwan, and for being his biggest supporter, motivator, and sounding-board.
He was also grateful for the support of his parents, Adolphus and Jozette Bacchus; Vincentian Cultural Ambassador, Peggy Carr, who is based in Taiwan; SVG Ambassador to Taiwan, Andrea Bowman; his mother-in-law, Natasha Baptiste; and, his friends, Cherry-Ann Morris-Browne, Breneva Olliver, Devante Fergus, Timnisha Roberts, and James Campbell.
Bacchus said he has no doubt that he will continue to achieve greatness in all he aspires to accomplish.
He said he remains committed to making himself, his family, and his country proud.