A vice president of the opposition New Democratic Party (NDP) says supporters should welcome the people expressing interest in becoming candidates for the party in the next general elections.
St. Clair Leacock, who is the party's vice-president with responsibility for internal affairs, said NDP supporters should take this position, even in constituencies where there is an incumbent MP or caretaker.
"It is a good thing for the New Democratic Party … that it is attracting very, very qualified professionals, community and other core strength individuals to the New Democratic Party, even though it presents us with political work," he said recently on "New Times", the party's programme on NICE Radio.
Leacock was commenting after lawyer Maferne Mayers-Oliver created a stir two weeks ago when she announced a bid to become the NDP's candidate for East St. George in the next general elections — constitutionally due by February 2026.
Laverne Gibson-Velox has been the NDP's caretaker for East St. George since 2020 when, as a first-time candidate, she came within 196 votes of stopping Minister of Finance Camillo Gonsalves from securing a second term in office.
In the 2015 polls, Gonsalves won the seat by 607 votes — defeating the NDP's Linton Lewis, who lost in his fourth bid to win a St. George seats.
Gonsalves is widely seen as a frontrunner to become the next leader of the ruling Unity Labour Party
The 3,135 votes he amassed in the 2015 poll was higher than any other of his party's candidates, including his father, Prime Minister Ralph Gonsalves.
Leacock said he was aware that in some constituencies as many as five people have expressed an interest in becoming the NDP's candidate.
"And when you look at the credentials of the people, they are substantial individuals, in some cases, highly academic — first degrees, second degrees, some in doctoral programmes. Some have done yeoman's work for the country and are known nationally for their endeavours. Some are professionals — doctors, some are lawyers," Leacock said.
"I think the party has to be pleased that they can attract those kinds of interests. And the party has to rise to the occasion to manage that interest and to grow the party," he said.
Leacock, who is into a third five-year term as MP for Central Kingstown, cautioned party supporters against the "instant panic reaction of many people", adding, "I am not supporting that. I am not condoning that…
"And it will be unfortunate if a particular candidate comes forward and presents him or herself, and we are so abusive of that person that they immediately do not want to have anything to do with the New Democratic Party and withdraw themselves and their interest altogether. I would not like that," he said.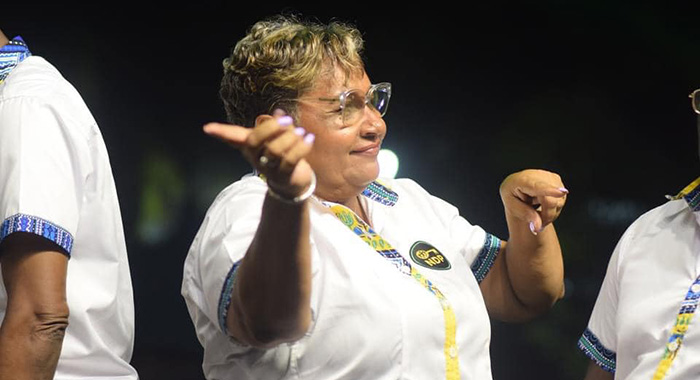 "Politics is about addition. That's what it is. It's about addition. It is for us in the constituencies, or at the national level of the party to meet and treat with those individuals and to show them how they can be of help and strengthen the New Democratic Party."
Leacock said he chanced upon Mayers-Oliver in the city and she apologise to him "'for what I have put you through', meaning that she is aware that a lot of people have made an assumption that I may have been a part of the conversation with her, or in support of her candidature for the East St. George constituency".
Leacock said he "disabused" Mayers-Oliver of her apology, telling her "there was nothing to apologise for and there is nothing that she shouldn't feel in her own conscience comfortable with, because it is within her rights to have ambition and to express a political interest.
"It is also for her to exercise good judgment as to whether this is the right time or the wrong time. It's also her good judgment and political measurement to determine whether it is better for her to offer herself as a potential candidate, or in her own reading and understanding of the constituency to lend support to the existing candidate," Leacock said.
'there is a 'D', in this party, 'Democratic Party''
"So, all those are options, but those are individual rights. So, I want to say to members of the New Democratic Party, and unapologetically, there is a 'D', in this party, 'Democratic Party'," Leacock said, adding that there is also a process by which one becomes an NDP candidate.
He noted that although he is the incumbent MP for Central Kingstown, "it is not automatic that I am the candidate for the NDP, in the next general election".
Leacock, however, said this is likely to be the case, in light of the support that he enjoys among the party's constituency council in that district.
"But if some other persons were to come forward now and express an interest in Central Kingstown, the constituency will be obliged to pay attention to that interest and to process it," Leacock said.
He said that a particular meeting will then be held to allow persons to make their presentation and for the constituency to "accept, moderate, dismiss, reject, postpone the interest of that person," Leacock said, adding that this is an internal process.
A place in the NDP for Mayers-Oliver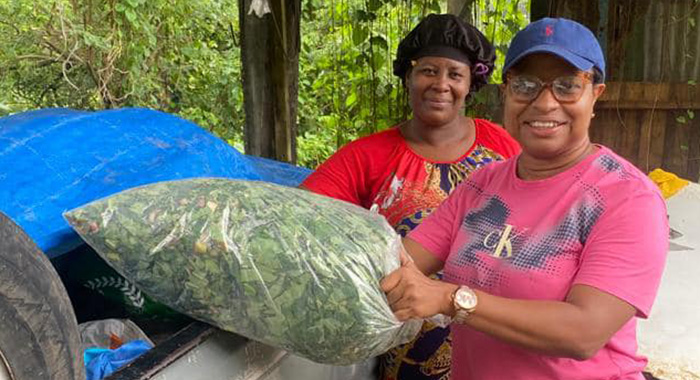 Leacock continued:
"Now, my colleague, Alan Cruickshank makes a point over and over and I support it … And he asks, 'why does everybody want to come into the NDP at the top?' That same question, everybody wants to come in to be a candidate, or nothing else."
Leacock said he had been discussing recently with his campaign manager "this phenomenon in St. Vincent and the Grenadines", where many times a person comes within two votes of becoming the leader of an entity then fails to secure a place on the executive.
"There is a place in the New Democratic Party for Maferne Mayers. And I do not want her to see herself as being rejected by the New Democratic Party."
He said that in her letter of interest, Mayers-Oliver noted that her father was a candidate for the NDP in the 1979 election.
"That counts for something. It means that it's in her DNA," Leacock said.
"She may have gone around the world with different political views. But if so many years hence she comes back to a conclusion as a professional woman that in all that she sees and hears around her, this NDP political party, (with) which she wants to identify, we should keep no scorn, we should not be abusive nor should we be dismissive of her, nor should we be ridiculing her. There should be a full embrace of her and others who want to lend their assistance to the New Democratic Party. So, I want to say that clear and I don't have to apologise to anybody for that."
Leacock said he had not met with Mayers-Oliver or her husband — businessman Lance Oliver.
"I have no conversation with her, nor have I provided her with any kinds of encouragement to offer herself (as a candidate)," he said.
"But she, of her own will, has offered that and I hope that you continue to be strong enough to want to find a place in the East St. George activity that can strengthen the eventual candidate, who I believe will be our Laverne Velox."
Leacock said he has spoken to Gibson-Velox about Mayers-Oliver's bid.
"I said this to Laverne: she should take some comfort out of the fact that so many people objected, which is to say that they're showing their love for her and their appreciation for and their acceptance for her. So, that feel-good feeling is something that she should capitalise on and inspire her and motivate her to go on to win the seat, and I believe she will do in the next general elections."
He continued:
"So, I'm adjusting the statement here now to some fast mouth people who are the New Democratic Party. Because I heard my name called mischievously along with Bert's name on another radio programme. I don't know why that had to be done. There are people who think themselves to be my friends. But they feel that I am easy fodder, and to put people against me. The more I do for this party, sometimes the more internally I get problems in managing some of these cases."
Leacock went on to express his preference for Gibson-Velox as the party's candidate in the constituency in the next general elections.
He said his constituency had provided a platform for her in 2020 when there was "procrastination with the candidate coming forward for East St. George".