By Peter Richards
PORT OF SPAIN, Trinidad (CMC) – CARICOM leaders ended their three-day summit here on Wednesday night agreeing to have the free movement of all categories of people by March next year.
The arrangement does not extend to Haiti, whose Prime Minister, Ariel Henry, had asked that the country be excused, given the humanitarian, social and political crisis in that CARICOM nation.
"Obviously there are some legal issues that we have to examine. And we have given our  legal people, some months to examine those legal issues and to ensure that they can come to us by by 30th of March to take a definitive position on this," CARICOM chairman and Dominica's Prime Minister Roosevelt Skerrit told a news  conference.
"Of course, we have the sort of security agreements in place already that people can benefit from, but we believe this is the fundamental power of the integration architecture and at 50 we could not be here today and not speak about the core of the individual movement, that is people's ability to move freely within the community, and I think we would have served the community well at this meeting by arriving at that decision."
Skeritt said that while the regional leaders understood that there would be some challenges for some, "we are committed to this.
"So this is great news. I think the various issues that we are discussing, the number of decisions we've taken, this is the decision that we've taken at this conference, and I believe the founding fathers are smiling from heaven."
He said that in addition to the free movement, the issue of contingent rights that will be associated with the initiative will also be examined to provide access to primary and emergency health, and basic education, namely pre-primary and secondary education.
Previously under the CARICOM Single Market and Economy (CSME) that allows for the free movement of goods, persons, skills and labour across the region, the CARICOM governments had allowed for the free movement of media workers, artistes, musicians, sports persons, nurses, teachers, artisans with Caribbean Vocational Qualification and holders of associate degrees or comparable qualification.
Skerrit also announced that the leaders will hold a retreat in Dominica on Aug. 18 -19 to review a number of reports including regional governance and strengthen functional cooperation, ahead of their next mid-term summit scheduled for Guyana.
"I have made clear to all of us that we will loose the suits and ties and and … we will be in t shirts and jeans and shorts, possibly, focusing on some critical important issues of the community so that when we get to Guyana or even before we get to Guyana, we can put a number of issues in place and bring clarity to discussions and we're hoping that that can become a regular feature."
"These are the things which matter to the average person in the streets of the Caribbean Community — that they can see tangible benefits," Skerritt said.
Ask to be more specific about the issues to be discussed at he retreat in Dominica, Skerrit said President of Guyana, Irfaan Ali in his presentation to the summit on food and digital security, highlighted the need for the region to address the issue of trade barriers, the global issue of governance within the community and taking stock of the geopolitics of the world "and how do we position ourselves…
"COP28 is coming and we need to have a clearly defined position," he said, adding that it was necessary for the regional grouping to be singing from the same hymn sheet" as it relates to matters such as climate financing and the need for reform or transformation of the international financial system.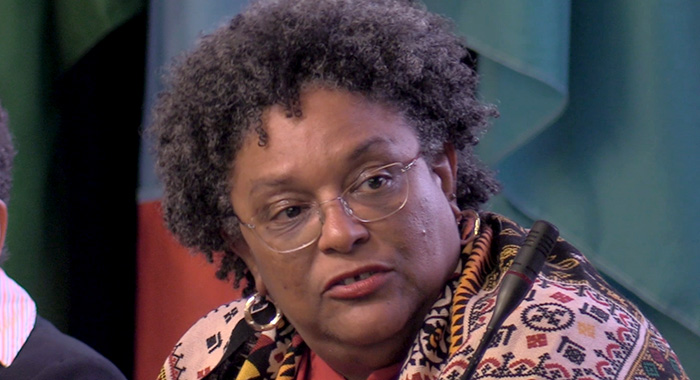 Meanwhile, Barbados Prime Minister Mia Mottley, who has lead responsibility for the CSME within the quasi-CARICOM Cabinet, said that the leaders of the 15-member grouping had decided to fully liberalise free movement of all categories of persons across the Single Market by early next year, and to amend the Treaty of Chaguaramas to guarantee them access to a limited number of services.
"Freedom of movement of people. So is all. There is no services anymore … This now gives full expression to what every Caribbean person has wanted since we have had control of our destiny," she told the news conference.
She said the treaty would be amended to harmonise expectations of Caribbean people when they move through the region.
"We recognise, as well, that there will have to be an approach that does not put countries or make countries liable to any form of suit with respect to some of the rights. So, there has to be a minimum set of rights guaranteed for the movement of citizens.
"So there has to be a minimum set of rights guaranteed for the movement of citizens that will be discussed and agreed upon, that will be captured in the amendments to the treaty that will also be have to be financed and we're looking at the CARICOM Development Fund as being able to put in place the mechanism to guarantee that each country can bring its minimum level of services up to the same acceptable period and level," Mottley said.
"The treaty provides for restrictions for national security purposes. The treaty provides for restrictions on balance of payments purposes, we have determined that in order to facilitate freedom of movement, we may have to do it in a way where we guarantee a minimum level of rights and that may relate to primary education — as Prime Minister Skerritt says, pre-primary primary, secondary education and they relate to primary health care, related emergency health care.
"We are already covering the social security rates with the agreement that exists in CARICOM. So what we're doing is to ensure that the desire of heads is met by the reality of implementation, and we give ourselves this period of time to be able to make the amendments to the treaty so that countries can do so without fear of any further implications," she added.
The regional leaders also discussed the issue of air transportation in light of the problems associated with the movement of people since the inter-regional airline LIAT was placed into administration a few years ago.
Mottle said some airlines, including the Trinidad-based Caribbean Airlines, have been doing a fantastic job thus far in seeking to help fill the void created and that The Bahamas' national airline is also looking at doing some flights from the Caribbean to North America.
Skeritt said the government had mandated the Barbados-based Caribbean Development Bank (CDB) to engage in a study, examining the air transport situation in the Caribbean and to come up with some recommendations on how "we should go about addressing the issue".
He said the bank has now completed this study, which will be presented to the governments in a couple weeks.
"They have done numbers in terms of the cost," he said, acknowledging CAL's efforts to develop a plan that involves obtaining additional equipment to do more in the region.
And, Mottley said that an agreement would be signed with CAL soon, echoing Skerrit as indicating that regional transportation "is not a simple issue.
"And the truth is that we have suffered from a significant reduction in seat numbers, who believe that there's enough space for Caribbean Airlines and for any other mechanism," she said, thanking Bahamas Prime Minister Phillip Davis "who has stepped up to the plate, even where Bahamas is not a member of the CARICOM Single Market and Economy, and they will be testing out the market for us this summer".