The opposition New Democratic Party (NDP) has rubbished suggestions by Prime Minister Ralph Gonsalves that recent crimes in St. Vincent and the Grenadines may be linked to "foreign political operatives".
In various media appearances recently, Gonsalves has suggested that the shooting death of five people in Kingstown on July 19, two physical attacks on Cuban medical workers, and a state agency's removal of items from Brighton beach this month may have some political links.
Police are yet to make an arrest in connection to the shootings, but have said that it is part of a war among former drug-dealing friends dating back to 2014.
Jace Baptiste, 19, of Georgetown has been charged in connection with the July 11 attack on two Cubans in that east coast town, while a June 30 attack on another Cuban in Kingstown remains unsolved.
On July 20, workers from the National Parks, Rivers and Beaches Authority removed from Brighton Beach Facility items that Elroy "Huffles" Arthur, a vendor there, had erected without permission.
iWitness News was reliably informed that National Parks had repeatedly instructed Arthur to remove the items. However, a junior National Parks worker removed the items one day earlier when they were on the site responding to a fallen tree.
At a press conference on Wednesday, Opposition Leader Godwin Friday was asked to comment on the prime minister's attempt to link these developments to "foreign political operatives".
"I don't know what the causes of the individual attacks are. The point is that if the Prime Minister and Minister of National Security thinks that there is some sort of causal link between so-called operatives that he's talking about and that is part of the solution, you should discuss that with the Commissioner of Police, and they should proceed with that in a way that is part of the investigation, not with some loose comment in public," Friday said.
"Again, that just seems to trivialise, to me, the seriousness of the problem; blame everybody else except taking responsibility for dealing with the problem. And that is what has been so frustrating and disappointing," Friday said.
"And I'm using here probably language that could become even more strident because it's just simply not — given the severity of the problem, those kinds of responses don't match in terms of the kind of rigor that's needed to be brought to the problem to solve them. It is just not the way to approach it."
Speaking at the same press conference, St. Clair Leacock, the opposition spokesperson on national security matters, noted that in 2006, when Gonsalves' press secretary Glenn Jackson was shot and killed, the prime minister spoke about an "assassin".
Gonsalves, who was overseas when Jackson's body was found naked in his car with a bullet to his torso, said that the shooter knew about the human anatomy.
However, information from court hearings in the matter suggested that Jackson was killed by a younger man with whom he was involved in an intimate relationship.
The alleged killer, however, was acquitted because of police handling of evidence in the matter.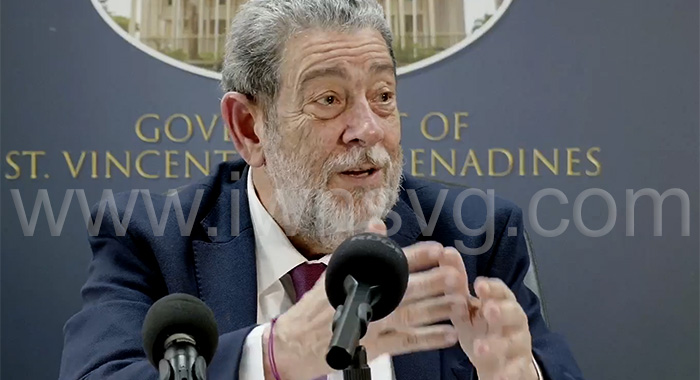 'I know what some persons do when they want to destabilise'
Meanwhile at a press conference in Kingstown on Friday, Gonsalves again attempted to link the recent crimes and "foreign political operatives".
"I said when I see the attack on the Cubans. When I see the knocking down with Huffles down at Brighton Beach. When I see these killings, [and the false reports on social media claiming there were other killings across the country] …, I'm a man I understand history and I know what some persons do when they want to destabilise," Gonsalves told the media.
"I see it happened elsewhere. And it didn't pass my notice that before I left and went to Europe and to Morocco, there were foreign political operatives, which came into this country, not aligned to the government or to the Unity Labour Party.
"I'm saying each of those events which I mentioned are discrete events. And they may have their own proximate or root cause. But is it a coincidence? Was there any gingering run up by some force other? And I'm choosing my words very carefully. But I tell you this, I'm alive to all of it. I want the people of St. Vincent and Grenadines to know that I'm alive to all of it. By the way, sometimes they say the last kick of a dying jackass, sometimes the most dangerous one you have to look for," Gonsalves said.
The prime minister said he was also "alive to" what he said was a clamp down by the UK and EU "on selling of passports and selling of citizenship and who those elements finance in St. Vincent and the Grenadines".
Gonsalves was asked how he would respond to the point that he was asking questions on issues that he, as minister of national security, would be briefed on and to which he would be in a position to prescribe appropriate policy responses.
"Why do we think I tell you, I'm alive to everything what's going on? I'm alive to it," Gonsalves said.
"But I wouldn't tell you and tell anybody what are the responses by the state and we will act properly through all the legitimate, the legal institutions of the state. And I will also act politically, which is a form of human activity. And you know, I'm good at that. I have five election victories under my belt."