By Kenton X. Chance
BRIDGETOWN, Barbados (CMC) — The Egypt-based Africa Import-Export Bank (Afreximbank) opened its Caribbean office here on Friday with Barbados Prime Minister Mia Mottley and her St. Vincent and the Grenadines counterpart, Ralph Gonsalves, expressing hope that the financial institution could provide an investment jolt to the region.
Mottley said the region has been "too reticent and too laid back" in the manner in which it has sought to employ and risk capital.
"Not risk it loosely, not risk it wildly," Mottley cautioned but said the world has seen what happened in Africa when some traditional North Atlantic commercial banks retreated from the marketplace and indigenous African banks were allowed to make that defining difference in creating opportunities for Africans for Africans.
"I believe that the time has come in this region for us, similarly, to ensure that Caribbean people will have access to capital to be able to build out our region and to be able to ensure that they can create the platforms for prosperity that will allow our people to benefit rather than to be seen as tenants in their own land and to be the pawns of others in the creation of wealth for others," Mottley said.
The Barbadian prime minister said there is an estimated US$50 billion in private sector savings in the CARICOM, earning less than one per cent at a time, when there is "a lack of creative instruments and innovative instruments available on the market that could help fund regional development, while at the same time creating a better return on savings for the average Caribbean person".
She said the Afrieximbank, which began operations on September 30, 1994, has become renowned in Africa for being able to play "that central role with the governments who establish local content in those countries where energy abundance and the ability to finance indigenous players without the unconscious bias … in countries that were former colonies, who continue to have a shadow of colonial practices informing all decision making, both in the public and private sector regrettably".
Mottley said that when this happens, "a disruptive factor" is needed to intervene.
"I'm told that Afreximbank became that disruptive factor to ensure that a lot of indigenous Africans were able to play their role in building out the oil and gas and renewable energy sector in the continent of Africa.
"I believe that there is need for a similar disruptive factor in the Caribbean," Mottley said, adding "this bank brings to the table the product of contours which will allow not just those of us in Barbados, but across the rest of the region to benefit from access to capital in renewing our tourism sector is a good thing".
Mottley noted that Africa imports about US$4.5 billion in fish every year, with just about one per cent of that coming from the Caribbean region.
She said an Afreximbank financed fish farming project in many Caribbean countries that will then export back to Africa will make a huge difference to Caribbean fishermen and the Caribbean investors who want to get involved in aquaculture and mariculture.
The Barbadian leader said the Afreximbank also presents Caribbean countries with opportunities to finance their renewable energy projects, adding that the bank will also "insure to the benefit of our regional private sector or our regional state owned corporations who need access to a more empathetic reasonable and fair and one willing to take risk not foolishness not reckless risk, but risk that will allow our people to move and grow to the next level.
"And it is significant that that comes now from people from whom we have come.And this is what makes today even more special."
In his address, Prime Minister Gonsalves said he believes Afreximbank will "expand opportunities.
"Some of the commercial banks in our region, which are often shy of certain investments, may well find that this bank may have an appetite for some kinds of investments, which some of the ordinary commercial banks may not be interested in."
He, however, noted that Afreximbank is a bank and if "you borrow the money you have to pay it back. It's not another charitable institution."
Gonsalves, however, said Afreximbank has "a philosophy, which is of a somewhat different nature, that could result in more beneficial results in particular areas of investment.
"So, St. Vincent and Grenadines is very much in support and we're looking forward to this bank acting directly with investors in our country," Gonsalves said.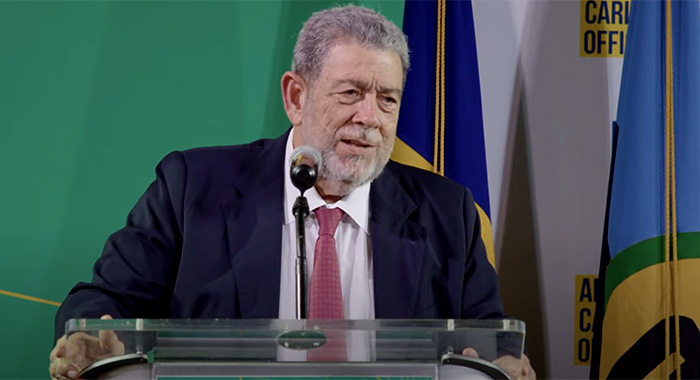 St. Vincent and the Grenadines is among 11 countries that have signed an agreement, becoming members of Afreximbank, and eight countries have ratified the agreement.
Gonsalves suggested that the Caribbean constitutes an important bridge for Africa and the Afrieximbank to expand even further.
"We have important institutions in Latin America, like for instance, the Caribbean, Latin America Bank and your bank may well find possibilities in establishing strategic relationships with this financial institution which facilitates investment both of a private sector and public sector."
Gonsalves said there has not been a sufficient understanding about Afreximbank even as it was opening its first branch outside of Africa.
He noted that Afreximbank is not a development bank of the type of the Barbados-based Caribbean Development Bank (CDB), the region's premier financial institution.
"This bank is a commercial bank with developmental dimensions," Gonsalves said, adding that he expects the bulk of Afreximbank's loans would be to the private sector.
"And I want the private sector to be alive, to be alert to the possibilities of this banks and that the role of the governments would be to assist in ensuring that the investments which are made by this banks, that the risks attendant upon those investments can be reduced, so as to make the particular investment projects of a private sector time viable."
He said Afreximbank provides the platform for the region to be able to link investors from Africa that have an interest in private sector and public sector investments in the Caribbean investments and also for Caribbean investors to do likewise in Africa.
"I think this is not something which is just glorified. It is something with tremendous practical significance," he said, noting that Afreximbank hopes to increase its asset base from the current US$33 billion to US$60 billion by 2030.
The St. Vincent and the Grenadines prime minister said the technical assistance resources which are available to Afreximbank would also be a value for private sector and public sector entities.
"Further, the payment system, which the Afreximbank is elaborating is very vital in a world where … countries which control the global financial system use the payment system to demand compliance and obedience to a range of policies not within our interests," Gonsalves said.
He noted that Afrieximbank "in devising a particular kind of payment system, with the base and the volume, that it is possible for it to establish parallel payment systems, if not alternative, in order to facilitate countries in the pursuit of development in their own interest".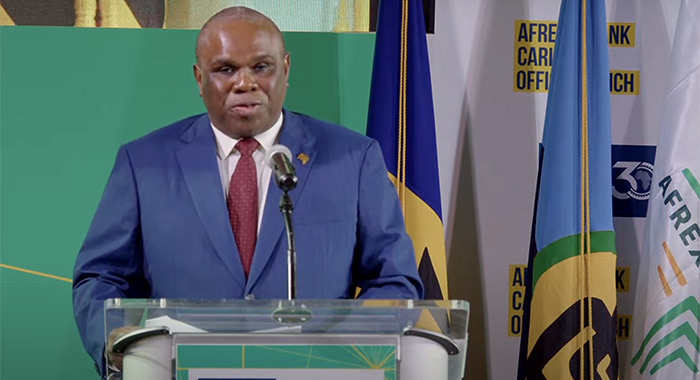 The Barbados-based Afreximbank office is expected to be very busy, according to its President and Chairman of the Board of Directors, Professor Benedict Oramah.
He noted that the first-ever African Caribbean Trade and Investment Forum held here last September attracted over 1,200 people from across Africa and the Caribbean.
Oramah said the forum formed the basis for trade and investment missions that followed, and which generated over two billion US dollars in investment interest from Africans interested in investing in the Caribbean.
"On that basis, Afreximbank board approved an initial amount of US$1.5 billion to support the financing of eligible transactions in the CARICOM," Oramah said, add that the financing envelope was made possible due to the rapid sign up of CARICOM economies to the partnership treaty, negotiated with Afreximbank.
He said that among the projects well advanced in discussion in CARICOM include the development of a US$200 million solar and geothermal energy plants in St. Kitts -Nevis; US$100 million for the expansion of some ports in Barbados; the development of a maintenance repair and operations facility in Antigua and Barbuda to support CARICOM Aviation Industries; the development of fish farming and integrated aquaculture facilities across several Caribbean countries estimated at US$120 million.
Also in the pipeline are several transactions across tourism and hospitality, creative industry, financial services, energy, agribusiness, infrastructure, shipping and cruises, airlines or many others, Oramah said.
"I'm very pleased that we will soon be able to prove to doubting Thomases that the sky is the limit if brothers and sisters come together to challenge themselves…
"As we open our offices here, we remain mindful that the new global financial architecture can only work for us if we build and strengthen our own regional financial architecture"
He said this is why Afreximbank is also working with the Guyana-based CARICOM Secretariat to set up a Caribbean Ex-Im Bank, as endorsed by regional heads at their summit in February 2003.
Oramah said he was pleased that the Association of Caribbean Central Banks has decided to run the pilot of a regional payment platform with the Pan African Payment and Settlement System.
"We look forward to that day when Barbados can buy Ivorian cocoa paying for it in Bajan dollars, to that day, when a young couple in Kenya can enjoy a honeymoon in the Bahamas, paying in Kenya shillings. The day is not too far off
"With the launch of the CARICOM office, we look forward to a smooth implementation of these initiatives, broader business origination across the CARICOM and more impactful results from our partnership. I assure you that this is just the beginning. As soon as other CARICOM countries enter a partnership agreement, the limit available to the region will double to three billion US dollars."
He said Afreximbank also looks forward the bank's subsidiaries finding homes in the CARICOM, especially the Fund for Export Development in Africa — the impact equity fund subsidiary of Afreximbank, the Pan African Payment and Settlement System and the AFREXInsure, the insurance subsidiary of Afreximbank.
"Overtime CARICOM and African financial systems should become better integrated for the benefit of our people. And in the beautiful two hectare piece of land, the government of Barbados has proposed to make available to afreximbank, We look forward to standing up the Africa Trade Center, an iconic building that we have offices, a hotel and exhibition facility, Trade Information Center and a technology hub,"
The second AfriCaribbean Trade and Investment Forum is scheduled for October 30-31 in Guyana.