A High Court judge has refused to order compensation in a case in which a man, in a revenge attack, chopped another on his right forearm, resulting in it being severed.
On Friday, Justice Rickie Burnett, sitting at High Court No. 2, in Kingstown, ordered that Alphious Stephenson, 33, of Campden Park, spend 19 years in prison for his crime.
Stephenson had spent one month and 25 days on remand, and when this was subtracted for his sentence, he will have to spend a further 18 years, 10 months and five days in prison, as of Friday.
The case dates back to Sept. 14, 2018, at Campden Park, when Stephenson unlawfully and maliciously wounded Deon Baptiste with intent so to do.
Eight weeks ago, a nine-member jury found Stephenson guilty of the charge and the court ordered a pre-sentencing report.
The facts of the case, as summarised by the judge are that Baptiste, of Campden Park and Georgetown, and Stephenson were very close friends prior to September 2018.
They worked together briefly and often socialised at Omar Robinson's shop in Campden Park.
However, there was an incident involving both men at their workplace during the first week of September 2018.
Sometime during the first week of that month, Baptiste was at Robinson shop when Stephenson visited.
The two friends got involved in a heated argument and Robinson intervened and prevented any escalation. Both men subsequently left the bar separately.
About 2 a.m. the same day, Stephenson went to Baptiste's home brandishing a cutlass and damaged Baptiste's front door while banging on it angrily.
Baptiste took a cutlass, exited the house through a backdoor and chopped Stephenson. He further chased Stephenson into the road and chopped him two more times.  
Stephenson did not report the incident to the police but officers became aware of it and visited him in hospital.
Stephenson initially told the police that he did not know who had chopped him and that he did not require any police action.
Then, one week later, on Sept. 13, 2018, about 11 p.m., Stephenson went to Robinson's shop and attacked Baptiste with a cutlass, resulting in his right forearm being almost severed and held together only by a piece of skin.
Stephenson was arrested the following day and told police in an electronic interview that he was acting in self defence.
The jury did not accept his story and found him guilty.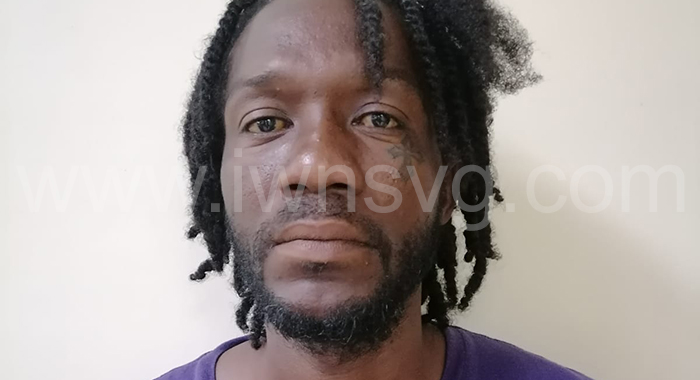 Through the social inquiry report, the court learnt that Stephenson ended his education at Junior 4, has one child and is a construction worker.
He expressed remorse for his action and his family described him as a hardworking man and not violent.
Prisoner authorities said he abided by the prison rules during his incarceration and his community described him as a hard worker who did not get into conflict with anyone.
Justice Burnett noted that in the report, Baptiste said that the loss of his hand had impacted him in a negative way.
The report quoted Baptiste as saying:
"I would like to be compensated for the loss of my hand as I am unable to work. I have to pay persons to get basic things done, like washing. I can hardly do anything for myself with one hand… I am right-handed and he cut my right hand."
The judge noted the aims of criminal punishment, namely prevention, deterrence, retribution and rehabilitation.
He pointed out that the court has guidelines it must follow when sentencing offenders for unlawfully and maliciously wounding, adding that he saw no reason to depart from them in the case.
Justice Burnett noted that the maximum sentence is life imprisonment, a notional sentence of 30 years.
He said the severing of an arm is a very serious thing as the complainant cannot get back his arm.
There was severe physiological and physical harm, Justice Burnett said, adding that there was planning and premeditation as Stephenson armed himself with a cutlass and attacked Baptiste.
The judge noted that there had been an incident before and what Stepheson said after chopping Baptiste.
The judge established a starting point of 18 years with a range of 13.5 to 22.5 years.
Aggravating of the offence were that it was motivated by revenge and the complainant was unarmed.
Mitigating was the previous violent incident in which Baptiste had injured Stephenson.
The judge concluded that the aggravating features outweigh the mitigating.
Aggravating of the offender was his two previous convictions for robbery and assault causing actual bodily harm.
The court identified the mitigating features as his good prospect for rehabilitation and the young child for while he is responsible and made no adjustment to the sentence.
Justice Burnette said a question then for the court was whether the sentencing guidelines should be dispensed.
The court also considered whether imprisonment was the most appropriate sentence or if justice could be achieved by ordering compensation.
He noted that prosecuting counsel Cornelius Tittle had noted that the victim, in the pre-sentencing report, had said he was willing to accept compensation.
Counsel in the case had also noted the recent case in which the High Court had ordered Margaret Smith to pay compensation in the sum of EC$32,000 since the complainant was minded to accept compensation.
However, after considering this and a number of other cases, the facts and circumstances of the extant case and the submission by the lawyers, the judge concluded that Stephenson deserved a custodial sentence.
He noted that Baptiste said he is right-handed and that he has lost his right hand.